What Michael Jordan Has Said About The Death Of His Father James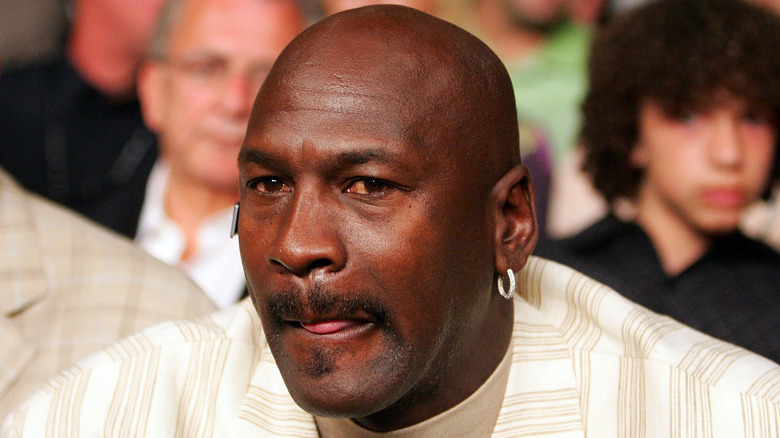 Al Bello/Getty Images
Three decades ago, Michael Jordan lost his dad to violent crime. On August 13, 1993, 10 days after a body was found in a South Carolina creek with a fatal bullet wound in the chest, James Jordan was declared dead, The New York Times reported. The basketball legend's father hadn't been seen since July 23. But James often went out of town on business and would go several days before calling his wife and Michael's mom, Deloris Jordan. The family wasn't worried. 
That is until James' Lexus SC-400 was found vandalized on August 5 near Fayetteville. A couple of days later, police charged a 17 and 18-year-old in the murder, both of whom had recently been linked to local robberies. The younger suspect, Larry Martin Demery, pleaded guilty in 1995 and went on to testify against Daniel Andre Green. Both were convicted and sentenced to life in prison.
The loss of his father turned Michael's life upside-down. Two months after the murder of his father, the sports' biggest star announced his retirement for the first time, sending shockwaves across the globe. After all, MJ was at the height of his career, having achieved the historic three-peat with the Chicago Bulls that same year. Michael denied James' death was the reason. "I was kind of leaning in this direction before, and he knew this," he said, the Los Angeles Times reported in October 1993. But it was clear losing his dad had an impact not only on this decision but on many aspects of Michael's life.
Michael Jordan leaned on his father's teachings to heal
Michael Jordan may have believed he was done with basketball for myriad reasons. "I have nothing more to prove in basketball,"  he said. But James Jordan's murder made him look at the bigger picture. "It made me realize how short life is, how quickly things can end, how innocently," MJ said. He realized he had put his family aside and wanted to make up for lost time. "I've been very selfish about centering things on my basketball career," he explained.
Michael returned to basketball in March 1995, but he continued to mourn. "I think about him every day. I'm pretty sure I always will. Every day of my life," Michael said in March 1996. Of all places, Michael found the strength to work through his grief from his father's own teachings. "One of the things that [my dad] always taught me is that you have to take a negative and turn it into a positive, so I started looking to the other side of it, and that helped me get through it," he said on Netflix's 10-part documentary "The Last Dance."
Michael didn't just lose a parent — he also lost a mentor. "We were very close. He constantly gave me advice," he said. When he led the Bulls to yet another championship in 1996, Michael dedicated it to his father. "I know he's watching ... this is for daddy" he told the reporter after the game, pausing to fight back tears.
Michael Jordan has kept his father's memory alive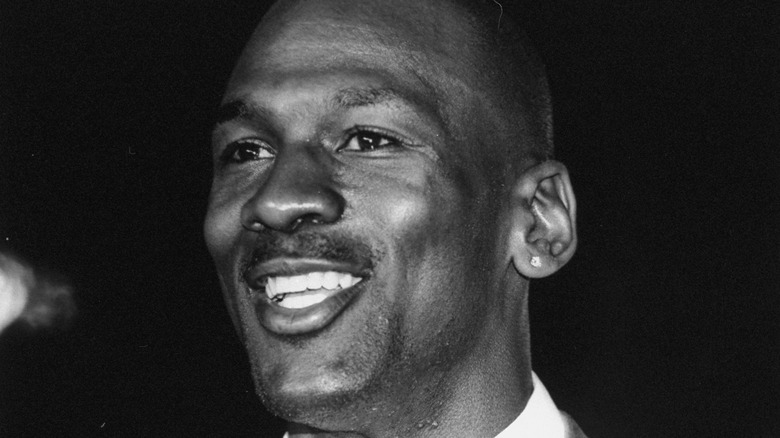 Steve Kagan/Getty Images
Michael Jordan found different ways to honor his father. In 1996, he founded the James Jordan Boys & Girls Club in an effort to serve Chicago's impoverished West Side youth. "There was always a sense of hopelessness. If you could move out of the community, you were a success story. But once Mike came to the Bulls, he gave these kids hope," the center's then-assistant director Ken Butler told The Washington Post.
Michael wanted to keep his memory alive by attaching his legacy to a force for positive change. "We feel obligated to give everybody an equal opportunity to make their lives worth something," he said at the groundbreaking ceremony, Jet magazine reported. In 2000, Michael poured funds to help Deloris Jordan launch the James R. Jordan Foundation, a nonprofit that expanded on the Boys & Girls Club mission. "There was no support system in place to assist them on their academic journeys," she said.
Michael also sought to honor James' memory when he joined the White Sox in February 1994. On "The Last Dance," Michael opened up about pursuing the dream of his father, a baseball fan and player who went semi-pro at one point, in the wake of his death. "We were debating about me playing baseball," Jordan said. "'I wanna go play baseball. I'm thinking about retiring and I wanna go play baseball.' And... he was saying 'Do it, do it' because he got me started in baseball."