Is Doug Burgum Married? What We Know About His Wife Kathryn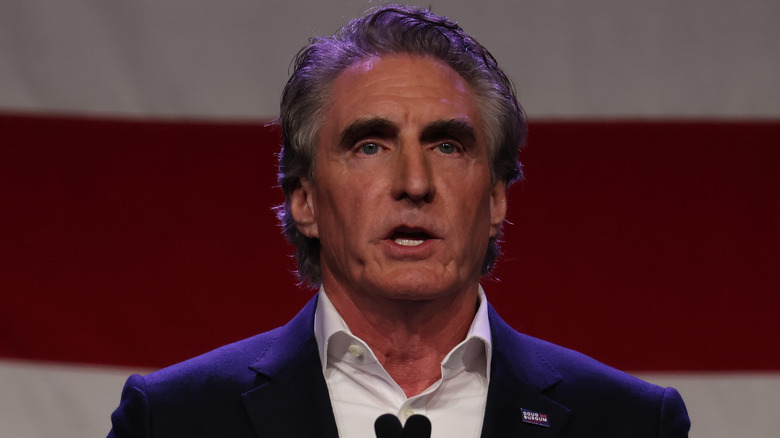 Bloomberg/Getty Images
This article contains mentions of addiction and mental health.
Doug Burgum is gearing up for the race to become the Republican candidate in the 2024 presidential race, but does he have a leading lady by his side? According to CNN, Burgum announced his candidacy for president in June 2023. The governor of North Dakota shared, "To unlock the best of America, we need a leader who's clearly focused on three things: economy, energy, and national security. And that is why today I'm officially announcing I'm running for the president of the United States of America."
Curious to get to know Burgum, the public has been diving deep into the entrepreneur's personal life since his announcement. Many have wondered whether the North Dakota governor is married and what his romantic life looks like. According to The U.S. Sun, Burgum knows a thing or two about walking down the aisle. The state governor was married to his first wife, Karen, in 1991. Together, they welcomed three children: Jesse, Joe, and Tom. The couple was together for 14 years before they filed for divorce in 2003.
After his divorce, Burgum did not give up on love, sparking a romance with a new woman. The North Dakota governor tied the knot with his second wife, Kathryn Burgum, 13 years after separating from his first, per The U.S. Sun. And as the political candidate's life becomes more public, people have become interested in learning more about who Kathryn is.
Doug and Kathryn Burgum have been married since 2016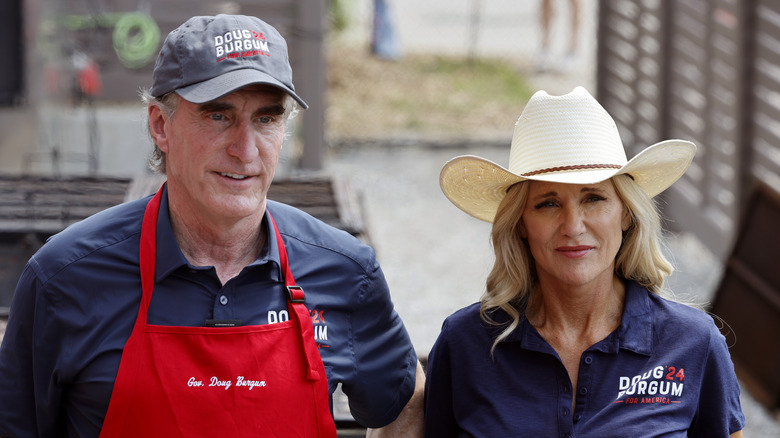 Chip Somodevilla/Getty Images
Doug Burgum walked down the aisle a second time with Kathryn Burgum in 2016, per The U.S. Sun. Although it's unclear as to how the two met, there was clearly a spark between the pair. At the time they made thing official, Doug was actually running for North Dakota governor, per KX News.
The businessman first announced his engagement in August 2016 with a social media post, per KX News. He said, "Excited to share the news that I surprised Kathryn with an engagement proposal last weekend, and she said yes! We are grateful for all the friends and family that have shared their love and support and we are both very excited about the journey ahead." It was only months after he shared the exciting news of their engagement that he and Kathryn tied the knot.
Similar to his engagement announcement, Doug shared that they married via social media, per KX News. He wrote, "I am delighted to introduce Kathryn Helgaas Burgum. Kathryn and I were married recently in a small ceremony with immediate family." Although the press tried to pry for more information on the couple's nuptials, Doug and Kathryn kept wedding details private. Overall, 2016 was a great year for Doug. Not only did he marry his soulmate, but he also won the seat for North Dakota governor. Talk about a dream come true for the businessman!
Kathryn Burgum struggled with addiction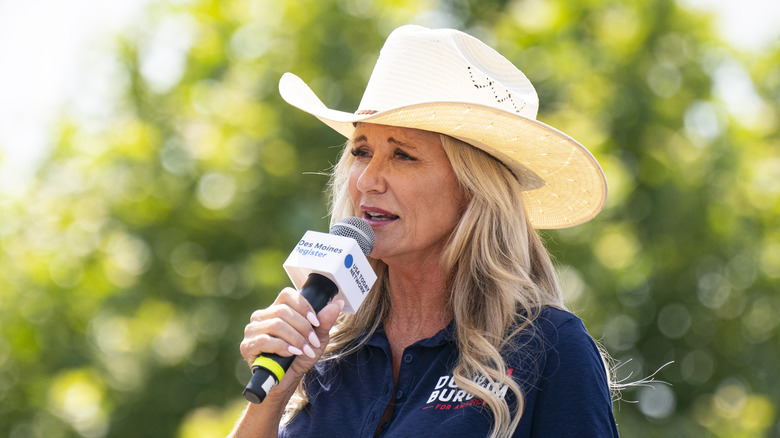 Bloomberg/Getty Images
Ever since entering in the public eye, Kathryn Burgum has been vulnerable about sharing her struggles with addiction. According to the Williston Herald, in 2022, Kathryn spoke at the Recovery Reinvented event about her addiction. She shared that she began drinking in high school in order to feel some sort of relief from the depression and anxiety she faced. This led her down the road to alcohol addiction — a journey that lasted for 26 years before she became sober. She said, "I stand before you tonight grateful to be in recovery for over 20 years now. Not long ago I would never have stood up here and said that I was in recovery." Kathryn wanted her story to be influential to those dealing with similar issues.
And her story was just the beginning of the work she has done to break the stigma around addiction. As Kathryn was thrown into the spotlight thanks to her husband, Doug Burgum, she advocated for those who needed help overcoming addiction issues. According to North Dakota's official website, Kathryn became the chair of the advisory council at Recovery Reinvented. She has also worked with various groups, foundations, and even the White House itself to help bring attention to those dealing with these issues. If Doug does become the president, it seems likely that Kathryn will focus even more on breaking the stigma surrounding addiction.
If you or anyone you know needs help with addiction issues, help is available. Visit the Substance Abuse and Mental Health Services Administration website or contact SAMHSA's National Helpline at 1-800-662-HELP (4357).