All The Plastic Surgery The Kardashian-Jenner Family Has Admitted To Getting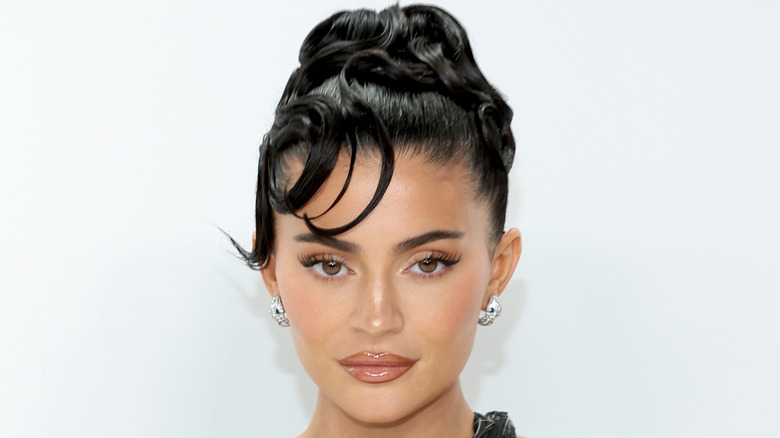 Dimitrios Kambouris/Getty Images
Plastic surgery has always been a taboo subject. It's often considered shameful to purchase new features. Celebrities are often put under the cosmetic microscope, with fans constantly sleuthing to find out who's gotten what work done. Some have been open about their modifications, like Cardi B rapping about having a fake butt, while some have been tight-lipped and even going as far as to lie and come clean later. The Kardashian-Jenners, also known as the Kardashians or the Karjenners, are culprits of both.
The Kardashians rose to popularity during their television show "Keeping Up With The Kardashians," a program that changed reality television and the very definition of fame. Their "famous for being famous" image was heavily influenced by their familial quest for the perfect physical appearance. The family's obsession with modifying their bodies with extreme dieting, photoshopping, and, of course, surgery and fillers, are all practices that helped promote a beauty standard for curvaceous hourglass shapes that were previously only seen on women of color. Time Magazine reported a rise in breast and butt augmentations and lip fillers due to the family's influence.
But they stayed coy and quiet about their surgeries, which added to the family's appeal. Only recently have most of the sisters admitted to purchasing alterations. And some of them are even getting new procedures to reverse years of body modifications. But overall, there still remains a mysticism that begs the question: What exactly have the Karjenners gotten done?
Kim's famous hourglass figure broke the internet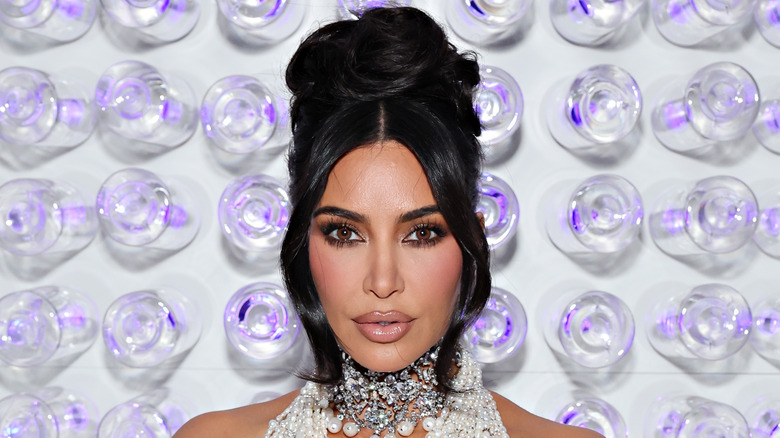 Cindy Ord/mg23/Getty Images
Kimberly Kardashian has the most infamous curves in the Kardashian Klan. Her Jessica Rabbit figure has become the unattainable ideal many women aspire for today. However, all of Kim's body-altering procedures play second fiddle to her internet-breaking bum, which was featured on the cover of Paper Magazine in 2014. The nude shoot and her body, on a regular, have been subject to criticism and adoration alike. For every one person who writes a hate comment, the other is fighting to achieve the same shape.

Part of the secret to her posterior's fame is the mystery surrounding it. In a 2007 on-the-go interview for MaximoTV, Kim denied rumors that her butt was fake with a cheeky grin. In a 2011 episode of "KUWTK," the then-31-year-old got an on-camera x-ray of her rear to prove there haven't been any implants. "Kim never had implants," a source close to the superstar revealed (via The Sun UK), "it was a fat transfer into her butt...[Kim] had it topped up every so often throughout her marriage..."
In 2022, the size of the influencer's backside decreased drastically and very quickly, "She's stopped getting the transfers and letting it decrease naturally as she loses weight," the same source explained after Kim had lost 16 pounds in three weeks for the 2022 Met Gala. So, Kim herself has never admitted to alterations to her derrière. Either way, it's a money-making cultural icon that changed the game forever. 
Kylie's viral lip fillers
Theo Wargo/Getty Images
The majority of the Karjenner women have admitted to having lip fillers, but the youngest sister, Kylie Jenner, has based her entire career on the procedure. The 26-year-old started getting hyaluronic acid fillers, which are temporary, in her lips when she was just 15 after a boy commented on their size, "I had really small lips," she told Andy Cohen during the 2021 "KUWTK" reunion special, "...I had one of my first kisses, and a guy said to me, 'Oh my God, you're such a good kisser, but you have such small lips'...From then on, I felt unkissable."  This criticism, however, led to Kylie Lip Kits, a set of lipstick and liner meant to enhance the everyday makeup-wearer's kissers, "I was insecure about my lips, and lipstick is what made me feel confident," she told Evening Standard (via Teen Vogue). Although Forbes revealed the young business owner may have been overselling the financial value of her company, it has still become a successful cultural staple in the world of beauty.

In 2018, the beauty influencer shocked fans when she posted a selfie with her lip fillers dissolved/removed. They had been a staple! They even inspired a viral Kylie Jenner Challenge where participants would suck the air out of a shot glass until their lips were dangerously plumped. But the fillers returned, and the challenge ended.

Kris fought age with a face lift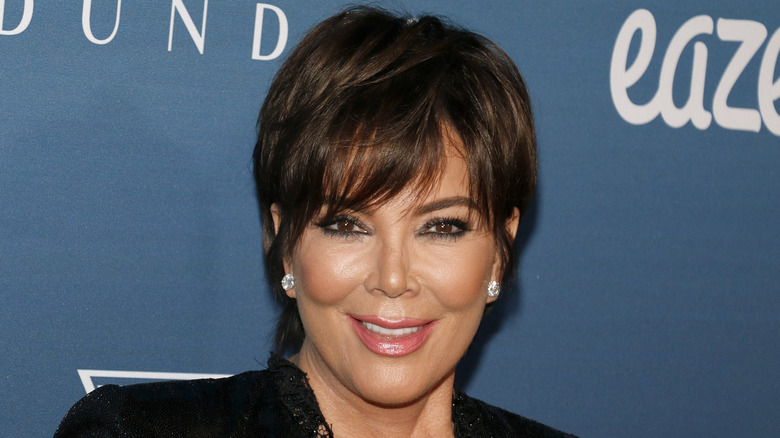 Tinseltown/Shutterstock
The reason for the Kardashian-Jenner conglomerate is the girls' mother and manager — known by the coined term "momager" — Kris Jenner. As of this writing, the culture-changing matriarch is 67, but one would never guess it. Unlike her daughters, Kris has been quite transparent about her time under the knife and syringe, "I usually film it all," she joked with drag legend RuPaul and cosmetic surgeon Terry Dubrow on E!'s plastic surgery talk show "Good Work." One of those filmed procedures was a facelift.
In preparation for her daughter Kim's glamorous and lavish second wedding in 2011, the proud mama scheduled a pinnacle facelift to look her best. In between tears, Kris confessed her fear of dying on the table. After being comforted by her bride-to-be daughter, Kris went through with the procedure, and her family was there to wish her luck as she went into the OR. Their family surgeon, Dr. Fisher, who had also worked on Caitlyn Jenner, helped the 55-year-old look youthful and lifted in time for the big day. Her family couldn't believe the results! "She looks amazing," her daughter Khloé Kardashian beamed, "They say you are supposed to have a lot of swelling for a week or so after, but I didn't notice." (via Daily Mail)
It's been speculated that Kris has undergone a second lift in recent years. If that's the case, it's just as gorgeous and subtle as the first one.
Khloe confirms getting a rhinoplasty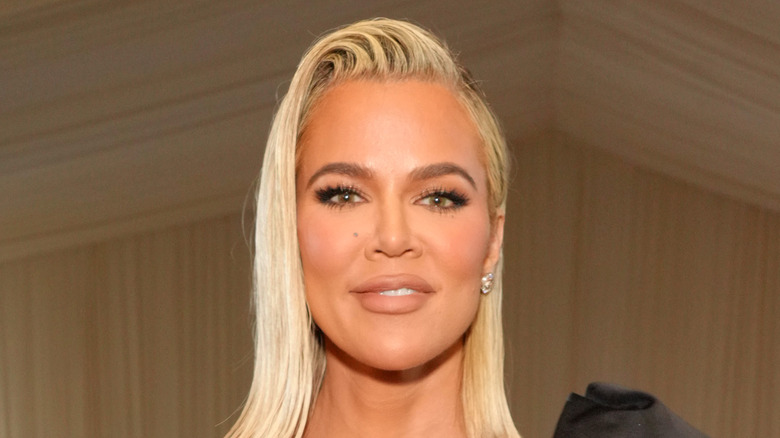 Kevin Mazur/mg22/Getty Images
In her interview for "Good Work," mama bear Kris declared no one in their family had gotten their noses worked on. Years later, her daughter Khloé tells a different story. 
Fans accused The Good American creator of having a full face transplant. So, in 2021, Khloé finally set the record straight on the work she'd had done during a Keeping Up With The Kardashians reunion, "I've had one nose job," she revealed to Andy Cohen, "...I've done, sure, injections, not really botox..." Khloé also shared she got her rhinoplasty after feeling insecure about her appearance because of viewers' opinions of her, "...during the first couple seasons [of 'KUWTK'] I became insecure because of the public opinions of myself." Not long after, the mother of one tweeted that she'd gotten her nose reconstructed a couple of weeks before her daughter True's first birthday.

A year later, TV broadcaster Robin Roberts sat down with the Kardashian women in an ABC Special for their new show "The Kardashians," where the ladies bared their stories and struggles with body image. And for the second time, Khloé spoke publicly about her procedure, "I've always wanted my nose done, forever...But it's in the middle of your face and it's scary to think about." An Instagram comment from 2018 backs up these statements. She admitted to a fan that she thought about getting a rhinoplasty every day but was too afraid (via People). But now she has it, and she loves it!

Kim has tried to reverse the effects of her pregnancy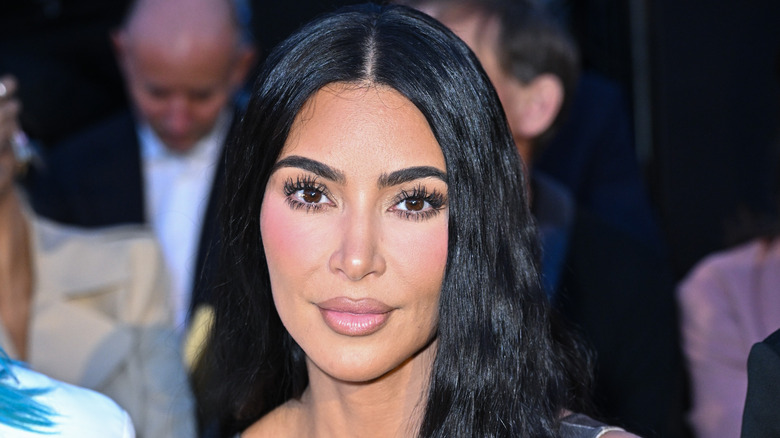 Stephane Cardinale - Corbis/Getty Images
Kim K has been very open about her pregnancy journey. She has openly discussed trying to get pregnant with then-husband Kanye West, developing placenta accreta during her two pregnancies, her decision to have her two youngest children via surrogacy, and even the after-effects of breastfeeding. One of the cosmetic repairs she was privileged enough to experience was stretch mark removal with the help of cosmetic dermatologist Dr. Ourian, "After breastfeeding North, I wasn't happy with the stretch marks on my boobs," the mother confessed per Entertainment Tonight's report, "[Coolbeam lasers] treat stretch marks by resurfacing the top layer of skin, which increases collagen regeneration." 
The influencer had another noninvasive procedure done to her torso: skin tightening. On her Instagram story, Kim posted a photo of her undergoing another laser treatment, this time on her belly. She praised the doctor and spa for using the Morpheus laser, which, although painful, was worth it to the superstar. Looking at her now, it's hard to tell she was ever pregnant.
Kris got an earlobe reduction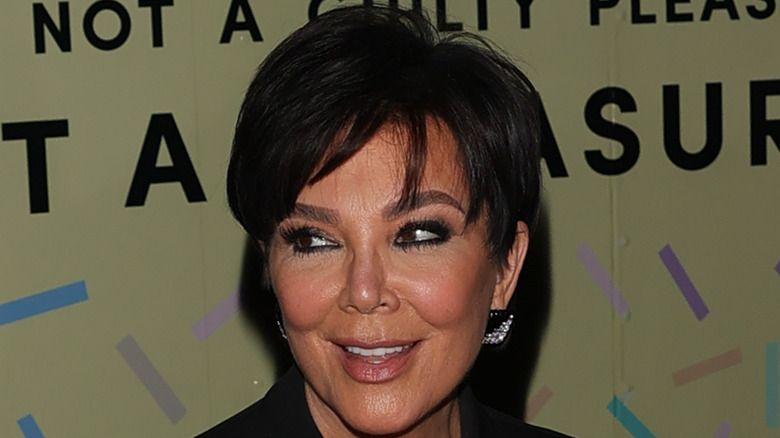 Rachpoot/bauer-griffin/Getty Images
Out of all the Kardashian-Jenner surgeries, this one might be the most unexpected. Kris had expressed upset over having an aging neck and face, but viewers of their original television show were surprised to learn another insecurity of hers was her saggy earlobes, "I have the biggest earlobes in the universe," the matriarch confessed on "KUWTK," a belief that shocked her daughters. She expressed upset over their size by suggesting she should wear earmuffs to hide them and demonstrating how she feels them flapping in her day-to-day. Kris had felt plagued by the knowledge that a person's nose and ears never stop growing, "All I want is just cute ears!" she declared. So, she finally decided to do something about it.
Kris, with Kim by her side, went to Beverly Hills facial plastic surgeon Dr. Jason B. Diamond to learn about the potential procedure. The doctor explained the surgery is so simple it only takes 30 minutes and heals in three days, "[This surgery] alone will take five, 10 years off of you," the surgeon revealed. And Kris being on the hunt for all things youthful, this sounded like the perfect fit. 
Post-surgery, Kris's newfound confidence shone through as she looked for new earrings to dangle on her new lobes. She was proud to potentially be known as the woman with the greatest earlobes. Congratulations on the unique reduction!
Kourtney regrets her breast implants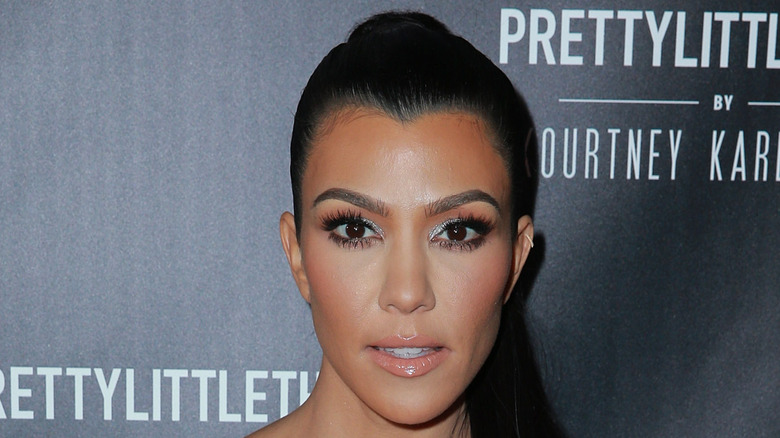 Rich Fury/Getty Images
From being the unmarried housewife to Scott Disick to her whirlwind romance with Blink-182 drummer Travis Barker, the eldest sister, Kourtney Kardashian, has gone through quite the public rebrand, including her thoughts on her body.
The mother of three — and soon after this writing, four — admitted she got her breasts done when she was just 22. Her breast implants were even shown on an episode of "Keeping Up" when a doctor gave her an x-ray to compare silicone implants to Kim's implant-less rear. But she very publicly wishes she didn't go under the knife. In an interview with Showbiz Spy, survived by People, she shared she wishes she could go back and change her choice to get the modification, saying she felt cuter before. Although she's expressed interest in investing in their removal, it has yet to be reported if she's gone through with that possibility.
Other than her chest, Kourtney has confirmed other noninvasive beauty secrets performed by Dr. Diamond, including a Báthory-esque process called Microneedling with PRP. In short, patients get their own blood placed in their faces in order to obtain more glowy skin. Talk about dedication to beauty.
Caitlyn underwent gender reassignment surgeries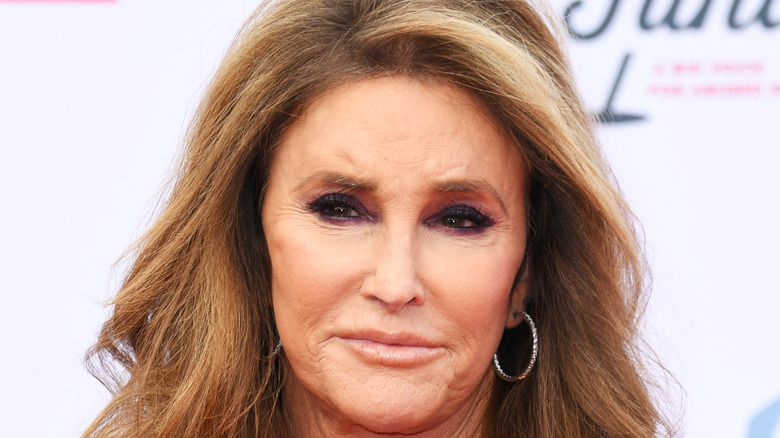 Jc Olivera/Getty Images
Probably the biggest shock to the Karjenner storyline was the historical Olympic athlete formerly known as Bruce Jenner, now known as Caitlyn Jenner, coming out as transgender. Although she fathered the youngest girls in the dynasty, Kendall and Kylie, she's been a paternal figure to the whole family since Robert Kardashian's passing. And that didn't change when she came out and started her transition in 2015. She admitted to battling with gender dysphoria her whole life and even started hormone replacement therapy in the 80s. But she put her transition on hold after meeting and marrying Kris. Now, she's taken great strides in her transition journey. 
Caitlyn has made it clear that whatever she's done is no one's business, but she has confirmed some of her body modifications. Pre-transition, she'd gotten a facelift and even had facelift corrective surgery, but she went a step further on her quest for gender euphoria and underwent facial feminization. This can include shaving of the forehead and Adam's apple, jaw contouring, a rhinoplasty, lowering the hairline, and more. The "I Am Cait" star also opted for a breast augmentation.
In 2017, Caitlyn underwent sex reassignment surgery, "I feel not only wonderful but liberated," she wrote in her memoir per Self, "I just want to have all the right parts. I am also tired of tucking the damn thing in all the time." She even joked about it, saying she retired her penis after it made her wildly successful daughters.
Kylie Jenner regrets her surgeries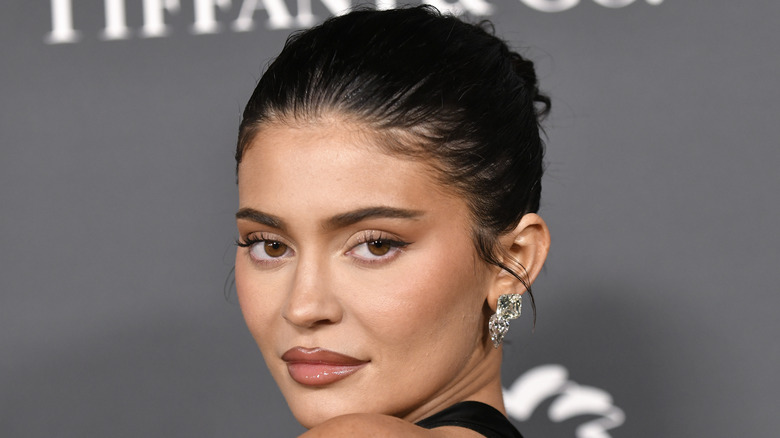 Rodin Eckenroth/Getty Images
The Kardashians have spent plenty of time denying their surgeries and procedures. King Kylie, though, has expressed regret over being undisclosed. When the teenager first got her fillers, she lied to her fans because she feared the potential backlash, "I didn't want to be a bad influence," she told Complex, "But they thought it was crazier that I was lying about it because it was so obvious. I wish I had just been honest and upfront."
Withholding the truth about her cosmetic alterations isn't the only thing Kylie regrets. In the penultimate episode of "The Kardashians" season 3, the mom of two sat with her best friend Stassi Karanikolaou. She disclosed she'd gotten her breasts done in 2016, six months before her first pregnancy. Kylie, like her eldest sister Kourtney, preferred her breasts pre-modification. This sudden confession confirmed speculations fans had for years. In the past, she'd denied receiving breast implants, but she did end up getting a breast augmentation. She doesn't wish this on her daughter Stormi, though, "I'd be heartbroken if she wanted to get her body done at 19...She's the most beautiful thing ever...I wish I could be her, do it all differently. I wouldn't touch anything." Kylie had already been voicing her concerns about her family's power over young women and beauty standards. She seems to be going in a new direction with her influence.

Kris had her breast implants removed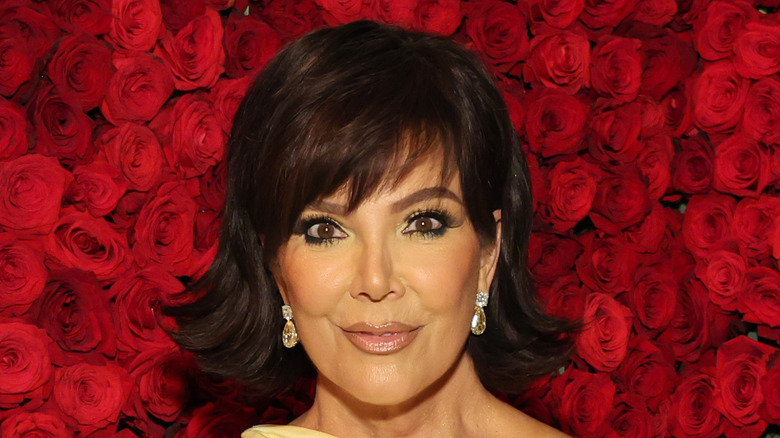 Cindy Ord/mg22/Getty Images
Like her youngest daughter, Kris has been rethinking her stance on plastic surgery, especially on breast implants. In her interview on "Good Work," the momager confessed to getting a boob job in the 80s after she didn't like her post-pregnancy chest, "It was great for about 25 years..." she told RuPaul, "A couple years ago I felt like they were too big...so the same doctor who put them in he took them out." She replaced the larger implants with smaller ones and had a little lift to them as well, which she seemed much happier with.
Kris teased the idea of her and her daughter Khloé getting mother-daughter boob jobs but later retracted the suggestion, "You go down the implant road, and it's not always good," the mother warned. Not only has she warned against the procedure, but she's supported its reversal. In 2020, Kris congratulated her former Safely partner, Chrissy Teigen, for her implant removal with a breast-themed cake and balloons.
Rob Kardashian's ex Blac Chyna reversed her plastic procedures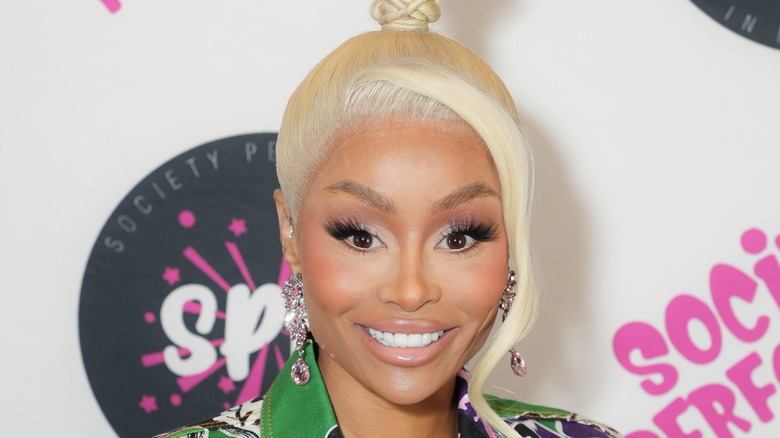 Gonzalo Marroquin/Getty Images
Dr. Angela White, known commonly as Blac Chyna, is mother to one of Kris Jenner's grandchildren, Dream, and is ex-partner to the momager's only boy, Robert "Rob" Kardashian. Her extreme hourglass shape and plumped-up face had her looking like a regular Kardashian sister. And like some of her former familial-in-laws, White is on a mission to reverse the work she's had done.
The 34-year-old has been chronicling her new journey on Instagram. With high-focus exercise and sobriety, White's body naturally slimmed and made her filler protrude. Unhappy with this look, she got her fillers removed and started the process of reversing years of cosmetic alterations. Along with this, the model whose body was featured in Megan Thee Stallion's "Body" music video had breast explant surgery, going all the way from a DD to a C. This procedure surprisingly became a prominent part of her and Rob's separation.
White has also been open about the almost fatal illegal butt injections she'd gotten. This year, she got most of the 2 liters worth of shots removed! White also had her dimple piercings removed, which left her with natural-looking dimples, a feature she loves (via In Touch). She does, however, acknowledge the positive contributions of her former procedures. She told ABC News, "I did these things to make me happy which served its purpose because that's why we're here today!" Overall, the mother of two seems happier and healthier.

Kendall Jenner is allegedly the least touched up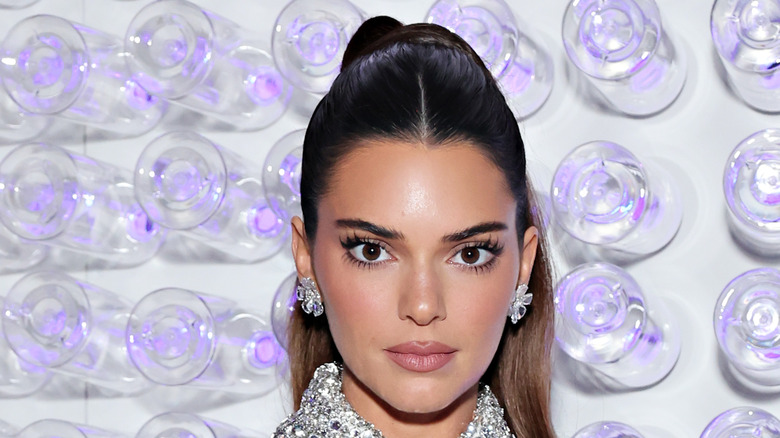 Cindy Ord/mg23/Getty Images
World famous model Kendall Jenner is not only the only sibling without children but is also, according to her, the least modified. Bad Bunny's new boo has been adamant her whole career that she's never gone under the knife nor consented to any syringes. In 2016, the then-21-year-old deleted her Instagram, and rumors that she was getting complete facial reconstruction done spread like wildfire. She cleared up on The Ellen Show, "I just wanted a little bit of a break." Shortly after the sudden departure from IG, she appeared on a Facebook livestream with her sister Kylie, done up in makeup (a rare occurrence for Kendall). So, once again, fans speculated Kendall had gotten work done — specifically, her lips filled. Kylie came to her sister's defense and explained her now popular overlining technique created the prominent new pout. However, being infamous for fibbing about her own fillers, Kylie's word was dismissed, so Kendall had to make her own statement and put the rumors to bed, "It's all so exhausting. As a model, why would I have my face reconstructed? It doesn't even make sense." (via E! Online)
The 818 tequila creator has opened up about the stress these accusations have caused her, "People forget that they're talking about real people who have real feelings and actually live their everyday lives (for the most part) just like everyone else." The whole Kardashian/Jenner squad seems to share this sentiment.