Here's What Karlie Kloss Looks Like Without Makeup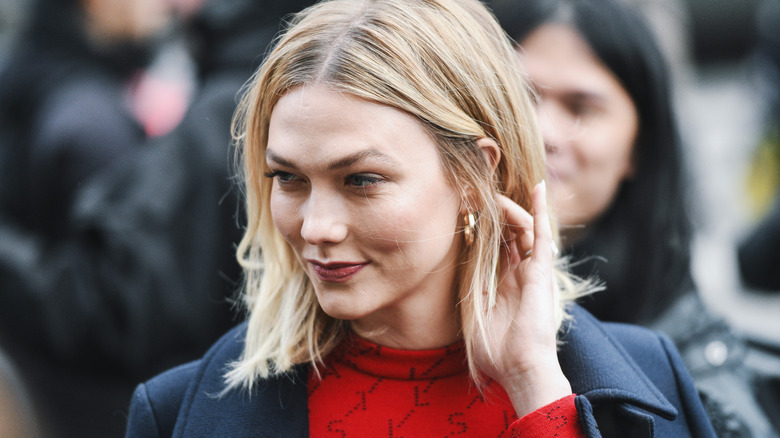 Creative Lab/Shutterstock
Many of us know Karlie Kloss as the gorgeous model dominating just about any runway she steps into. We often picture her clad in her Victoria's Secret angel wings, blowing a kiss to the crowd and strutting her heart away. Kloss is undoubtedly one of the best models of her time, but according to her, she's no Kendall Jenner or Gigi Hadid, who were born into the profession. When she was scouted at 13 years old, she knew she had to hustle to make a name for herself.
"When I walked that runway, I didn't know a single person in the audience and I was thinking, 'OK, I gotta do my chemistry homework,'" she shared with Net-A-Porter, recalling that she had just entered high school when she did her first modeling gig. "Every moment of that first trip to New York was a Cinderella experience, and had it not happened, there is a high likelihood I would have taken a very different route and not pursued this in a serious way. I certainly wouldn't be sitting here today."
Even though she has gotten used to the glitz and the glamor of the modeling industry, she keeps her head down when she's not strutting. "I have this extraordinary life, but also this very normal life," she dished. "I think I'm totally normal and boring in a lot of ways." In fact, off the runway and away from the cameras, she doesn't like dolling up too much.
Karlie Kloss feels the most confident without makeup
Supermodel Karlie Kloss was named the face of Estée Lauder in 2018, something she claimed was a dream come true. "My entire career, having a beauty contract has been at the top of my bucket list," she shared at the time. "From the very start, my list of career dreams always included "Cover of American Vogue" and "Estée Lauder beauty contract.'" But even if she had been named the ambassador of one of the biggest beauty brands in the world, her concept of beauty is not superficial. "I also want to say that beauty is not always about being frivolous or vain," she added. "Beauty and fashion allow for self-expression — they have the power to make you feel like your best self by inspiring confidence and individuality, and that should not be undervalued." 
Outside of work, Kloss admitted that she's not a fan of putting on too much makeup and instead developed what she calls a "uniform" on her days off. "I do a light coat of mascara, BB cream, a little bit of concealer on a spot, lip balm, spray perfume, and I run out the door. I really keep it simple," she told Elle. "I feel most confident when I wear more minimal makeup and that beauty and confidence comes from the inside. So whatever you can do for yourself to really nurture that, that's when you really look your best." Judging by the candid picture above, it's safe to say she can bypass the makeup altogether and still look gorgeous.
But she takes good care of her skin and body, too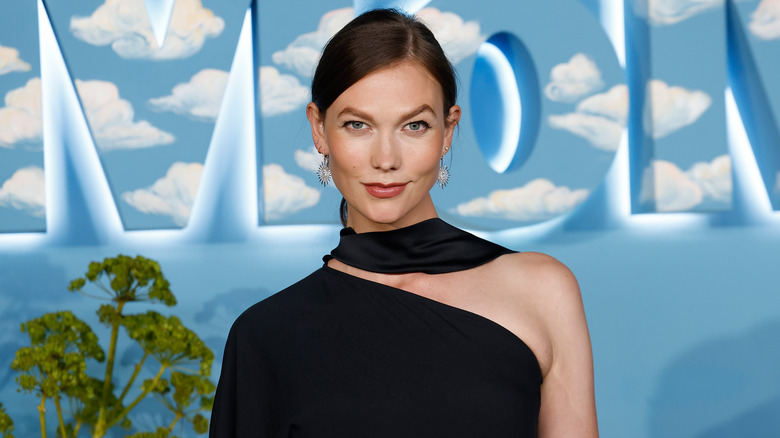 Taylor Hill/Getty Images
Aside from investing in fitness, beauty products, and skin care, Karlie Kloss also focuses her energy on keeping her mental health in check. "I'm a firm believer in taking care of yourself from the inside out. While I prioritize exercising, eating well, and using quality beauty products, I also make sure to focus on beauty and wellness more holistically," she explained in an interview with Harper's Bazaar. "That means staying in the moment and setting aside time each week to relax, decompress, and prioritize investing in myself. Indulging in simple things I love — like spending time with family and friends,d going for a hike or trying out a new recipe — helps me feel my most refreshed, connected and beautiful."
And in true Klossy fashion, the model has infused tech into her beauty routine, and she wouldn't have it any other way. "The TheraFace mini is a game changer. I'm such a tech nerd, and so this is really the first product that I've ever discovered in the beauty tech space that has just been a key part of my self care routine, especially when I'm traveling," she revealed to Town and Country, describing a handheld contraption developed to tone one's facial muscles. "Traveling and retaining water or on set for a photo shoot, it really helps decompress any sort of swelling or water retention. It's a little moment of self-care from the inside out."