Where Mandy Moore Stands With Her Ex-Boyfriend Andy Roddick Today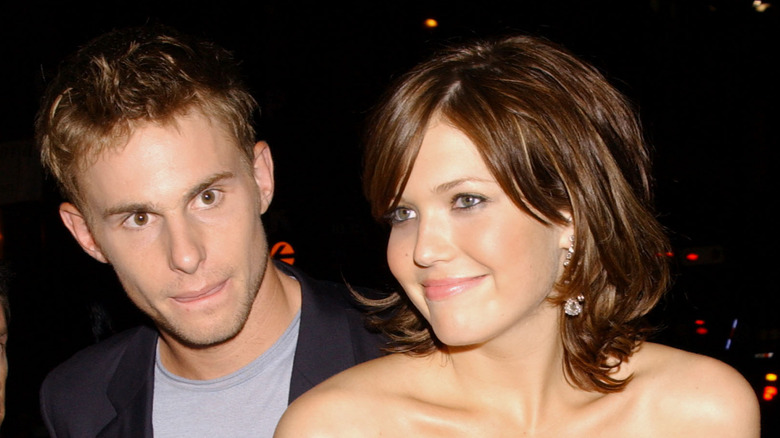 Bill Davila/Getty Images
Actor Mandy Moore and former tennis pro Andy Roddick dated during the early 2000s, but their romance wasn't strong enough to face the aging decade. Moore and Roddick first met while Moore was filming 2003's "How To Deal." "About halfway through filming, I met Andy Roddick," Moore shared with The Morning Call in 2003 while promoting the film. "So I'm completely jaded as my character — completely sour on love, completely anti-love. But here I am in real life, having just met this incredible guy that I'm crushing on, and mad about." In actuality, Moore was "running to check my phone messages to see if he's called. I felt like such a teenager, but I loved it." 
Ultimately, Moore was with Roddick during the height of his tennis career when he won the 2003 U.S. Open, per US Weekly. However, during their relationship, Moore had to adjust to the attention that her "heartthrob" boyfriend commanded when fans openly ogled him. "I'm thinking, "That's weird! That's just my boyfriend and my best friend!' He's so oblivious to all of the attention, which only makes him cooler." Unfortunately, the couple broke up the next year. According to InTouch, Moore later implied that Roddick cheated on her during a sit-down with Howard Stern. Per SF Gate, the singer told the radio host that the tennis star also had jealous tendencies, and didn't appreciate when Moore had to kiss other guys for film roles.
But nearly two decades later, what does Moore's relationship with Roddick look like?
Mandy Moore is proud of her chapter with Andy Roddick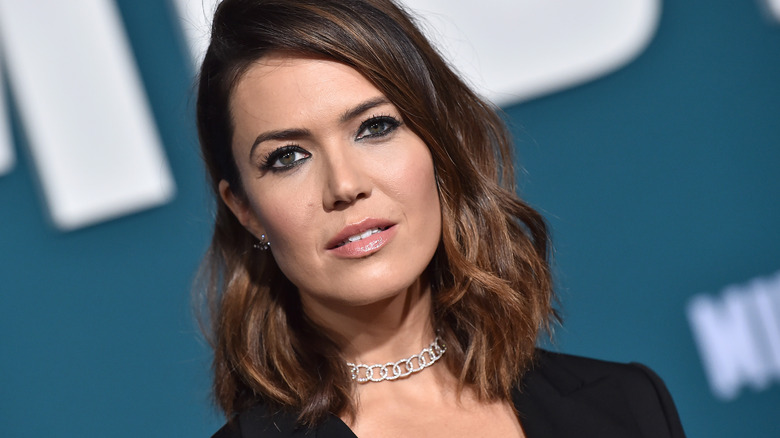 DFree/Shutterstock
It's been a long time since Mandy Moore and Andy Roddick collectively induced conversations in pop culture. After all, they parted ways years before social media became a popular avenue of communication. However, Moore recently shuffled a few kind words Roddick's way as she reflected on their former bond amid a milestone career moment for the tennis pro. "Andy was a really formative part of my young adult life and although we're not in touch, I was so moved by this article reflecting on the 20th anniversary of his US Open win and the kind of life he's [led] since," wrote Moore on her Instagram story (via USA Today). "I'm so happy for him and his family. Congrats on this milestone, Andy!"
Moore also commented on Roddick's wife, Brooklyn Decker's Instagram account where she'd promoted the GQ article honoring him. "I loved this article. Congrats on the 20th Anniversary of the Open!" wrote Moore. Roddick doesn't have a personal Instagram, but he is active on Twitter. So far, Roddick himself hasn't returned Moore's sentiment, though most people appreciate fond acknowledgment. Roddick also did not mention Moore in his feature for GQ, but it probably has more to do with his general lack of fixation on the past  — even his accomplishments — which is a recurring theme within his interview.
Andy Roddick's wife is totally cool with Mandy Moore's statement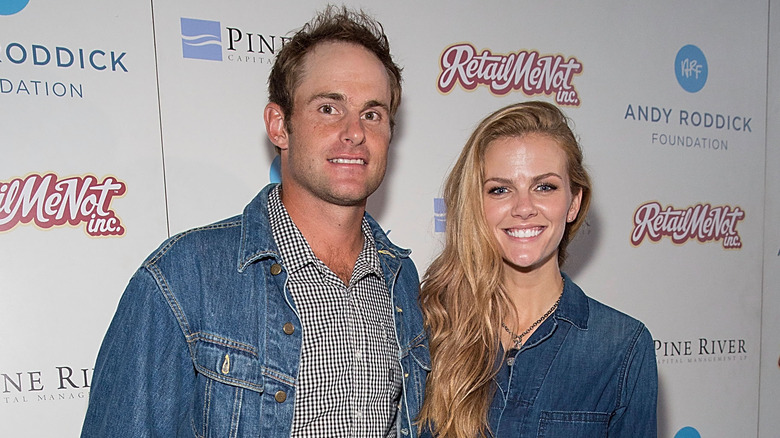 Rick Kern/Getty Images
It's always a dangerous gamble when celebrities willingly remind the world of their past relationships. Sure, there's been plenty of times when the interactions fail to reignite decades-long drama, but many times, it's just best to leave the past in the past. Fortunately, Mandy Moore's comments about Andy Roddick didn't kickstart a feud between her and his wife, Brooklyn Decker. Shortly after Moore posted about Roddick, the tennis star's wife, Brooklyn Decker replied to her comment in the coolest way. "You're a class act. You were a huge part of his life (and actually there) during that time," replied Decker on Instagram. And though Moore didn't follow up beyond that, it's great to know that she and Decker are on speaking terms. 
In 2018, while speaking with Howard Stern, Moore mentioned Decker when she revealed that she'd released any previous ill will towards Roddick. "He's like married with kids and he seems super happy, and I'm happy for him," Mandy shared (via InStyle). "We were kids; I don't care. Ten years ago, I would have had an axe to grind, but now I'm like whatever."