Who Are The Mothers Of Elon Musk's Nine Kids?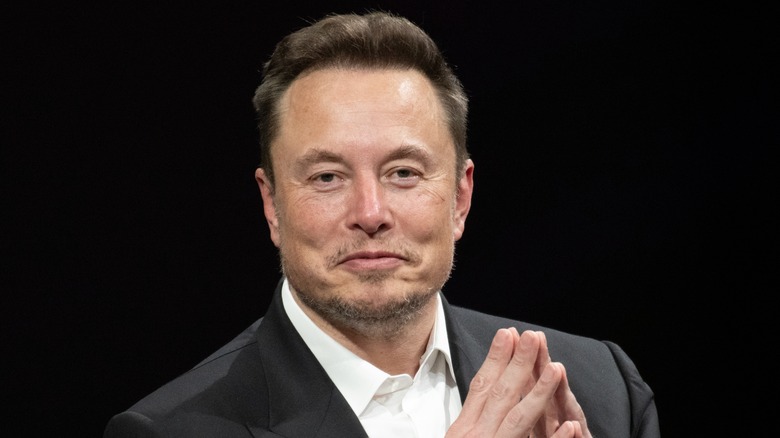 Frederic Legrand - COMEO/Shutterstock
The following article includes references to the death of a child.
Elon Musk is on a mission to repopulate the Earth with as many people as possible and then fly them off to Mars. Now that Musk's time as the CEO of Twitter has come to an end, he may have more time on his hands to complete his goal. And with nine kids from three different mothers, he's already off to a good start. "Contrary to what many think, the richer someone is, the fewer kids they have. I am a rare exception," he boasted in May 2022.
"Doing my best to help the underpopulation crisis. A collapsing birth rate is the biggest danger civilization faces by far," Musk tweeted in July 2022 after welcoming his latest set of twins. "Population collapse due to low birth rates is a much bigger risk to civilization than global warming," he claimed a month later.
However, Musk's people are meant for somewhere other than planet Earth. According to Insider, the billionaire's mission is to create a "multi-planetary species" that he will use to populate Mars by 2029. Musk shared his plans in a paper he wrote for New Space in 2017, claiming it's essential to build a human presence on Mars to protect the human species against "some eventual extinction event." With the ever-growing brood of mini-Musks, his undertaking is well underway. So, who are the mothers of Elon Musk's nine Mars-bound kids?
Elon had five children with Justine Musk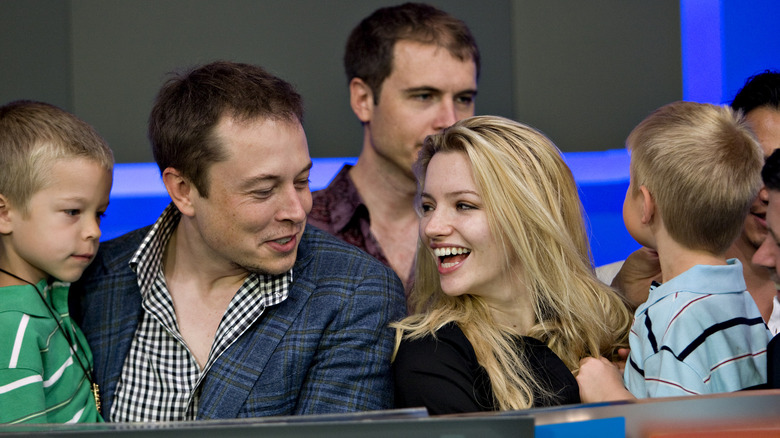 Bloomberg/Getty Images
According to Insider, Justine Musk is the first of the three mothers to Elon Musk's children. Elon married his first ex-wife in 2000. The couple subsequently divorced in 2008. However, during their eight-year marriage, they welcomed six children: Nevada Alexander, twins Vivian and Griffin, and triplets Kai, Saxon, and Damian Musk. Tragically, Nevada died of sudden infant death syndrome (SIDS) when he was just 10 weeks old.
"My firstborn child died in my arms. I felt his last heartbeat. I have no mercy for anyone who would use the deaths of children for gain, politics, or fame," Elon tweeted to explain why he banned Sandy Hook massacre denier Alex Jones from his platform. However, Justine angrily shot down her ex-husband's claim. "A SIDS-related [incident put him] on life support. He was declared brain-dead. And not that it matters to anyone except me, because it is one of the most sacred and defining moments of my life, but I was the one who was holding him," she wrote.
"Custody of our five children is split evenly," Elon said in a 2010 op-ed for Insider. "Almost all of my non-work waking hours are spent with my boys, and they are the love of my life." Per BBC, Elon's daughter Vivian parted ways with her father in June 2022 after filing to legally change her name and gender. In court documents, she asserted that she didn't want to "be related to my biological father in any way, shape or form."
Musk had two kids with Grimes and twins with Neuralink exec Shivon Zilis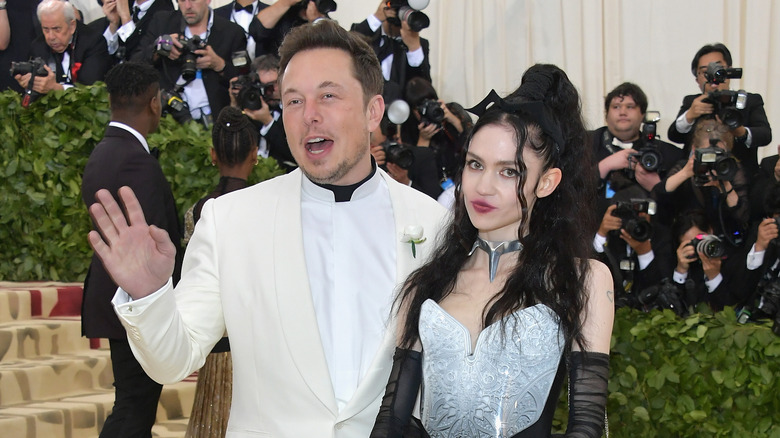 Neilson Barnard/Getty Images
The second mother of Elon Musk's children is Grimes, also known as Claire Elise Boucher. Grimes and Musk's relationship has been an emotional rollercoaster, with multiple break-ups and make-ups. However, according to Vanity Fair, the couple welcomed a boy in May 2020 named X Æ A-12 Musk, pronounced "X A.I. Archangel," or simply "X." They had a daughter via surrogate in December 2021, named Exa Dark Sideræl Musk, pronounced "Exa Dark Sigh-deer-ee-el," or "Y" for short.
"Being Elon's kid is not the same as being anyone's kid," Grimes explained to Wired. "In my house, at least, I want it to be more of a crazy warehouse situation and a cool art space." She told Vanity Fair, "Whatever is going on with family stuff, I just feel like kids need to stay out of it, and X is just out there. I mean, I think E is really seeing him as a protégé and bringing him to everything and stuff ... X is out there. His situation is like that."
The third mother of Musk's children came as a complete shock to everyone. Insider reports that while Grimes and Musk were waiting for the birth of their daughter, he secretly fathered twins in November 2021 with his Neuralink executive Shivon Zilis. The couple filed court documents to change the twins' last names to Musk, but their first names have yet to be revealed.