A Deeper Look Into Shaquille O'Neal's Relationship History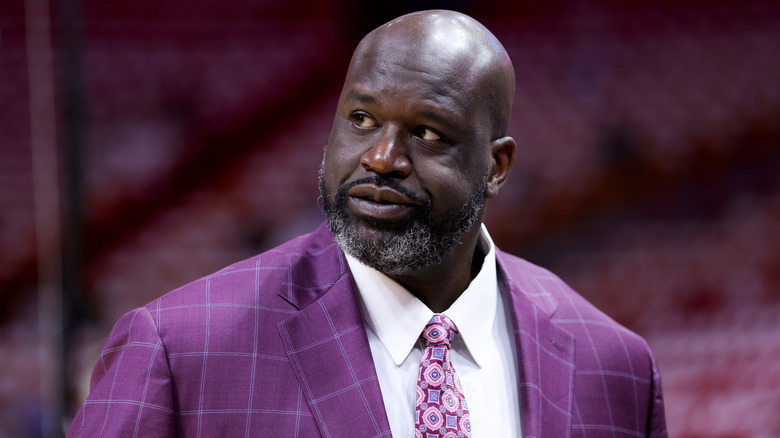 Megan Briggs/Getty Images
Shaquille O'Neal is undeniably a man of many layers. He's best known, of course, for his remarkable prowess on the basketball court, winning four NBA titles during an illustrious sporting career that took in the likes of the Orlando Magic, the Los Angeles Lakers, and the Miami Heat. But the man widely regarded as the all-time greatest center has also tried his hand at everything from hip-hop and DJing to reality shows, podcasts, and Hollywood movies. Currently, he's a sports analyst on "Inside the NBA," as well as the general manager of Kings Guard Gaming, an esports team as part of the NBA 2K League.
And yet, there is more to O'Neal's life than just his career endeavors. Unsurprisingly, New Jersey native has had a similarly eventful love life. From his first, and so far only, walk down the aisle to brief flings, affairs, and long-term relationships, here's a look at the sporting hero's tabloid-friendly romantic history.
Shaquille O'Neal had his first child with Arnetta Yardbourgh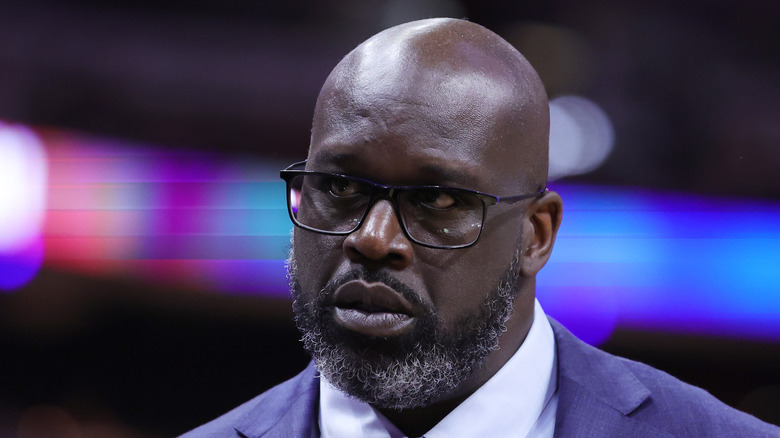 Megan Briggs/Getty Images
"I had two perfect women and I messed it up," Shaquille O'Neal told R&B star Monica on the premiere episode of her "MoTalk" radio podcast in 2023. The first woman referred to by the NBA legend was his first long-term girlfriend Arnetta Yardbourgh. The couple first began dating in 1992 but sadly called it quits four years later, shortly after becoming parents for the first time. Their daughter Taahirah recently graduated from Oglethorpe University and now works at PepsiCo while also carrying out social media duties at her father's entertainment company, Mine O Mine.
Luckily, as O'Neal told the "Angel of Mine" singer on the podcast, he and his two "perfect women" are still on good terms. "Yeah, you know, we were young and always just doing dumb stuff. But, the good thing about our relationship is they forgave me and we have a good relationship now. But when you ask me about the perfect women — I had two perfect women and I messed it up, just by, you know being dumb."
Shaquille O'Neal married Shaunie Nelson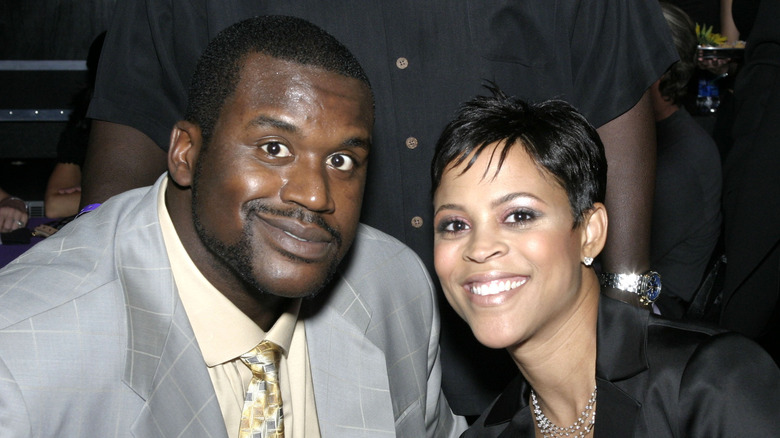 Malcolm Ali/Getty Images
Following a move from the Orlando Magic to the Los Angeles Lakers in 1998, Shaquille O'Neal met the other "perfect woman" in his life, film marketing exec Shaunie Nelson. Two years later, the pair welcomed son Shareef Rashaun into the world, and then in 2001, daughter Amirah Sanaa. Nelson then became Mrs. O'Neal in 2002 at a Beverly Hills ceremony they somehow managed to keep a secret from their 248 guests until the very last minute. And they added to their family unit with the birth of Shaqir in 2003 and Me'arah in 2006. O'Neal is also stepfather to Nelson's son, Myles. 
"Each child that we have adds another lifetime of joy to our lives," O'Neal gushed in a press statement (via People) after becoming a parent for a fifth time. "Family is extremely important to me, so I was overcome with extreme happiness when Me'arah arrived healthy and beautiful." And things in the NBA icon's household still seemed to be good when he celebrated his 35th birthday at Miami's Seminole Hard Rock Hotel and Casino. "I have pretty much everything I need," he told People after the bash. Unfortunately, this state of contentment wouldn't last much longer.
Shaquille O'Neal files for divorce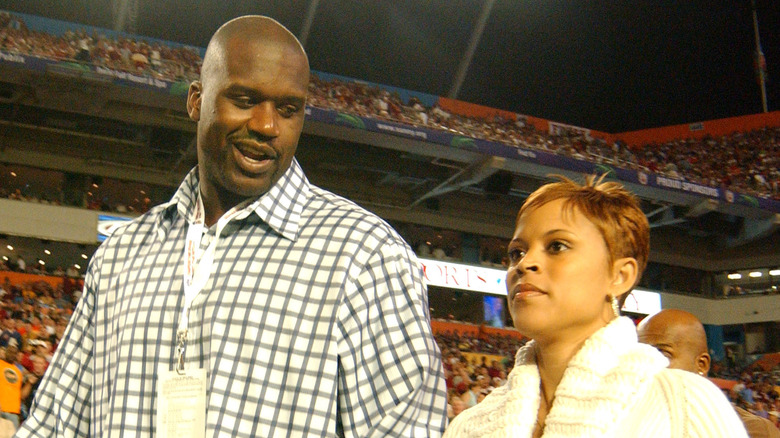 Steve Grayson/Getty Images
Shaquille O'Neal surprised everyone in 2007 when he filed for divorce after five years of apparent wedded bliss with Shaunie Nelson. "The marriage between the parties is irretrievably broken," read the petition filed by the basketball legend's legal representative, Ira Elegant (via People). But Nelson didn't go down without a fight. The film marketer subsequently tried to dismiss the filing with a court motion of her own, requesting a three-month period to help save their relationship and refuting claims that she'd been elusive about her financial assets.
The tactic did the trick because a year later, O'Neal and Nelson were still very much together. Referring to the divorce procedure, the latter explained to the Associated Press (via ESPN), "Neither one of us could probably answer why we were getting one in the first place. Things have been going so great, that someone actually had to remind us that 'Hey, you do remember those papers are still there.'"
Shaquille O'Neal and Shaunie Nelson break up again
Mark Sullivan/Getty Images
Sadly, Shaquille O'Neal and Shaunie Nelson's attempt to give their marriage another go only lasted two years. On this occasion, the latter instigated the split, filing for separation while citing irreconcilable differences. And then, in 2011, the pair officially divorced after agreeing to all the custody and financial terms.
In his autobiography, "Shaq Uncut: My Story," O'Neal revealed why his marriage of seven years finally fizzled out for good. He wrote (via HuffPost), "At one time my ex-wife Shaunie and I were happy, but I admit it — I was a guy. I was a guy with too many options. Choosing to be with some of those women, well, that's on me. In my mind, I never did it disrespectfully, but obviously I shouldn't have done it all."
A surprisingly candid O'Neal admitted that infidelity wasn't the only problem he caused in their relationship: "It wasn't the big stuff, it was the small stuff, and that's my fault. I had things to do. I was trying to win, trying to make some money. I admit I wasn't the best partner. I just didn't know how. I'm learning now."
Karrine Steffans reveals affair with Shaquille O'Neal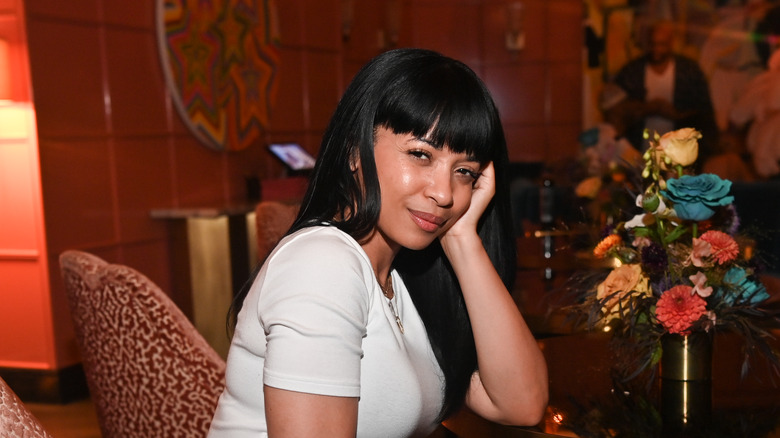 Prince Williams/Getty Images
Shaquille O'Neal's infidelity confessions in "Shaq Uncut: My Story" wouldn't have surprised anyone who read one particular 2008 memoir, Karrine Steffans' "Confessions of a Video Vixen." The NBA legend was one of many famous lovers that the actress and author regularly discussed in the book — and their encounters came when O'Neal was still very much a married man. Indeed, Steffans, who also counted Usher and Sean Combs as past conquests, claimed that she and the basketball legend enjoyed a fling in the mid-'00s, only a few years after O'Neal had walked down the aisle with Shaunie Nelson. It's fair to say that these confessions would have been difficult reading for Nelson, especially because they emerged when she was trying to repair her marriage.
In one particularly revealing chapter, Steffans wrote (via HuffPost) that O'Neal was "charmingly self-effacing about his sexual prowess and wanted to reduce my expectations." The author added that in the end, "he was nothing to complain about" in comparison to other men she'd been under the covers with. If being unfaithful wasn't enough, it was also revealed that the sportsman placed a cool $10,000 into Steffans' bank account just a day after their first meeting.
Shaquille O'Neal had an affair with Dominica Westling
Albert L. Ortega/Getty Images
According to the gossip pages, Karinne Steffans wasn't the only woman Shaquille O'Neal had an affair with while married to Shaunie Nelson. In 2011, Miami New Times published a series of emails between the basketball icon and model Dominica Westling from two years earlier. As well as a severe case of text speak, the messages confirmed that the pair had enjoyed each other's company. "I feel bad we lost contact," writes Westling in one of the revealing emails, before adding, "I live in LA now so hit me up if you ever come out there." A very excitable O'Neal then immediately asks both for her number and whether she loves him. "Yes, I wanna see you. You know I can never forget about you," she replies.
Another email conversation 23 days later, in which Westling attached a photo, was a little more sexually explicit. And it seemed to hint that they'd been intimate with each other in real life, too. The previous year, RadarOnline reported that the pair had been having an affair for an 18-month period, meaning it would have started when O'Neal was still a married man.
Was Vanessa Lopez Shaquille O'Neal's longtime mistress?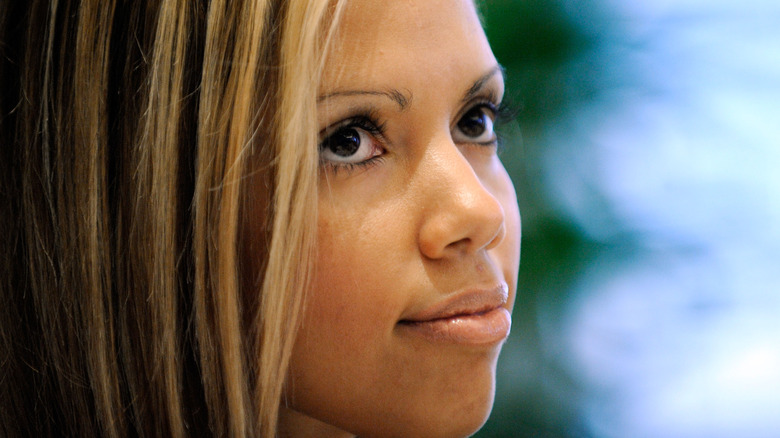 Kevork Djansezian/Getty Images
In 2010, Vanessa Lopez claimed she'd been Shaquille O'Neal's mistress for the last five years. Not only that, she also filed a lawsuit against the basketball icon, claiming that he'd constantly subjected her to harassment — including hacking her phone — in the wake of their apparent split. Lopez's case was eventually thrown out of court, with the presiding judge remarking (via TMZ), "She lied about facts important to the defense, and she demonstrated an utter disrespect for the system of justice." But that wasn't the end of the story. 
In 2016, O'Neal's alleged ex-bit on the side revealed she was planning to release a tell-all book about their time together and that she didn't care about any retaliating legal action. Lopez told Page Six, "I'm not worried about that. I'm crossing my fingers he does, and we'll prove what he's done." She also claimed that O'Neal and his team had twice helped to kill a story by Sports Illustrated about their affair. Luckily for the NBA star, Lopez's memoir is still yet to hit the shelves.
Shaquille O'Neal dated Nicole 'Hoopz' Alexander for two years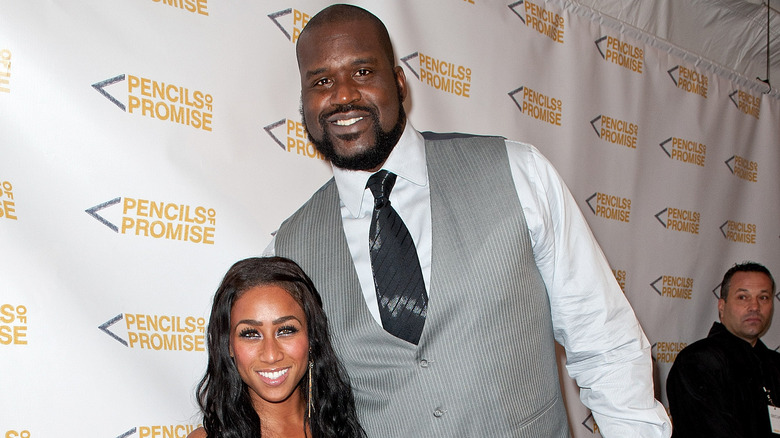 D Dipasupil/Getty Images
Shaquille O'Neal looked like he might be settling down again when he entered into a relationship with reality TV star Nicole "Hoopz" Alexander. The pair even briefly lived together while O'Neal played for the Boston Celtics. But in 2012, two years after getting together, the couple was no more. The writing appeared to be on the wall when the pair had a very public argument at an Orlando gymnastics training center. Soon after, Alexander, who found fame on the dating show "Flavor of Love," confirmed to the Boston Globe that she and O'Neal had decided to call it quits. 
Three years later, she told Wet Paint (via The Jasmine Brand) that another sports-related argument proved to be the catalyst for the breakup. "We kind of had a long distance thing going on when I chose to leave Florida," Alexander said. "And he ended up taking someone else to a tennis tournament and was just all out in the open with it and I feel like that was the most hurtful part — because at the end of the day and I am not saying it's right to do whatever you want to do behind closed doors, but out of respect maybe just let me know. I mean what I can do about it?" The star admitted she was humiliated by the betrayal and how the media capitalized on it.
Did Shaquille O'Neal get engaged to Laticia Rolle?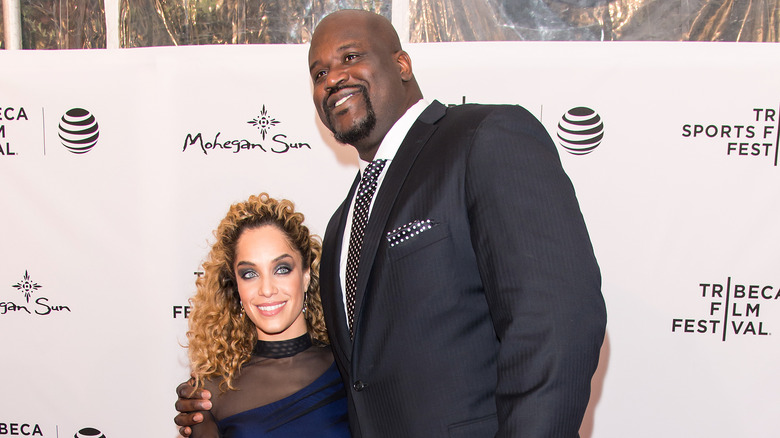 Gilbert Carrasquillo/Getty Images
In 2014, Shaquille O'Neal began dating another model, Laticia Rolle, and this relationship proved to be his longest since his marriage to Shaunie Nelson. In fact, the pair appeared to be on the verge of walking down the aisle themselves several times. Rolle, who competed at college level as a basketball player, got the internet's attention in 2017 when she uploaded a photo to Instagram of her ring finger adorned with a diamond that she captioned (via Us Weekly), "About a week ago." The previous year, the couple seemed to hint they were ready for the next step in their relationship when O'Neal apparently proposed in a series of Instagram comments between him and Rolle. "Yes, I will. Today, tomorrow and forever yours," she wrote.
In an interview with Telegram & Gazette, Rolle gushed about how she and O'Neal shared similar values: "I think we both come from families that have taught us the value of giving back and always remembering where you come from. I think that's what makes Shaquille such a humble human being. Being the big star that he is, he has taught me a lot with his big heart of gold and the way he is always giving back." Unfortunately, it wasn't meant to be, because in 2018, the couple went their separate ways.
Shaquille O'Neal reportedly starts dating Annie Ilonzeh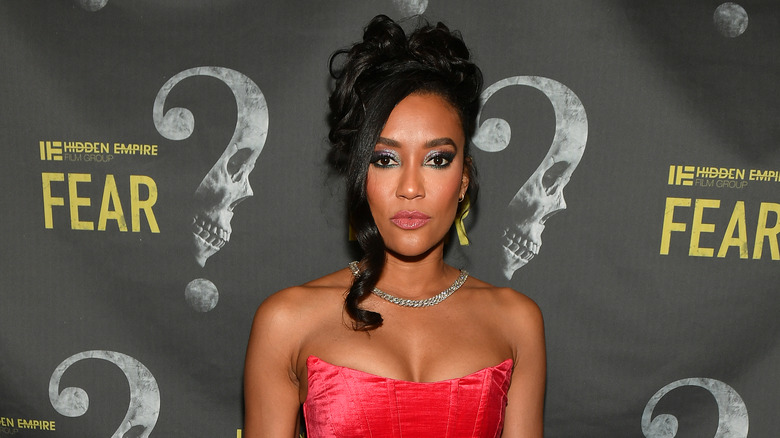 Paras Griffin/Getty Images
During a 2021 appearance on "Jimmy Kimmel Live!," Shaquille O'Neal admitted that he once used the dating app Tinder, but without much luck. He explained, "I tried to make a person meet me. And they didn't believe it was me. I was like, 'It's me, it's Shaq.' And she said, 'Shaq would never be on this.' So I had to hit delete. I had to delete my account." It's not clear when exactly the NBA legend's brief Tinder experience occurred, as he was rumored to still be dating Annie Ilonzeh. The pair were first pictured together in 2019, and although they never went public with their relationship, they were again spotted enjoying each other's company three years later.
Ilonzeh is an actress who's appeared in the likes of "American Horror Story," "The Game," and "How I Met Your Mother," but is perhaps best known for playing Emily Foster in primetime hit, "Chicago Fire." The star had a two-season run on the Dick Wolf procedural before leaving in 2020, reportedly because of a dispute about her contract.
Shaquille O'Neal is linked to Brittany Renner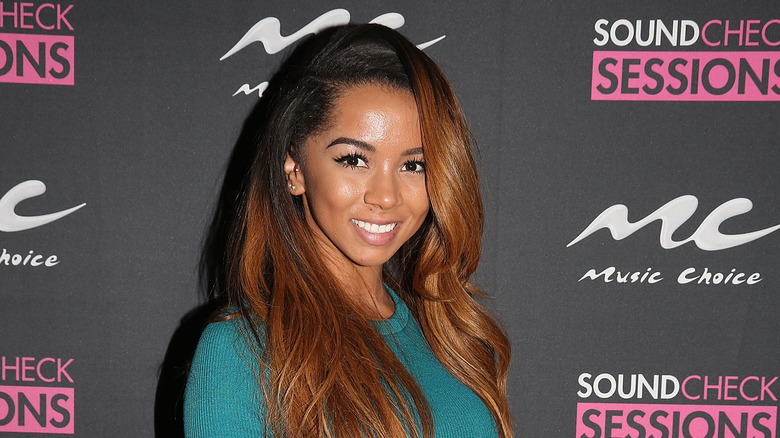 Jesse Grant/Getty Images
Shaquille O'Neal's eventful love life took another twist in 2023 when he was pictured dining with internet personality Brittany Renner. And their choice of eatery was also noteworthy. The Beverly Hills Hotel was the same place where the NBA icon got married to Shaunie Nelson 21 years earlier.
Renner is no stranger to dating within the sporting world. She has a child with and was once married to P.J. Washington, the Charlotte Hornets star she was accused of seducing simply to get lucrative child support payments. The Instagram model was also previously in a relationship with former San Francisco 49ers quarterback Colin Kaepernick and dated one-time Jackson State footballer Casey Therriault. And she's been linked to basketball players James Harden and Jamal Murray, too.
According to TMZ, however, the date was simply platonic, as the pair have reportedly been friends for years. Interestingly, Renner has signed up to appear in "Basketball Wives," the reality show executive produced by O'Neal's ex-wife.
Shaquille O'Neal still thinks of himself as a married guy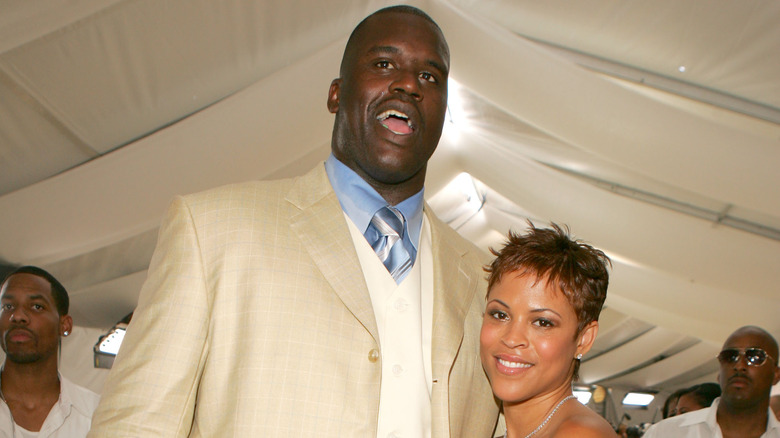 Christopher Polk/Getty Images
The most striking revelation Shaquille O'Neal gave during his 2023 interview on Monica's radio podcast "MoTalk" was that he still considers Shaunie Nelson to be his wife, despite the fact they divorced in 2011 and that she's since walked down the aisle with somebody else. Referring to Nelson's new marriage with Keion Henderson, O'Neal said, "I'm happy for her. I hope this gentleman treats her the way she's supposed to be treated. I'ma still love her. She's still my wife. I'll always protect, provide and love for her, married or not."
But Shaunie isn't the only ex O'Neal promises to give the "PPL" treatment. He also revealed that he will always feel a similar way about his first serious girlfriend and mother of his first-born, Arnetta Yardbourgh, before using a slightly tenuous sports analogy: "I'm going to always be there for them. They want to get married and find people better than me; I understand that. I accept that. Because it's what we call in my sport a turnover. If you're going to turn the ball over, you can score. But if you turn the ball up and give another person the opportunity to score, maybe they can score better."