Michael Jackson's Sons Prince And Blanket Have Grown Up To Be Close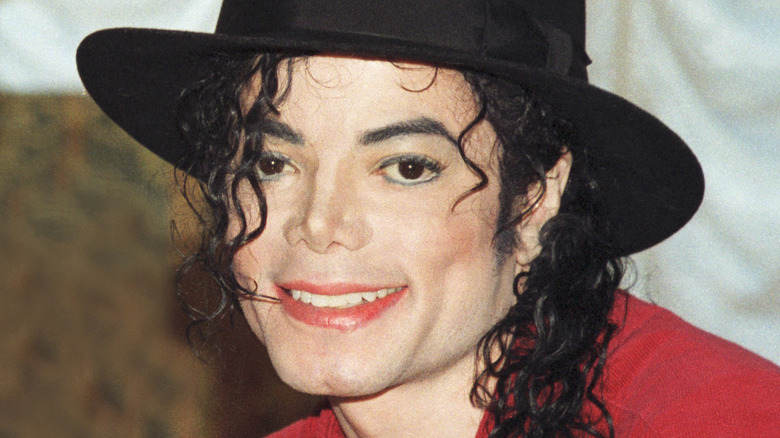 Phil Dent/Getty Images
Although Michael Jackson tragically died in 2009, his legacy live on in his kids, Prince, Paris, and Blanket "Bigi" Jackson. As the three siblings have gotten older, they remain close, but the two brothers, in particular, have developed a strong bond.
Ever since Michael welcomed his first child, Prince, in 1997, the "Billie Jean" singer entered dad mode and wanted to protect him from all the fame. That protectiveness only got stronger when he had Paris in 1998 and Blanket in 2002, per Page Six. The King of Pop singer shared in a TV special (via Us Weekly), "I love and adore my children. They mean everything to me. When they're in public, though, I conceal their faces, 'cause I want my children protected. At home, they have a normal life...But in public, I must protect them." This is why Michael would often cover their faces with masks and blankets, but after his passing, his kids stepped further into the spotlight.
In October 2021, Prince gave People an inside look into his relationship with Paris and Bigi. He shared, "It's more [that] we're all siblings and we're kind of all on that same level where my sister has her strengths, and my brother has his strengths, and where I'm not as strong in certain areas, they complement me in that way." Bigi specifically has "complemented" his brother as they have created a strong sibling relationship.
Bigi Jackson looks up to Prince Jackson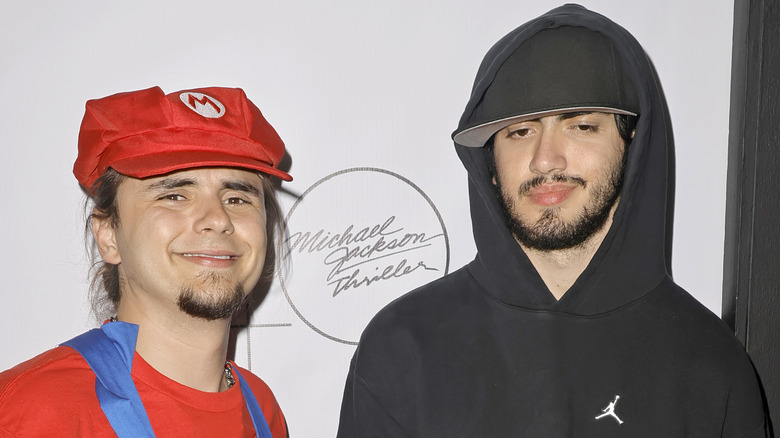 Kevin Winter/Getty Images
Being the eldest child tends to come with a lot of responsibility and Prince Jackson knows this firsthand. The eldest of Michael Jackson's three kids revealed to People, "[B]ecause I'm the oldest, my father would always tell me I have to make sure the group is taken care of, and that I have to kind of be the leader and lead by example." However, Prince admits he leaned on his two siblings, Paris and Blanket "Bigi" Jackson after the "Thriller" singer died. To Prince, it might have seemed like he slacked off on his eldest sibling duties, but to Blanket, Prince was the one he looked up to the most.
It's typical for younger siblings to admire their older siblings, even in one of the most famous families — the Jacksons. In 2019, a family insider shared with Hollywood Life that Bigi deeply respects his older brother, Prince. They said, "Blanket looks up to Prince so much. Prince has really taken his brother under his wing and is his main role model. Prince really protects his brother as they have a real close bond. They go through life as a team." At the time, Prince attended Loyola Marymount, which wasn't too far from home and, more importantly, not too far from Bigi. The insider shared, "Being home allows him to look after Blanket, plus, they're always hanging out." So, no matter what life throws at the brothers, they won't let anything come between them.
Prince and Bigi hang out all the time
Out of all of Michael Jackson's kids, Blanket "Bigi" Jackson has kept out of the glitz and glamour of fame. The insider told Hollywood Life, "He is totally OK with being out of the spotlight — It works for him, as he really enjoys being out of the limelight." It's not every day that Bigi chooses to step out into the spotlight, but when he does, it's usually with his big brother, Prince Jackson.
In 2019, Bigi joined the Jackson family to celebrate Prince's graduation from Loyola Marymount. In a series of photos shared to Prince's Instagram, the two brothers posed side by side. Prince wrote, "Yesterday I graduated from @loyolamarymount Cum Laude...I wish I could thank everyone that helped me make it to the end but I can't and unfortunately they're not all pictured here." Bigi rarely makes public appearances, but his brother has always been important to him so, of course, he was going to attend his graduation.
Hollywood Life reported that Prince tends to bring Bigi out of his "shell" and they seem to be right. In August 2023, Prince and Bigi attended a Michael Jackson ONE Cirque du Soleil show in Las Vegas on what would have been the pop icon's 65th birthday, per Page Six. Prince was much more open as he talked to showgoers and posed for pictures. While Bigi might not be as personable as Prince, it's nice to see that the two brothers get along.