What We Know About Jimmy Buffett's Children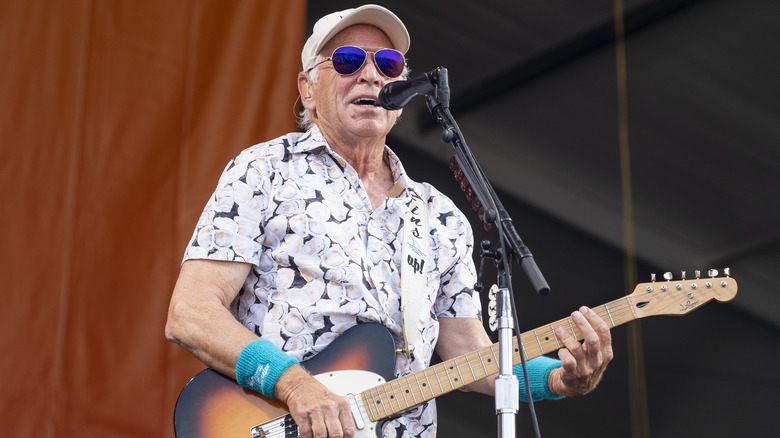 Erika Goldring/Getty Images
Parrotheads across the globe raised a salt-rimmed toast to Jimmy Buffett upon learning the sad news of the beloved "Margaritaville" singer's death, and their thoughts undoubtedly turned to the family members mourning the loss with them.
While his escapist music celebrated the beach bum lifestyle, Jimmy was also very much a family man. The people he turned to when he couldn't find that pesky lost shaker of salt were his wife, Jane Slagsvol, and the couple's three children. Three years after their daughter Savannah Jane Buffett was born in 1979, the couple split up because Slagsvol decided she'd had enough of Jimmy's wild lifestyle, according to Time. But they got back together in 1991, and their daughter Sarah Delaney Buffett was born the following year. Two years later, the couple adopted their son Cameron Marley Buffett.
Jimmy credits his own kids for helping his music reach a younger audience. In a 1996 interview with the Roanoke Times, he shared his thoughts about the growing trend of children attending his concerts. "It probably boils down to the fact that my songwriting has probably been affected by 16 years of cooking breakfast for my children and watching 'Sesame Street,'" he said. "Somehow or other, that has subliminally gotten into my songwriting process. And I guess maybe that's why they're picking it up." His songwriting also influenced his children's career pursuits, and he collaborated with his daughter Savannah on a special project when she was still a child.
Author Savannah Buffett has a Maroon 5 connection
Savannah Jane Buffett was just 8 years old when she and her dad co-wrote the children's book "The Jolly Mon," which was inspired by their time sailing together. Savannah also became a world traveler at a young age and lived through a harrowing experience in 1996 when Jamaican authorities shot at one of her dad's planes. According to The New York Times, they believed that there were drug smugglers on board, but the occupants were just the Buffetts, Bono, and record producer Chris Blackwell.
On her website, Savannah lists some of her occupations as a DJ and a consultant for musicians. She's also a journalist who interviewed musicians during Jazz Fest in 2014, a gig that became a reunion when she spoke to Adam Levine and his bandmates. "It was really fun for me to see Maroon 5 at Jazz Fest," she told NOLA.com. "I grew up with those guys. They were my roommates when I was 20 years old, and so to have them play their first big American music festival there was great." While living with the group, she recorded backup vocals for their 2012 album "Overexposed."
Savannah's passion for music inspired her to start hosting her own SiriusXM radio show, "The Savannah Daydreamin' Radio Hour," and her wanderlust landed her a job hosting the YouTube travel show "ExPats." She told Johnny Jet, "It's now my job to travel, but it's always been my passion. Born on the road and raised backstage, I seek truth and connection through music, diversity, and adventure."
Delaney Buffett got the stories behind some Jimmy Buffett songs
Sarah Delaney Buffett, who goes by her middle name, is a producer, writer, and director whose work includes a few short films, the TV movie "Jimmy Buffett: Buried Treasure," and the TV series "City of Angles." She also interviewed her dad for a video series about the collection of obscure Jimmy Buffett tracks featured on the 2020 album "Songs You Don't Know By Heart." She told Newsweek, "The concept was to film dad and give intimate looks into songs and go down memory lane." The songs include one about her older sister, "Little Miss Magic," and one her dad wrote about her, "Delaney Talks to Statues." Of the latter, Jimmy told Delaney that it was partly inspired by a family trip to Rome. "We were looking at the ruins, and you were being a little brat and all you wanted to do was stomp on toadstools," he said.
Jimmy's son, Cameron Marley Buffett, lives a more private life than his siblings, but he does share occasional photos of his wife, dog, and travels on Instagram. In his memoir, "A Pirate Looks at Fifty," Jimmy shares his relief at Cameron joining the family, which he felt was a bit too female-heavy. He also reveals that Cameron acquired a fondness for flying at a young age. "I never tried to force him to love what I love," Jimmy writes, "but it's nice when it happens on its own."