Joe Gatto's Love Note To Wife Bessy After Reconciliation Ironically Revives Old Cheating Rumors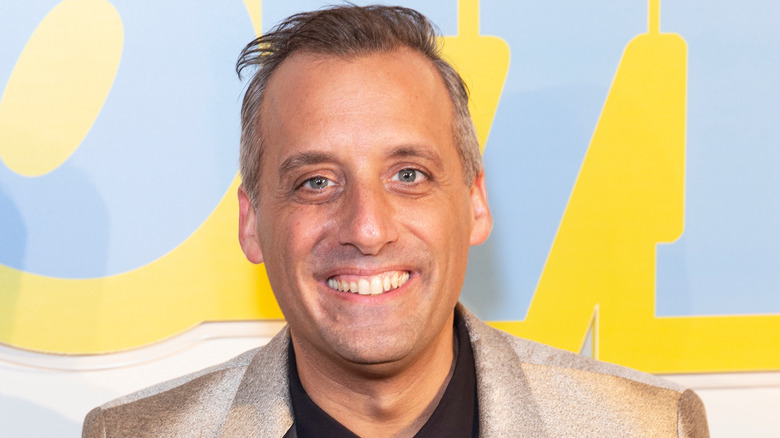 lev radin/Shutterstock
Joe Gatto and Bessy Gatto have pressed the reset button on their marriage. The couple tied the knot in 2013, but their relationship hit a breaking point eight years later. In December 2021, the "Impractical Jokers" star revealed he and his wife had split. In an Instagram post, he shared that he was leaving "Impractical Jokers," explaining that personal issues led to his decision. Then, he added, "Bessy and I have decided to amicably part ways, so now I need to focus on being the best father and co-parent to our two incredible kids." In a since-deleted Instagram post (via Page Six) Bessy echoed Joe's sentiment, writing, "Hi everyone. With love and respect, we have decided to separate."
As neither Joe nor Bessy shared the reason behind their split, fans speculated that infidelity might have played a role. While these theories seemed questionable at the time, Joe has now reignited cheating rumors in a recent social media announcement. In a love note to his wife, Joe's use of one word has raised eyebrows.
Joe Gatto's use of the word 'forgiveness' has fans speculating
Amid their reconciliation, Joe Gatto gushed about his wife Bessy Gatto in a recent Instagram post. He noted that despite their ups and downs, their love has been a constant. The comedian wrote, "And me knowing that there is no one else I'd want to be my person. I love your compassion, your resilience and your giggle." However, Joe then hinted at their past issues. He said, "And I'm happy and hopeful that we will be able to get a few more in because we have proven with compassion, forgiveness and an open heart we can do this."
Of course, the word "forgiveness" has sparked online buzz, with fans taking to Reddit to analyze Joe's semantics. In an "Impractical Jokers" thread, one user wrote, "Forgiveness caught my eyes, I wonder what happened and who was the one that needed to be forgiven." Someone else proposed a theory about an affair, writing, "He bailed the show real quick and unannounced, and with him mentioning forgiveness. Here I can't help, but to think he was probably cheating on her with one of the staff."
No matter what happened in their past, Joe and Bessy seem thrilled to be moving forward. Bessy recently expressed her feelings about their relationship in a lengthy Instagram post. She wrote, in part, "I have never been happier, more content, and more hopeful for the future than now."