Does Morgan Stewart Get Along With Her Famous Father-In-Law Dr. Phil?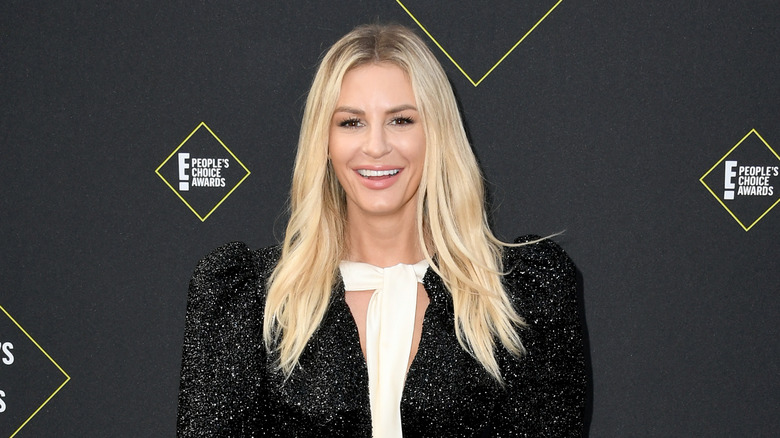 Jon Kopaloff/Getty Images
It's no secret that former reality star turned television host turned fashion designer Morgan Stewart has the gift of gab... and perhaps no one knows this more than her famous father-in-law, Dr. Phil McGraw. "Most people talk 125 words a minute. You gust up to about 190 about every 30 seconds," he declared during an appearance on E!'s "Nightly Pop." He added, "Sometimes when I'm listening, I feel like I'm rolling backwards down a hill." 
As you may recall, Stewart and Dr. Phil officially became family in December 2020 when Stewart tied the knot to Dr. Phil's son, Jordan McGraw, during an intimate at-home ceremony. Stewart then expanded the McGraw family by two more when she welcomed a daughter, Row Renggli, in February 2020 and a son, Grey Oliver, in February 2021 — making the siblings precisely one year and one day apart in age. 
But how well does Stewart get along with Dr. Phil once the cameras are down? Here's everything we know about their relationship.
Dr. Phil McGraw and Morgan Stewart go way back
Love will find a way? The story goes that Morgan Stewart and singer and musician Jordan McGraw briefly dated in 2010 before going their separate ways. As you may recall, Stewart started a new relationship with Brendan Fitzpatrick. In 2016, the couple said "I do" in a lavish ceremony — all while the "Rich Kids of Beverly Hills" cameras were rolling. Alas, the union did not go the distance, and Stewart filed for divorce in October 2019, citing irreconcilable differences for the marriage's demise.
Fortunately, even while Stewart and McGraw were apart, Stewart remained tight with Jordan's family, including Dr. Phil, Jordan's mom, Robin McGraw, and Jordan's brother and sister-in-law. "It's interesting that over all of that decade — because usually when there's a relationship and then a breakup, it's like the family breaks up too — but during that ten years, you continued to have a relationship with, as you say, Erica and Jay and Robin," Dr. Phil recalled during an episode of his podcast "Phil In The Blanks." He added, "And I saw you a time or two. I saw you at CBS a couple of times and stuff. It was always very friendly. We always were happy to see each other." And since then, it appears Stewart and Dr. Phil's relationship has only gotten stronger.
Dr. Phil often gives Morgan Stewart professional advice
Morgan Stewart is a proud nepo baby-in-law! According to Stewart, there are many perks that come with having Dr. Phil McGraw as your father-in-law — including picking his brain for professional advice. "I know there's that whole like nepotism talk, baby talk, or whatever like sign me up for nepotism daughter-in-law! Like, I will take it all day," she declared during an appearance on the "Just B with Bethenny Frankel" podcast in March. "He's clearly done something right. He's been on the air for however long, 2,000 years?!" she gushed.
Still, Stewart was quick to note that her in-laws are very careful to respect boundaries and not overstay their welcome or show up unannounced — namely because they have busy lives of their own to tend to. "I never feel like people are coming in at both sides," she dished to Frankel. "It's not like they're ever going to be the people that have, like, a totally free Wednesday to come, like, knock on the door," she added. And there ya have it, folks! It's all good in the McGraw hood!