Who Is Dr. Phil's Famous Daughter-In-Law?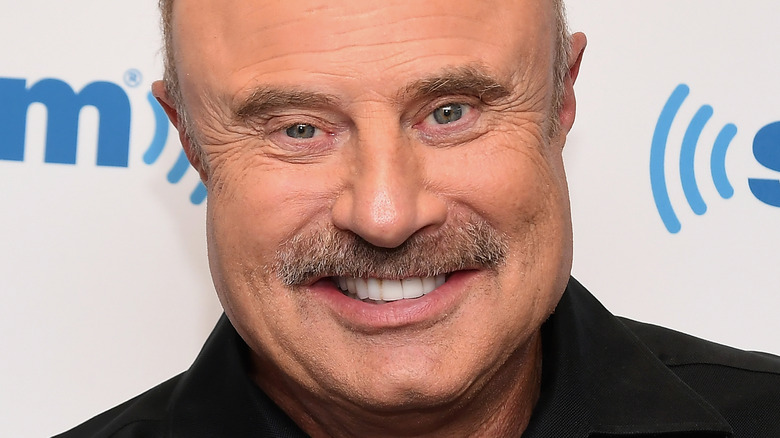 Nicholas Hunt/Getty Images
Television personality Dr. Phil McGraw is perhaps best known as the stern, no-nonsense psychologist doling out one-liners to those seeking advice on his famous talk show aptly titled "Dr. Phil." But that's not his only role. He's also a husband, a father, and even a grandfather. "I coached basketball for 14 years with my boys, and Robin and I never missed a game!" the proud patriarch fondly reminisced to Closer Weekly about spending time with his sons and his wife. 
Sadly, Dr. Phil's youth basketball coaching days are long gone as his boys are all grown up. But now it's his famous daughter-in-law that's giving the talk show host a run for his money. "Most people talk 125 words a minute, you gust up to about 190 about every 30 seconds," he once famously teased her on air. "It's circular, like a tornado," he joked. "Sometimes, when I'm listening, I feel like I'm rolling backwards down a hill."
But who's the mystery lady with a motor mouth to boot? The answer just might surprise you...
Morgan Stewart rivals her father-in-law in the fame department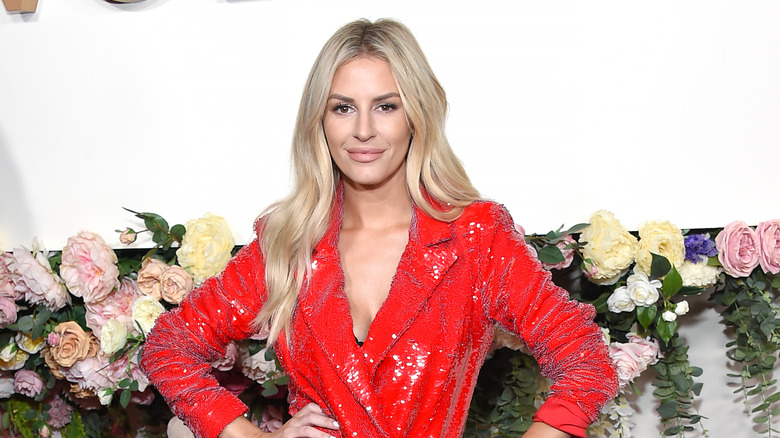 DFree/Shutterstock
During the height of the COVID-19 pandemic, Dr. Phil McGraw's son, Jordan McGraw, made headlines when it was revealed that he had rekindled an old love with a famous ex-girlfriend... none other than former reality star turned E! network's reigning golden girl Morgan Stewart! 
"We dated 10 years ago for a year and then he broke up because he was like, 'I'm not down with you, b****" Stewart revealed in March 2020 during an Instagram Live, per People.  "And then I was like 'Fine, whatever, I'm over you, I don't care.' And then I went on obviously to have another relationship." (Never forget her engagement and subsequent lavish nuptials to businessman Brendan Fitzpatrick... all while the "Rich Kids of Beverly Hills" cameras were rolling.) Fortunately, however, the stars aligned and the couple was given another shot at love. "The past year we got back together. Isn't that cute?" Stewart dished. "He was persistent and I was like, 'all right.'"
Then in July 2020, the couple stunned the masses when they announced they were engaged! "Fireworks," Stewart penned in an Instagram post along with the fireworks emoji and a photo of herself rocking a giant sparkler on her left hand. Since then, however, the couple has been living life in the fast lane.
Morgan Stewart and Jordan McGraw have been busy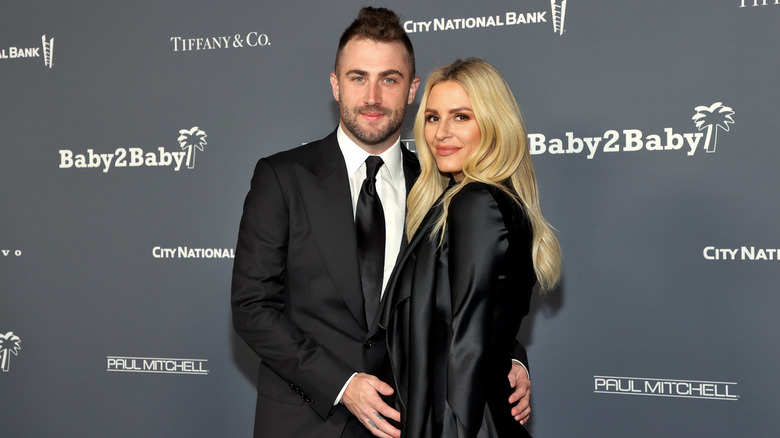 Amy Sussman/Getty Images
First comes love, then comes marriage, then comes... you know the rest.
Shortly after getting back together, Morgan Stewart and Jordan McGraw eloped in an intimate at-home ceremony and even welcomed two children: a daughter, Row Renggli McGraw, in February 2021, and a son, Grey Oliver, in February 2022, per E! News. "GREY OLIVER MCGRAW joined us exactly one year and a day after his big sister and we are so in love," Stewart gushed in the caption of an Instagram post along with a photo of herself cradling her newborn son. 
As one can imagine, the transition has been a tad challenging for the couple but luckily they have loads of family support — even from Dr. Phil, himself. "He's not Dr. Phil to me, he's my dad. He likes to sit there and watch me figure stuff out on my own with a smile on his big bald head," Jordan revealed in a candid interview with Today. "But if I have a question, I know where to go," he revealed. Congrats to the proud parents!