The Bachelorette's Kaitlyn Bristowe Addresses Shawn Booth Split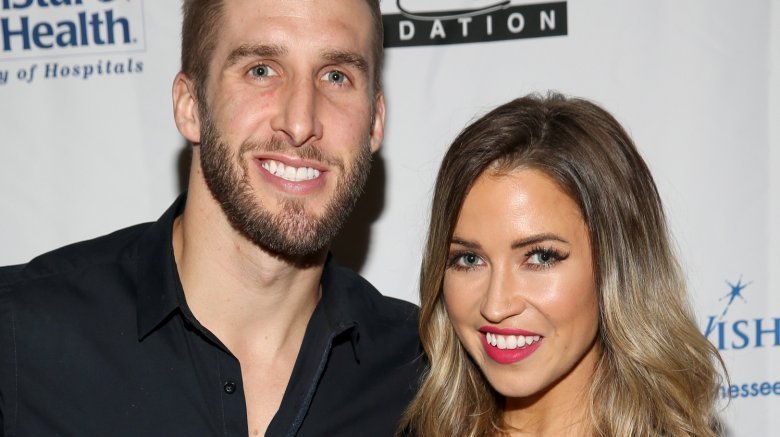 Getty Images
Kaitlyn Bristowe of The Bachelorette is opening up about her recent split from fiancé Shawn Booth for the first time.
On Tuesday, Nov. 20, 2018, the television personality broke her silence on the matter during an understandably emotional episode of her Off the Vine with Kaitlyn Bristowe podcast.
While referring to the former couple's decision to call it quits as the "big elephant in the room," Bristowe told her listeners, "It's been a really hard few months now. I really did think we'd get through it" (via E! News). Noting that the duo found themselves "in a crossroads" over the summer, the reality TV star said, "But to be honest, I thought we would choose the road where we'd end up together."
Bristowe went on to share some insight into why she and Booth broke up, explaining that "there were some important fundamental values that weren't lining up" and "some things we'd probably never see eye-to-eye on." As she added, "We were left with no choice but to be honest with ourselves — and with each other — and we are so lucky for the memories we've created and all the beautiful moments that we had."
Despite their difficult and very public breakup, Bristowe is optimistic about the future. Telling her fans that she "will find happiness," she added that the amicable exes "will remain friends."
As Nicki Swift previously reported, Bristowe, 33, and Booth, 31, first announced that they'd decided to end their three-year engagement on Nov. 2, 2018. For his part, Booth previously addressed their breakup on social media in mid-November, writing, "I just want to thank everyone who has been so supportive of my relationship with Kaitlyn over the years. You've made me feel incredibly special, supported, and very loved. So from the bottom of my heart, thank you. It truly means a lot." He added, "And thank you to everyone who has sent their love & support during this painful time. I love you guys."
Sadly, these two aren't the only celeb pairing to call off an engagement this month. On Monday, Nov. 19, multiple media outlets reported that socialite Paris Hilton and actor Chris Zylka had ended things just 10 months after getting engaged. According to a source cited by E! News, "Paris broke up with Chris a few weeks ago. Their relationship moved really quickly, and she realized he wasn't right for her. She wishes him well and hopes they can remain friends."