Sylvester Stallone Didn't See Eye To Eye With His Late Son Sage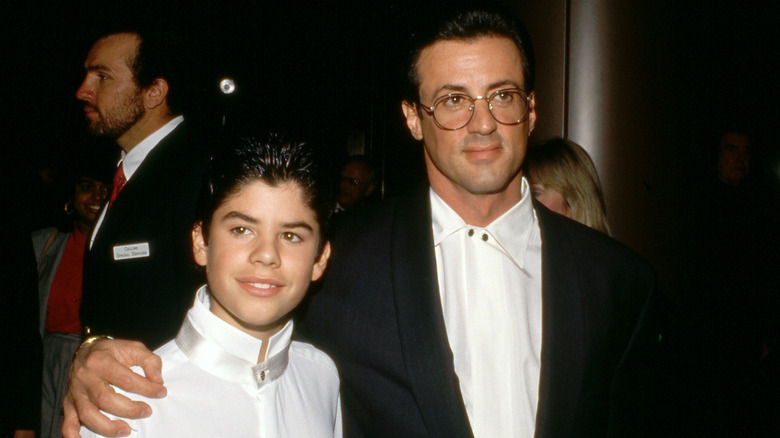 Mediapunch/Getty Images
In 2012, one of the most devastating tragedies happened to legendary actor Sylvester "Sly" Stallone: His eldest son, Sage Moonblood Stallone, died at only 36 years old.
CNN reported that his untimely death was caused by a coronary disease called atherosclerosis, which is characterized by a blockage in the arteries. Sylvester was reported to be inconsolable at the time, with his representative saying in a statement that the "Rocky" star was "devastated and grief-stricken over the sudden loss of his son." They added: "His compassion and thoughts are with Sage's mother, Sasha. Sage was a very talented and wonderful young man. His loss will be felt forever."
Sylvester and Sage appeared to be close, with Sage even appearing in two of his father's blockbuster movies, "Daylight" and "Rocky V." In a 1990 interview with the Chicago Tribune, Sly waxed poetic about his son, calling him a "very handsome young man raised in the lap of luxury." While he acknowledged that Sage found it difficult to be the son of a superstar, he admired how Sage seemed to be handling it all just fine. "I'm very proud of him because he's a good boy, has such an acumen for the business," he noted. In reality, though, their relationship was reportedly marred with drama. Sage admitted that his dad wasn't around much growing up, and per his friends, the father and son often clashed.
Sly and Sage had a love-hate relationship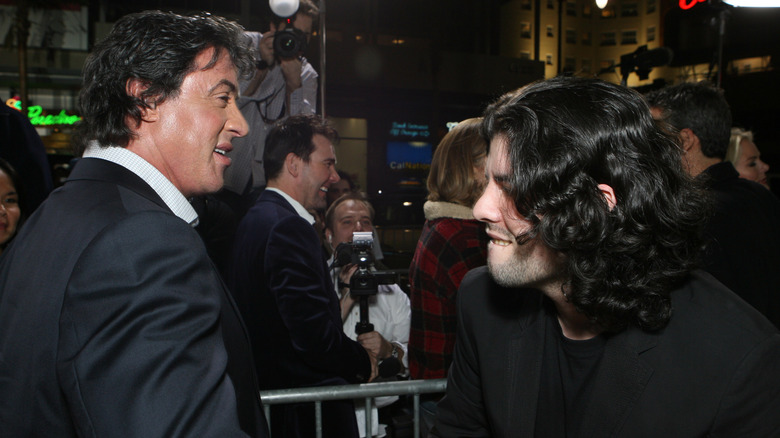 E. Charbonneau/Getty Images
Sage Stallone once opened up about how Sylvester Stallone was often absent when he was a kid due to work commitments, making their relationship pretty much non-existent. "When I was growing up, my dad was always off making a movie somewhere. He didn't have time for me so my brother and I were raised by our mom," he told Total Rocky in 1996. But it all changed when he was tapped to star in "Rocky V," with the experience resulting in the two strengthening their bond. "Ironically it was the movies that alienated my dad and [me] but that finally brought us together," he said.
It still wasn't smooth sailing after that, with Sage's pal, actor Stephen Wozniak, divulging to People that their "love-hate would go back and forth all the time." He recalled how Sage would sometimes praise his dad, only for him to walk back to his word shortly after. "[Sage] would say, 'I loved that rare ending in 'Nighthawks' that my dad was really sticking up for.' And then a few minutes later he would look in a magazine and say, 'Look at these tribal tattoos that my dad is getting at age 66. What is he doing?'" Sage also apparently harbored hard feelings over being glossed for "Rocky Balboa," with the role going to Milo Ventimiglia instead. Sly reportedly criticized his son for not staying in shape, but in the Chicago Tribune interview, the actor explained that it was for his own good. "You've got to give them a little zatz, pull out the carpet and wake them up-then explain they're better than that."
Sylvester admitted that he wasn't an ideal father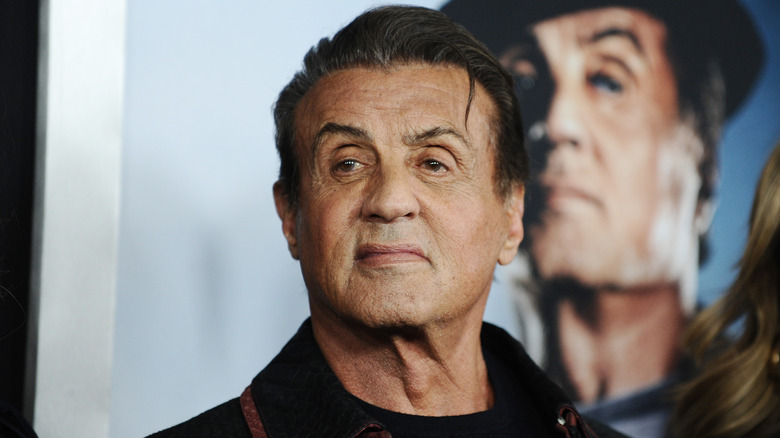 Daniel Zuchnik/Getty Images
When Sage Stallone was filming a confrontational scene with dad Sylvester Stallone on "Rocky V," he confessed that much of what he told his dad on-screen reflected what he was feeling in real life. "When I was screaming 'You never spent time with me! You never spent time with my mother!' that was true. I was looking into my father's face and really saying that," he shared with People. "I got a lot of things out. We broke into tears a few times. After the film, everything changed. We'd do anything for each other."
Sly, for his part, later admitted that he was indeed absent when his kids were little, telling The Hollywood Reporter that prioritizing work over his family will always be his "biggest regret." He said: "Everyone goes, 'I wish I'd shown love more' or 'I wish I'd spent more time with the kids.' I'm riding that boat." The "Rambo" star is trying his best to make up for lost time now, though, sharing with The Sunday Times that he is making himself more present and being the first one to reach out to his four remaining children. "I didn't pay enough attention when they were growing up. I was so career-oriented, and now I go, 'Okay, I don't have that much runway up ahead, and I want to start asking them about their lives.'"