Does Sofia Richie Have A Close Relationship With Her Brother Miles?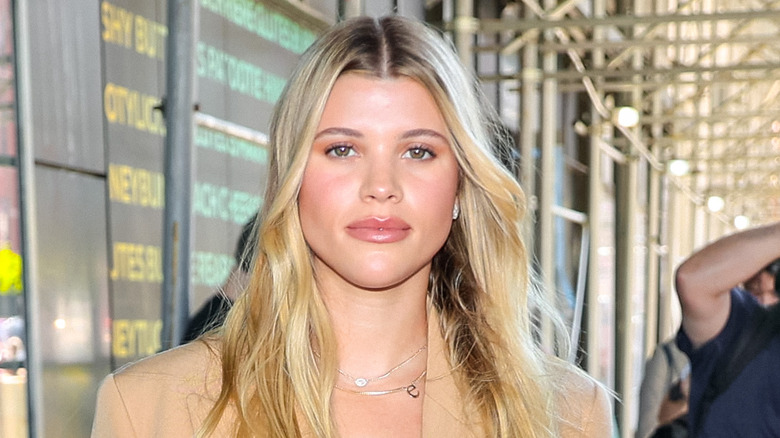 Jose Perez/bauer-griffin/Getty Images
Sofia Richie's family is filled with stardom. From her legendary father, Lionel Richie, to her reality star sister, Nicole Richie, there is some serious star power in this famous family. But her father and sister aren't the only ones that Sofia grew up with because she also has an older brother named Miles Richie.
According to People, Lionel and his then-wife, Diane Alexander, welcomed Miles in 1994, four years before his younger sister, Sofia, was born. Compared to his two older sisters, Miles has flown under the radar when it came to the spotlight. He revealed to RollaCoaster Magazine, "I had a very interesting childhood. I was always shy and held back. Whenever the cameras came out, I would hide behind my mother, and she was very supportive of my differences." Although Miles grew up incredibly shy, he has been stepping out of his comfort zone by taking on the world of modeling, per Hollywood Life.
Now, it's not just his new career bringing Miles a new sense of fame but also the fact that his little sister has become an IT girl in Hollywood. Ever since her dreamy wedding, people have become obsessed with Sofia and have taken in every little detail about her fairytale wedding, including the fact that her older brother Miles was noticeably absent. But was this by choice? And do he and Sofia have a close relationship? Well, we're here to fill you in on all the details about the brother-sister duo's relationship.
Miles had to miss Sofia's wedding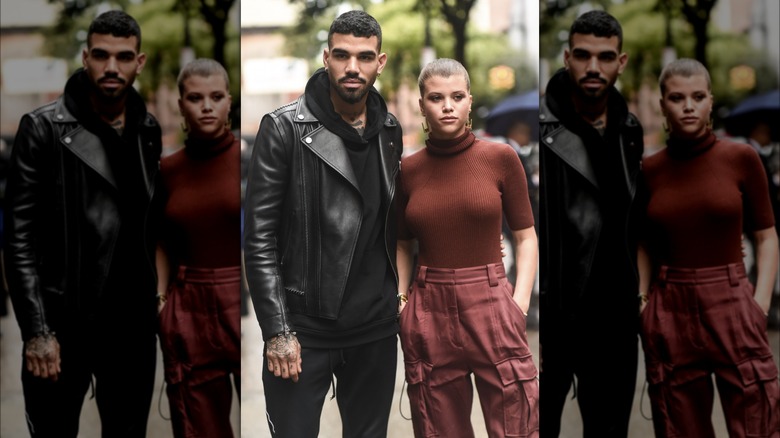 Daniel Zuchnik/Getty Images
The rumors are true! Miles Richie did skip out on his little sister Sofia Richie's wedding, but not because he wanted to miss the big day. While Miles' absence sparked online speculation that he and Sofia may not have a close relationship, that's not the case. In an unfortunate series of events, the model got sick just before Sofia's wedding, according to TMZ. Apparently, Miles was feeling a bit under the weather leading up to his sister's wedding and decided to take a COVID test, which came back positive.
A rep for the Richie siblings revealed to ET, "Sofia would have loved for her brother to have been there on her special day, but she understands why he couldn't make it. The 28-year-old musician was missed by the family and all the wedding guests." It seems like Miles missed everyone just as much as they missed him, especially his sister and her new husband, Elliot Grainge.
The model couldn't let his sister's wedding pass by without any well wishes. According to ET, Miles reposted a photo of the beautiful couple on his Instagram story on their big day and made sure to send his love. He captioned the photo, "Absolutely obsessed with you two. Love you." While it may not have been how Miles hoped to congratulate his little sister on her new nuptials, it still showed that he loves and adores Sofia and now her new husband.
Sofia and Miles hang out all the time
Ever since they were little, Sofia Richie and Miles Richie have been by each other's side. And not only do they show up for one another on special occasions but even on a casual Wednesday. In April 2019, Sofia and Miles documented a sibling date as they went to grab juices with each other, per Life & Style. From juicing to a walk around the neighborhood, the brother-sister duo were seen taking a stroll in their neighborhood in February 2021, per Daily Mail. The two can't seem to keep away from one another, and just months after their walk, they were already jet-setting on a vacation with one another and the rest of the family. In June 2021, Sofia, Miles, and the rest of the Richie gang were all tanned up as they enjoyed the beautiful country of Greece, per Daily Mail.
As if the frequent hangouts weren't enough, Sofia also loves to share her admiration for her brother on social media. In May 2020, the former model shared several cute photos of her and Miles throughout the years on Instagram in honor of his birthday. She wrote, "No matter what we have each other! Lucky me. Happy Birthday to my person @milesrichie. I Love you more." Sofia and Miles's relationship is truly like no other, and with all their get-togethers, their sibling relationship will only continue to get stronger.