A Look At Zac Efron And Leonardo DiCaprio's Unexpected Friendship
DFree/Shutterstock
Zac Efron and Leonardo DiCaprio don't make for the most obvious of friendships. At first glance, a former Disney darling and an Oscar-winning Hollywood veteran with an unquenchable thirst for lingerie-clad supermodels wouldn't seem to have much in common. But a closer look at Efron and DiCaprio's unexpected friendship proves otherwise.
There's no doubt that there's a considerable age gap between the two. At 48, DiCaprio is well on his way to becoming a quinquagenarian. In contrast, 35-year-old Efron is only halfway through his tricenarian years. For perspective, Efron was struggling through puberty while DiCaprio dallied with his starter model, Kristen Zang, and then embarked on his supermodel Gisele Bündchen era, per US Weekly.
However, the "Titanic" star isn't your regular run-of-the-mill middle-aged man. He seems like the younger of the two in many ways as he keeps abreast of all the latest trends and happenings thanks to his revolving catwalk of nubile girlfriends. People reports that DiCaprio has been dating 28-year-old Gigi Hadid since September 2022. The couple has been spotted getting cozy at a New York Fashion Week after-party, a pre-Oscars celebration, and strolling around London. Meanwhile, Efron doesn't even leave his house very often these days. Sadly, he suffers from an extreme anxiety disorder, resulting in a fear of open spaces and crowds of people. "I just don't go out," Efron told Men's Health. "People in large groups.. it triggers my agoraphobia." So what fuels DiCaprio and Efron's strange bromance?
The mentor and mentee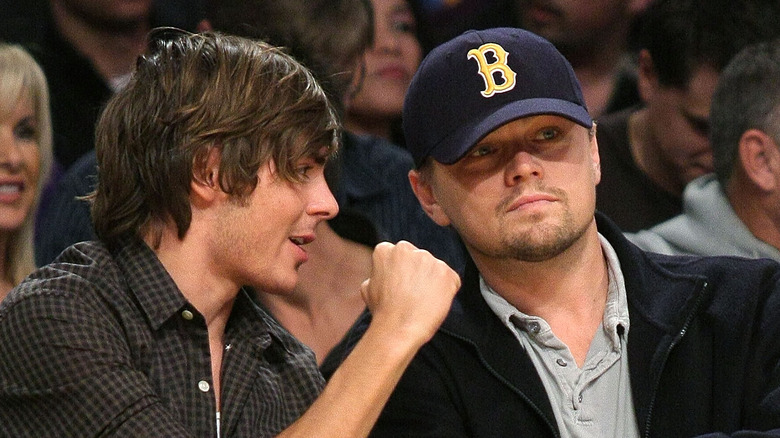 Noel Vasquez/Getty Images
Zac Efron and Leonardo Dicaprio's careers have been drastically different, but they share a lot of similarities. Per Biography, Efron was 18 when he landed his breakout role as Troy Bolton on the Disney smash hit, "High School Musical." After dating his co-star, Vanessa Hudgens, he became a tabloid staple and teen idol. However, as the paparazzi frenzy grew, Efron stepped away from the limelight and graduated high school before jumping back into the fray.
Meanwhile, Britannica reports that DiCaprio kicked off his career with sitcoms, low-budget horror flicks, and even a role in "The New Lassie." But he was also 18 when he hit the big time, co-starring in "This Boy's Life" with Robert DeNiro. Like Efron, DiCaprio's fame skyrocketed, and he also became a teen pin-up. However, unlike Efron, DiCaprio didn't have to deal with the swarms of paparazzi, fans with cell phones capturing his every move and social media.
Efron and DiCaprio bonded when they found themselves unexpectedly seated together at a Lakers game in 2008. Efron played it cool and waited for DiCaprio to make the first move. "And sure enough, he had his cap down low, and when the ball went to the other side, he went, 'Hey man, do you want to go get breakfast tomorrow?'" Efron explained in a "First We Feast" interview. "And he cooked me breakfast the next day," he continued. "At his house. He cooked waffles, and then he burned those, then he made pancakes. It was awesome."
The fame game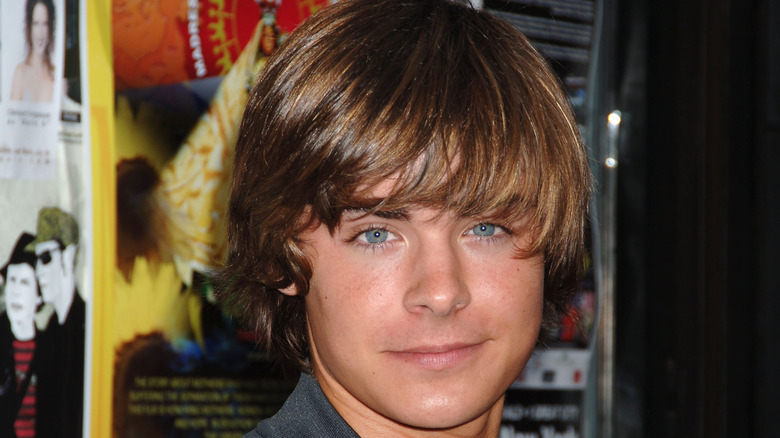 Robin Platzer/Getty Images
Zac Efron was psyched when he met Leonardo DiCaprio at a Lakers game in 2008. Efron told "First We Feast" that he'd been eager to pick DiCaprio's brain about dealing with fame. However, the outcome was as successful as DiCaprio's waffles, as the veteran actor had never dealt with the level of insanity that Efron was subjected to 24/7.
"I'd leave my driveway, and like ten cars would follow," Efron explained. He said DiCaprio was stunned when he saw the paparazzi swarm that had followed Efron to his house. "That's insane, dude," a shocked DiCaprio remarked. Efron said they shared a moment as their eyes met, and the stress and anxiety that had become part of their everyday lives was exposed. Still, DiCaprio remained calm and supportive of his new mentee. "Don't worry about it, man. You're good," he reassured him. "That's the biggest hand you can extend, I feel like, in Hollywood," Efron said. "Looking out for someone younger."
It's difficult to remember how much Efron and his fellow Disney stars were hounded back in the day. Although, few will ever forget poor Britney with the umbrella. Efron was a global superstar at just 18 and was forced to live with everything that accompanied it. Efron admitted that "High School Musical" led to him being recognized in the strangest places. He told "Jimmy Kimmel Live" that he was even pegged as Troy Bolton during a crocodile excursion with a tribe of Papua New Guinea locals.