Sophie Turner & Joe Jonas Bat Down Negative 'Narratives' In Official Divorce Announcement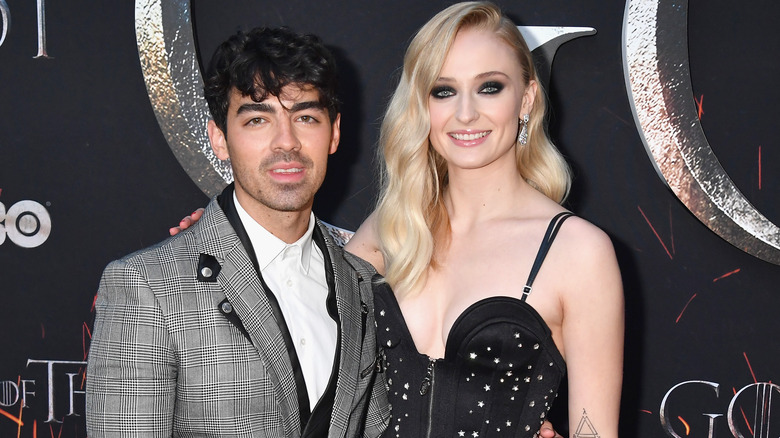 Jeff Kravitz/Getty Images
Joe Jonas has filed for divorce from Sophie Turner, according to TMZ. The report indicates that the former couple do have a prenuptial agreement in place and that Jonas is seeking joint custody of their two young daughters. The outlet has also reported that Jonas has been the primary caregiver for the kids, even taking them on the road with him as he tours with the Jonas Brothers. A source told the outlet that Jonas is more of a homebody but Turner wants to "party," which was one of the things that led to their split. Moreover, a report from Page Six indicated that Turner had been living her best life and the outlet even supplied photos of the "Game of Thrones" star "downing shots" at a bar in Birmingham, England, just days before her soon-to-be ex-husband's divorce filing. 
However, on September 6, Jonas and Turner released a joint statement on Instagram, speaking out for the first time since rumors of marital trouble first surfaced over Labor Day weekend. The statement took aim at the chatter surrounding the reasons behind the divorce. "Statement from the two of us: 'After four wonderful years of marriage we have mutually decided to amicably end our marriage. There are many speculative narratives as to why, but truly this is a united decision and we sincerely hope that everyone can respect our wishes for privacy for us and our children," it read. Interestingly, another source suggested something similar before this statement was posted.
Joe Jonas & Sophie Turner reportedly had a rough year
Bruce Glikas/Getty Images
While some media outlets may be pushing a narrative that Joe Jonas and Sophie Turner claim isn't true, a source also said something similar while chatting with Page Six. "Divorce was a last resort for Joe. He never wanted to break up his family, but he had to take what he felt was the best course of action for his girls," the source shared. "An unhappy home isn't a home, and the truth is that he and Sophie were going through it this year. There's a lot of noise out there, but it wasn't a straw-that-broke-the-camel's-back situation like it's being reported," the insider added.
We may never know the real reasons behind Jonas and Turner's decision to end their marriage, but we do know what the two have said in the past, and we can venture to guess what types of things may have put stress on their relationship. For starters, two very famous people with careers in the entertainment business means very hectic schedules, often in different locations, which can certainly takes its toll. Beyond that, Turner has been pretty open about her desire to move back to the UK. "I miss England so much," she told Elle UK a little more than one year ago. She added that it may take "quite a bit of convincing" to get Jonas on the same page. 
Whatever their reasons may be, we hope that Jonas and Turner's split doesn't get messy.