Here's Who Hallmark Star Brant Daugherty Is Married To In Real Life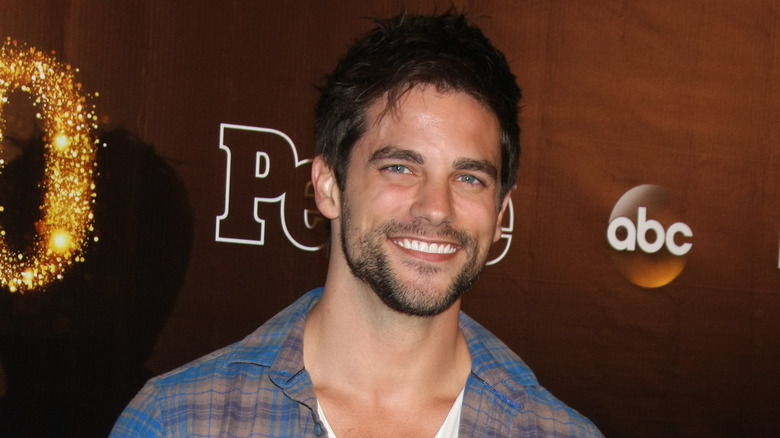 Kathy Hutchins/Shutterstock
Brant Daugherty is married to a fellow creative. Back in 2018, the "Pretty Little Liars" star announced via Instagram that he and his partner, Kim Daugherty, whose maiden name is Hidalgo, had become engaged during a European trip. "A few weeks ago @kimhidalgo and I visited Amsterdam and I asked her to marry me!" Brant wrote. "More importantly, she said yes. Now she's stuck with me forever. Sucker." He additionally posted a photo of himself and Kim, who was sporting her engagement ring in the picture. The following year, the love birds got hitched in a Walnut Creek, California ceremony, as People reported.
Brant sang his wife's praises while he spoke to the news outlet leading up to the big day. "She's organized, she's put together ... she's organized. It's a big thing between us," Brant said of Kim. "She's just on top of her life! She's a person I can depend on and can count on." Their wedding venue, Ruth Bancroft Garden, was the same site where Kim's parents and grandparents had tied the knot. People also noted that the couple first became acquainted on a dating app in 2016. Brant and Kim have pursued similar professional paths. 
Brant Daugherty's wife, Kim Daugherty, is an actor, writer, and producer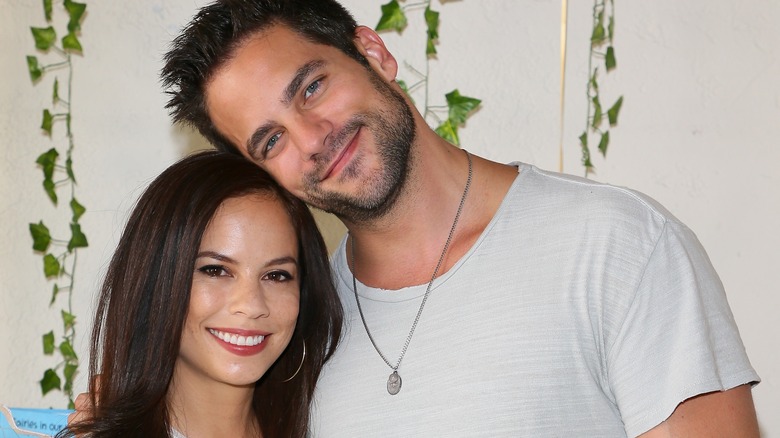 Jb Lacroix/Getty Images
Kim Daugherty carries out more than one role in the entertainment industry. Via IMDb, Kim is a Walnut Creek, California native who studied communication at the University of Southern California. In addition, she is an actor, writer, and producer and has appeared in projects like "East Los High," "Grey's Anatomy," "NCIS," "Grace and Frankie," and more. 
Kim and her significant other, Brant Daugherty, have collaborated in the past, such as when they acted in the films "The Nature of Romance" and "A Christmas Movie Christmas." For the latter movie, Kim and Brant jointly wrote the screenplay. One of Kim's most recent ventures is "Alone in the Dark," a horror movie that she and Brant likewise co-wrote and co-starred in. During a 2020 "Women on Top" podcast interview, Kim opened up about why she and Brant have been able to maintain a harmonious connection. "One of the things that really was important with my relationship with Brant specifically is that we have shared goals," Kim said. She added, "Because of that, we can really work as a team. And we have things we're working toward all the time together, which I think is nice." Following their 2019 nuptials, the two have become parents.
Brant Daugherty and Kim Daugherty have welcomed one child
Brant Daugherty and Kim Daugherty share one kid together. The spouses revealed in a 2020 chat with People that Kim was pregnant with their first baby. Kim detailed how she anticipated Brant would be a positive father figure to their future child. "If how Brant is with our puppy is any indication of the kind of dad he'll be, then he will be doting, loving, silly and filled with unending dad jokes," Kim said. Brant said of his wife, "She's going to be a great mother; I can already tell by the way she's looking after the baby. There's a reason I married her."
In April 2021, Kim told her followers on Instagram that she had given birth to the baby, whom she and Brant named Wilder David. "You are so incredibly loved," Kim wrote alongside a picture of herself and Brant smiling while holding Wilder. Kim has continued to post sweet photos and video clips featuring Brant and their son. This includes Valentine's Day 2023, when Kim commemorated a special anniversary with a montage of video clips featuring herself, Brant and Wilder. "Happy Valentine's Day to my great loves," Kim said via Instagram. "5 years ago today @brantdaugherty asked me to marry him! Despite what he says, I'm glad he did."