How Do Susan Boyle And Simon Cowell Really Feel About Each Other?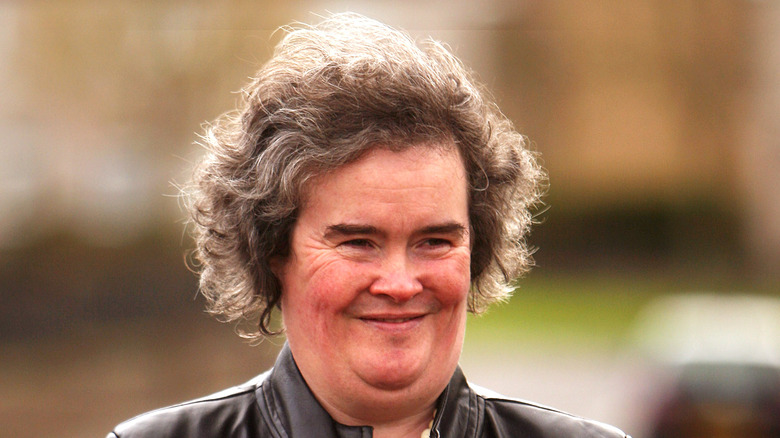 Jeff J Mitchell/Getty Images
Susan Boyle shot to instant fame after becoming the 2009 "Britain's Got Talent" runner-up. The 47-year-old Scott didn't look like your typical superstar. Still, the judges were blown away when she started singing "I Dreamed a Dream" from "Les Miserables." Piers Morgan was rendered uncharacteristically speechless, and Simon Cowell went from side-eye to stunned. He wasted no time signing the new talent, and a star was born. However, reports of trouble between the two quickly surfaced. So, what's the truth? 
Boyle's "BGT" audition has gone down in history as the show's most memorable. It was made all the more remarkable by the dichotomy of her awkward and dowdy persona and the showstopping power of her voice. "At the moment, I live on my own with my cat called Pebbles," Boyle told hosts Ant McPartlin and Dec Donnelly before hitting the stage. "But I've never been married, I've never been kissed." The setup was obvious: Boyle would be one of the cringeworthy tryouts.
"I remember thinking, 'I really, really hope she's not going to sing,'" Cowell told "America's Got Talent" host Terry Crews as they rewatched Boyle's now famous audition. "Because there were so many bad singers that day, and I just can't take another one." Boyle admitted she'd like to be the next Elaine Page, prompting sniggers of amusement. Then she started performing. "She is the perfect example of never judge a book by its cover," Cowell admitted.
The trials and tribulations along the way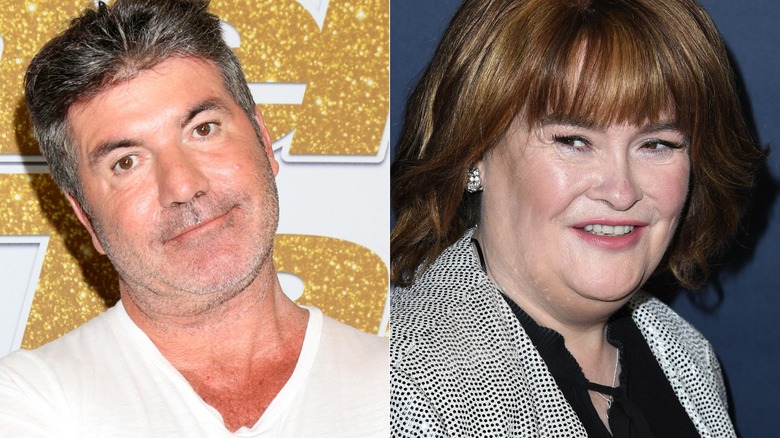 Steve Granitz/Getty & Kathy Hutchins/Shutterstock
Susan Boyle belted out a pitch-perfect rendition of "I Dreamed a Dream" in the 2009 "Britain's Got Talent" finale, but sadly, she was beaten by the dance group Diversity, per Billboard. Following the loss, she was devastated. Simon Cowell had recognized that Boyle was struggling with the pressure of competing and had tried to step in — but to no avail. "The lead up to the week of the final, we sat down with her and her friends. We said, 'Look if it's too stressful because it's all over the media...'" he told "Lorraine" (via the Mirror). "She said it was fine. She's going to do it."
It proved too much, though, and her shock defeat resulted in Boyle spending time in a mental health facility. According to The Guardian, the singer checked in to The Priory Clinic after hotel staff became concerned for her wellbeing. "Following Saturday night's show, Susan is exhausted and emotionally drained," the "BGT" production company announced. "We offer her our ongoing support and wish her a speedy recovery."
According to the Mirror, the British newspaper The Sunday People reported that Boyle was terrified Cowell would drop her. She allegedly accused him of neglecting her. However, she shot down the rumors. "I'll always put my trust in Simon, he's a genius," Boyle told Event magazine (via the Mirror). She shared that Cowell had helped her select the songs for her new album, "A Wonderful World," and insisted all the rumors of a rift were "totally untrue."
Living the dream she's always dreamed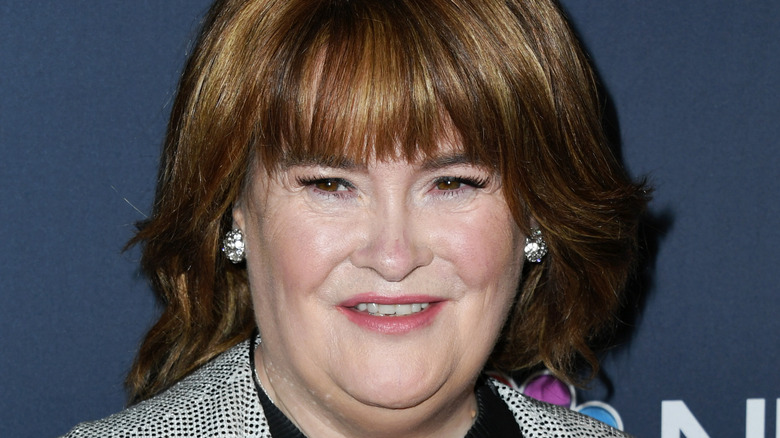 Jon Kopaloff/Getty Images
When Susan Boyle landed second place in the 2009 "Britain's Got Talent" finale, she proved that being a runner-up doesn't equate to being a loser. While few people remember Diversity, Su-Bo became a global superstar. Still, her journey to the top came with its challenges. "The biggest change was really the instant fame, from being a wee unknown lady with a cat in Scotland to being recognized wherever I went," Boyle told People. "It took some getting used to."
However, she said that Cowell was there for her every step of the way. "Simon is the biggest inspiration in my career. He's been my boss for almost 10 years, and I strive to make him proud. He inspires me to continue and strive for perfection," she said. "[He's the best] boss in the world." Meanwhile, according to her website, Boyle's transformation is complete. "I don't dream the dream anymore," she says, "Because I am living it."
"Susan flies in the face of every talentless monster who's become famous for not actually doing anything," Cowell said of his mentee, according to On Demand Entertainment. "Of which there are thousands in the world today. Just people who are famous for being useless. And Susan is the opposite. She never wished to be famous. She wanted to be a singer, and she doesn't conform. She's just a normal person who thought this was her last opportunity, and she had this unique story and people rooted for her."