The Worst Dressed Celebs At The 2023 VMAs
John Nacion/Getty Images
Dust off your very best Gucci, put the Hennessy on ice, and grab the popcorn because it's time to take a look at the 2023 MTV VMAs fashion. With star-studded appearances, you know there were some interesting looks. 
The night started with the ever-fabulous Nicki Minaj back in the emcee saddle. Meanwhile, Minaj's longtime frenemy, Cardi B, hit the stage with Megan Thee Stallion to perform their new track, "Bongos." And rounding out the rap crew, Lil Wayne, Metro Boomin, Future, A Boogie Wit Da Hoodie, Swae Lee, and NAV also appeared. Offering a hiatus from all the beats, Demi Lovato and Karol G were on the talent roster.
Taylor Swift appeared on stage — minus Kanye West, as she was up for an astounding 11 nominations, per Vulture. This year was a good one. And as usual, the fun started on the red carpet. But, instead of covering the regular old best and worst dressed on the MTV VMA red carpet, we're skipping right to the chase and going straight for the jugular with the couture calamities.
Doja Cat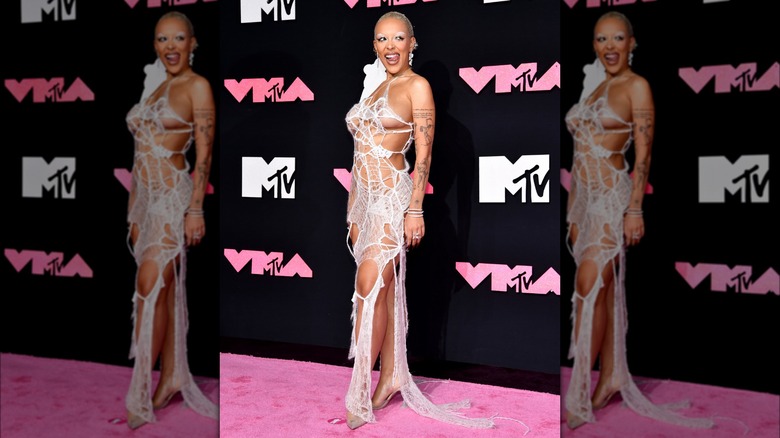 Noam Galai/Getty Images
Doja Cat embraced the "less is more" ethos for her VMA get-up. Either that or the dog ate her gown. To match her upcoming album, "Scarlet," which has spiders on the artwork, per Okay Player, the rapper and singer was clad, kind of, in a white stringy Oscar de la Renta spider web number that left less than nothing to the imagination. Although props where props are due, Doja did wear a pair of tiny nude-colored panties, so the audience was spared that at least. However, the rest was definitely not Instagram-appropriate due to the amount of #FreeThe Nipple action that was occurring.
Chase Stokes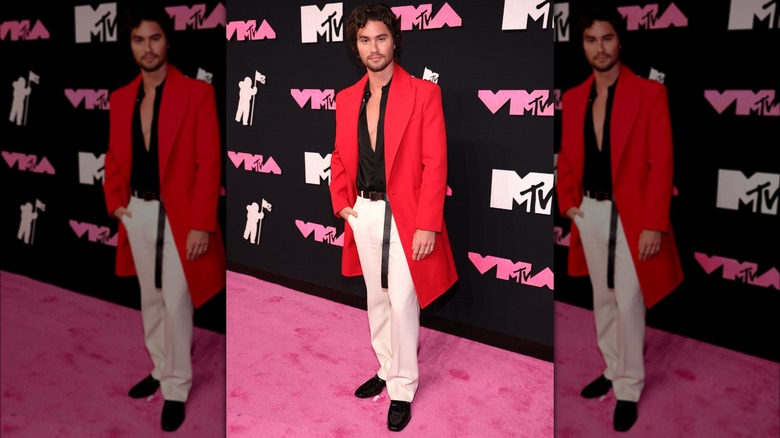 Kevin Mazur/Getty Images
Though "Outerbanks" star Chase Stokes made a statement with a matching couple moment with girlfriend Kelsea Ballerini, his attempt at a bold look fell flat. It's an awkward length and feels mismatched with the unbuttoned black shirt he has underneath. It seemed he was trying to mix a formal vibe with a more relaxed vibe. The belt hanging down his thigh didn't help, either, again hitting at a strange length. We understand the coordinating moment he wanted with his love and appreciate the pop of color, but this was a swing and a miss.
Demi Lovato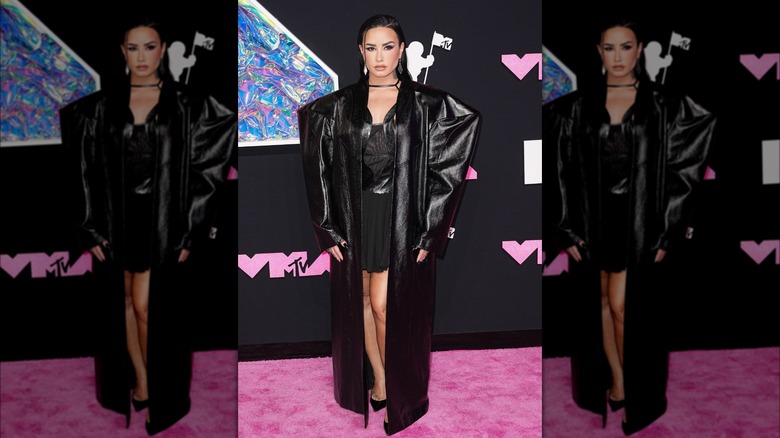 John Nacion/Getty Images
Demi Lovato rocked slicked-back hair, black smoky eyes, glossy nude lips, fierce brows, and diamond drop earrings. Their makeup was absolutely flawless, and they looked amazing — above the neck. Sadly, though, it all went downhill from there.
The overall vibe was rocker biker chick, and Demi certainly put the vampire into "Revamped." It's safe to say that they would definitely be turning sideways to go through any door frames. Not to mention taking great care not to poke somebody's eye out with her razor-sharp, pointy shoulder pads.
Stephen Sanchez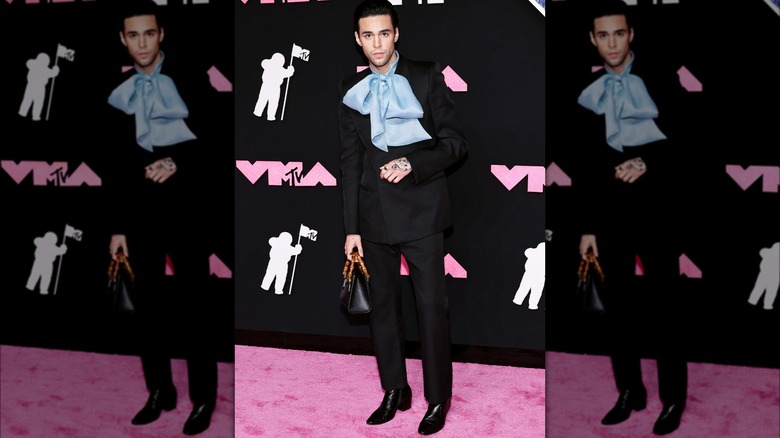 Jamie Mccarthy/Getty Images
Little boy blue, is that you? Johnny Cash was known for his all-black, sleek looks and it appears that's where Stephen Sanchez might have gotten some inspiration. However, he threw us off with a baby blue undershirt featuring an abnormally large bow, which overwhelmed the well-fitted shirt. Overall, Sanchez gave Harry Styles Halloween costume.
If he was looking for a unique touch, Sanchez should have just stuck with the fashionable bag he carried. Not many men chose to carry a purse down the pink carpet, and that would have been enough of a statement for this look, and less of an eye sore.
Doechii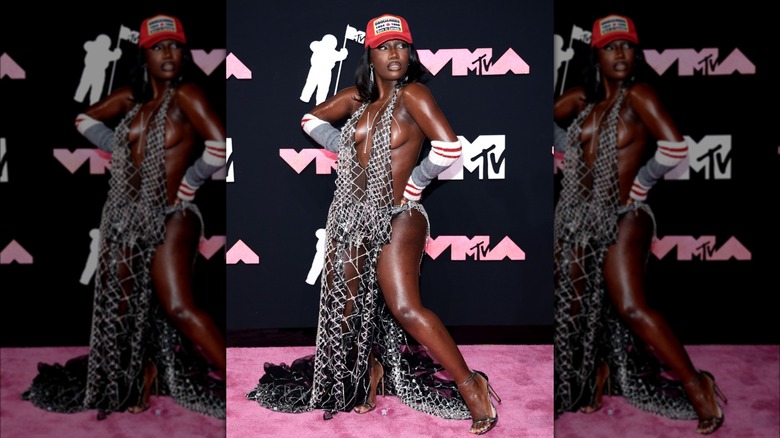 Dimitrios Kambouris/Getty Images
Doechii had a whole heck of a load going on with her red carpet ensemble. The rapper is renowned for her unique sense of style, but she really outdid herself for the VMAs. It's safe to say that Doechii made an entrance, clad in a piece of draped fabric that left nothing to the imagination. 
In case she felt a chill later in the evening — which, let's face it, is pretty likely, given the lack of clothing coverage — she had some wooly grey legwarmers, with white and red stripes on her arms. Doechii finished off the unique look with a red trucker cap.
Saweetie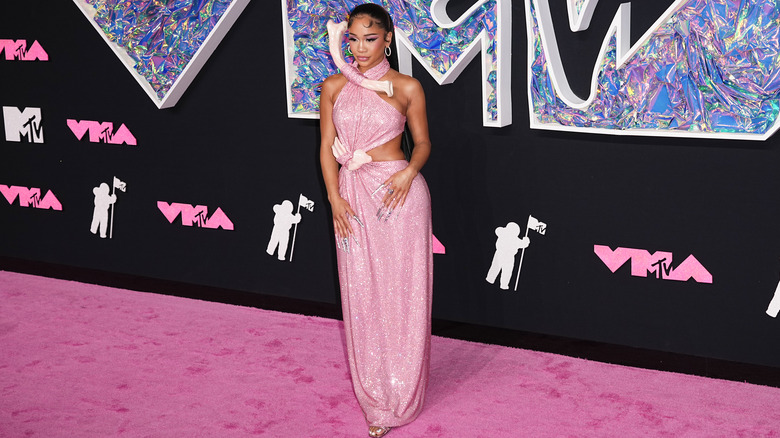 John Nacion/Getty Images
Saweetie got her limo to stop by the Flintstones' Fred and Velma's cave on her way to the awards show. Thankfully, they had a couple of huge prehistoric bones going free that Saweetie was able to borrow. She added one to the neckline of her pink sequined Area gown, per Fashionista, and used the other to tie the fabric together at her midriff. Hopefully, there weren't any pups at the event to chase after the bones — Saweetie might've had to wear them off.
Shannon Leto and Jared Leto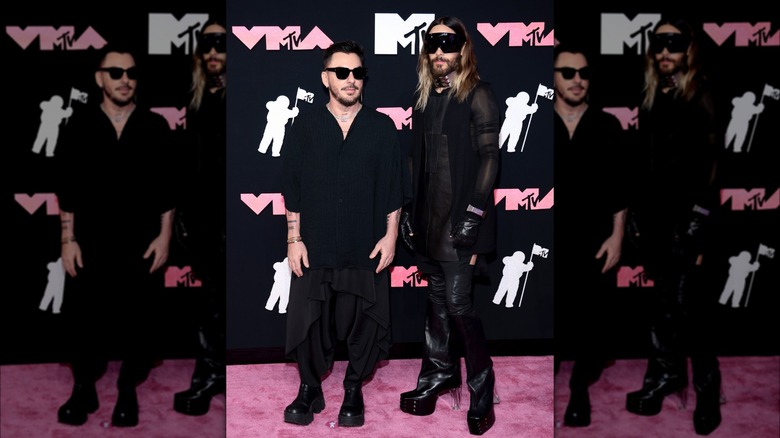 Dimitrios Kambouris/Getty Images
Thirty Seconds to Mars band members and brothers Shannon Leto and Jared Leto showed up to the VMAs in coordinated black ensembles. While we appreciate a twinning brother moment, this one wasn't it. Shannon's oversized parachute pants and long button-up are disproportionate and make his legs look shorter, while Jared's goggles, sheer top, leather pants, and collar-looking choker necklace are just too distracting to wear all together; we just don't know where to look. 
Jimbo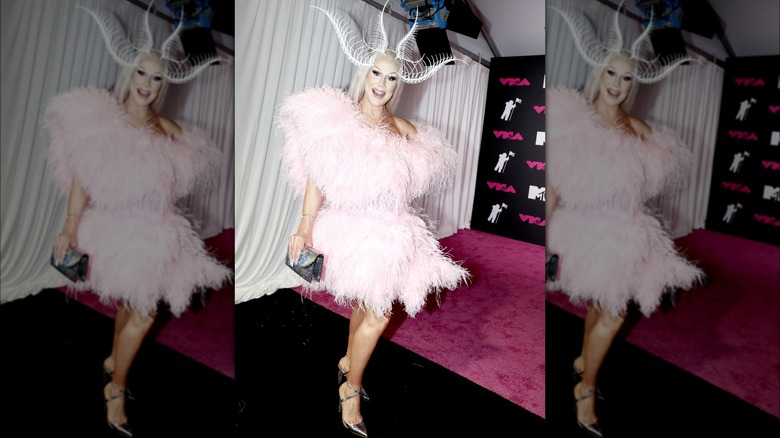 Johnny Nunez/Getty Images
Jimbo certainly knows how to make a dazzling entrance in addition to the list of being the most fabulously worst dressed at the 2023 MTV VMAs. The Canadian drag performer, who prefers to use him/her pronouns, went full-on powder puff va va voom in a pink ostrich feather two-piece that perfectly showcased his endless tanned and toned legs. As usual, her makeup was full-on Boujee with a capital B — although the 1980s called, and they want their Divine-inspired eyebrows back, sweetie.
Renee Rapp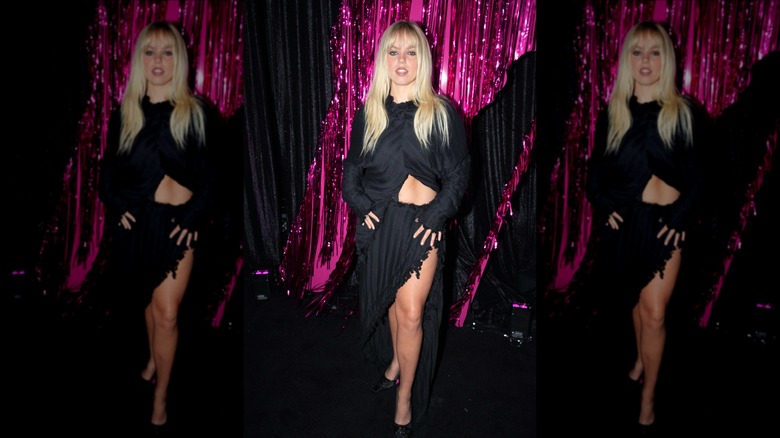 Jeff Kravitz/Getty Images
Again, another black look that just wasn't serving. Renee Rapp donned a long-sleeve number paired with a classic black pump to the 2023 VMAs. Sounds great, right? Wrong. The dress featured an awkward side cutout and an unflattering slit that just didn't drape properly. The sleeves were too long, the shoulders too bulky, and the asymmetric stitching in between the chest felt off. All together, the design was ill-fitting and didn't do anything for Rapp. With no cinching around the waist, it seemed as though she'd ordered the wrong size on Fashion Nova. It happens!
Emily Ratajkowski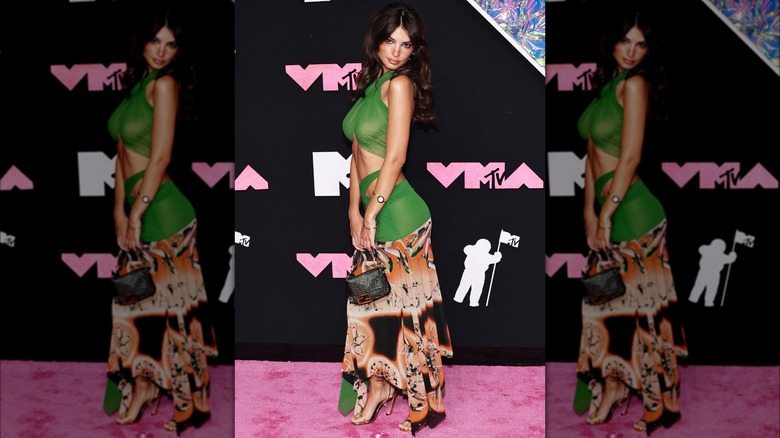 Jamie Mccarthy/Getty Images
EmRata looked ready for a tropical vacation when she walked the VMAs pink carpet. We love to see color and patterns at these events, but it should still fit the occasion. Emily Ratajkowski's green cut-out number combined a lot of elements — sheer, color blocking, pattern, asymmetric hemline — that offered a messy look for an event like the Video Music Awards. In addition to too much going on, the dress also switched from solid color to pattern with no rhyme or reason. Let's face it, EmRata loves the spotlight, but she's in it for all the wrong reasons this time.