Lance Bass' Cheesy Gesture For Taylor Swift Confirms 2023 VMAs Is Completely Rigged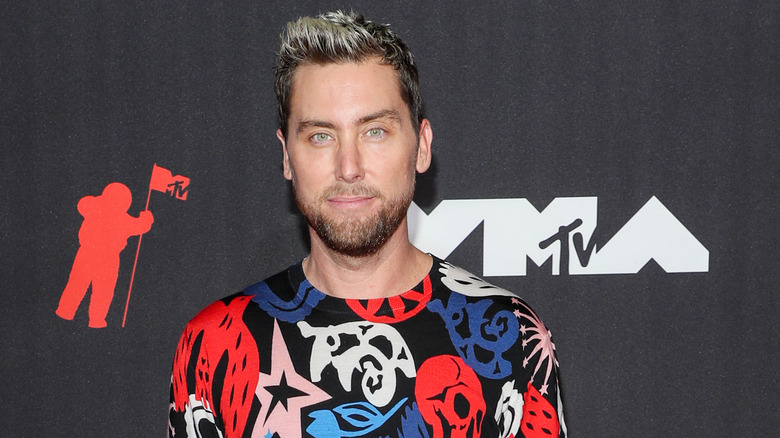 Rob Kim/Getty Images
Back when MTV debuted in August 1981, the concept of a cable channel devoted to video music performances was unheard of. But the groundbreaking channel helped launch and boost many a music career and created a short-form video genre that is still revered today. This year's 2023 MTV Video Music Awards were a fan-fave mix of today's hottest artists and the swooners of yesteryear, and those two worlds collided in a big way within minutes of the show opener.
Among the first big winners of the night — to no one's surprise — was Taylor Swift, who took home the coveted Moon Man statue for Best Pop Video for "Anti-Hero." But the award seemed to have meant less to her than the people who presented it to her: namely, the members of *NSYNC, appearing together for the first time in years. 
Swift may have her shady side when it comes to guys, but when she came face to face with the legendary boy band, she totally and unabashedly went into fangirl mode. Even before the winner was announced, Swift was on her feet and covering her face in delighted shock. Per People, she admitted she was "not doing well pivoting from this to this" — as in seeing the guys together and then being honored for her own work. Swift continued, "You're pop personified, so to receive this from your golden pop hands is really ... it's too much."
But it was something else she received from their golden pop hands that sent her and her fans over the edge.
*NSYNC made a totally Swiftie gesture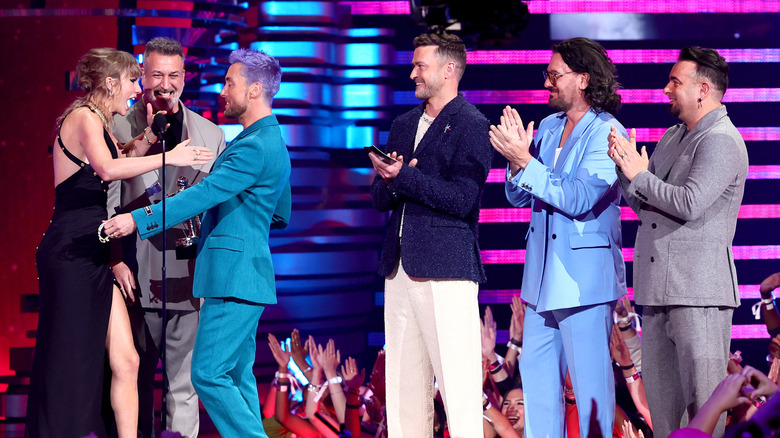 Theo Wargo/Getty Images
As Taylor Swift went onstage at the MTV Video Music Awards to accept the first of her trophies for the night, she delightedly hugged each of the members of *NSYNC in turn. When she got to Lance Bass (looking totally stunning in a teal suit), he handed her a set of friendship bracelets from the entire band. She immediately knew what the gesture meant, and so did every Swiftie watching: According to NBC's "Today," Swift's fans began trading the jewelry during her Eras Tour as a nod to a mention of friendship bracelets in "You're On Your Own, Kid." 
Twitter blew up over the moment, including MTV's own channel. "Lance Bass giving Taylor Swift a friendship bracelet at the VMAs wasn't on my 2023 bingo card but I am LIVING," they said.  
But one also can't help feeling just a bit skeptical: Why did the band have the jewelry at the ready if they didn't know who would win? What if the name in their envelope was Demi Lovato or Ed Sheeran? Or were the guys prepared to give the bracelets to Swift privately if she went home totally trophy-less? We may never know the answer. 
One thing we do know, however, is that although *NSYNC broke up as an entity back in 2002, they never entirely went "bye bye bye." Rumor has it they may be reuniting for a song in the new "Trolls" movie this fall.