What Patrick Mahomes Had To Say About His Brother Jackson's Arrest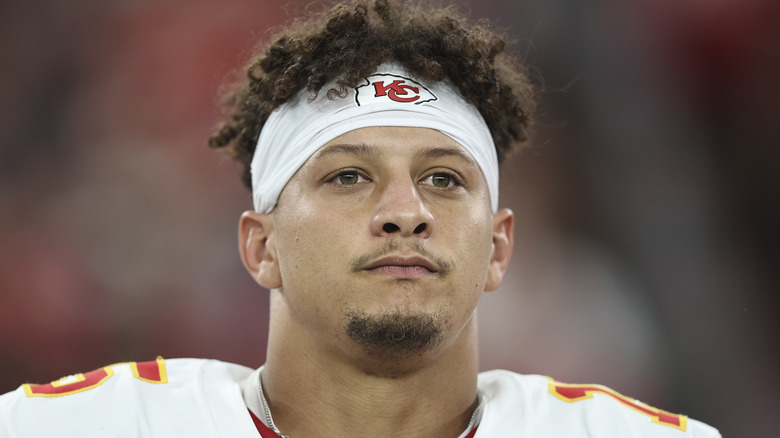 Michael Owens/Getty Images
Kansas City Chiefs' star quarterback and two-time Super Bowl winner Patrick Mahomes is famous for his ability to rush, run, or throw the pigskin into the end zone. But in recent years, the father of two has also been dragged into the controversy his family members create. His wife, Brittany Mahomes, sparked backlash when she poured champagne over fans during her team's win in the divisional round of the NFL playoffs. In response to angry fans, she (perhaps tellingly) tweeted, "I just wish I could do what I want without getting attacked every week."
However, it's Patrick's younger brother, Jackson Mahomes, who's been a lightning rod for controversy ever since Pat made it big. From unsportsmanlike conduct — like dumping water over the heads of some Baltimore Ravens fans –to his cringeworthy TikTok dance on a memorial to the late Sean Taylor, it feels like Jackson upsets fans every other game week. But his shenanigans took a more serious turn in 2023 when the younger Mahomes was hit with "three counts of aggravated sexual battery" and one count of "misdemeanor battery," per The New York Post. According to reports, Jackson forcibly kissed Kansas City restaurant owner Aspen Vaughn multiple times and separately shoved a waiter. Vaughn's account was backed up in a surveillance video, as well as by a staff member at the restaurant.
Patrick has made excuses for Jackson's antics before, explaining that his baby bro "takes a lot." But when asked about the sexual assault allegations, he pled no comment.
Patrick Mahomes called the incident 'a personal thing'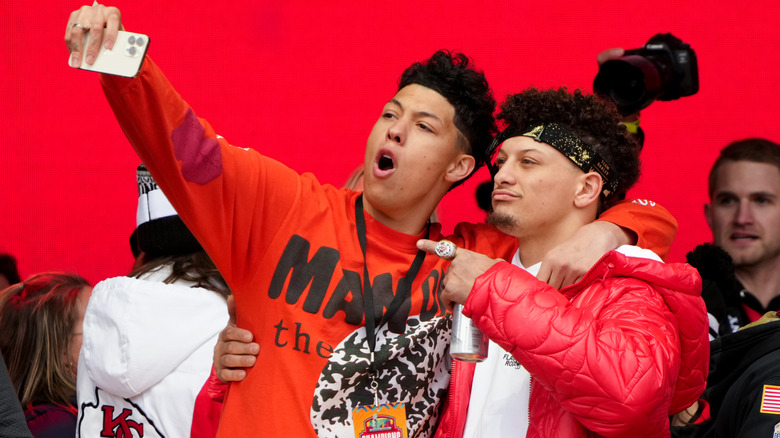 Jay Biggerstaff/Getty Images
In May, Jackson Mahomes was arrested in connection with the assault of Aspen Vaughn and later released on a $100,000 bond, according to The Kansas City Star. The incident made headlines during the offseason, and it didn't stop reporters from asking Patrick Mahomes his thoughts on the situation as he geared up for the 2023/24 season. That said, the QB made it clear he wasn't about to speak on it. "It's kind of a personal thing that I'm going to keep to myself," Patrick told reporters during a press conference on May 24. "At the end of the day, I come here to play football and try to take care of my family at the same time. So [I] just kind of keep it to myself and just go out there and play football when I'm in the building," he added.
While Patrick refrained from commenting, others in his family felt compelled to jump in with their own two cents. Prior to Jackson's arrest, his mother, Randi Mahomes, took to Twitter with a cryptic message. "The devil wouldn't be attacking so hard if there wasn't something Holy inside of you. Thieves don't break into empty houses ... just a reminder all, Jesus wins," she wrote. Randi's comment seems to imply that haters are jealous of her family and are doing everything they can to tear them down. It suggests that the charges against Jackson may be unfounded, a belief that's been echoed by Jackson's attorney, Brandan Davies.
What's the latest in Jackson Mahomes' case?
Despite the charges against him, Jackson Mahomes has continued to profess his innocence. "Our investigation has revealed substantial evidence refuting the claims of Jackson's accuser including the statements of several witnesses. We have reached out to law enforcement to provide the fruit of our investigation so that they may have a complete picture of the matter," his team said in a statement obtained by the New York Post. According to The Kansas City Star, Jackson's preliminary court hearing has been postponed until late October, as the judge presiding over the case contracted COVID. Until then, it's business as usual for the TikTok star.
In September 2023, Jackson documented the Kansas City Chiefs game opener against the Detroit Lions on his Instagram Stories. In the snaps, he appeared solo in a black outfit accessorized with a chain necklace and belt bag while posing next to his sister-in-law, Brittany Mahomes. Despite the sideline support, Patrick Mahomes and the Chiefs were narrowly defeated by the Lions.
In the wake of the charges against him, Jackson has been noticeably quieter on social media. His Instagram comments have been disabled since May 2022, and on TikTok, he posted his first video since April in August 2023. His Tik Tok bio — "Sup I get Bullied a lot but I'm still here" — nods to the controversy. At this point, we won't know anymore about Jackson's fate until October.