How Many Times Has Nicolas Cage's Son Weston Been Married?
Jc Olivera/Getty Images
Weston Cage is set to walk down the aisle in the near future. Weston, whom Nicolas Cage welcomed with then-girlfriend Christina Fulton in 1990, proposed to his girlfriend Ermelinda Manos in December 2022. "You are my destination and like nothing I have ever known before. My quest is over," Weston captioned his Instagram announcement. The post marked the first time Weston featured the fashion designer on his feed, suggesting their relationship moved pretty fast.
But she has seemingly been welcomed by her future in-laws with open arms. "You are the greatest addition to my family and the greatest miracle of my life," Weston captioned a January 1, 2023, Instagram post that shows the couple enjoying drinks with Nicolas and his wife, Riko Shibata. Weston went on to give insight into his family's relationship with his fiancée. "I have never seen my parents adore someone more," he wrote. "I will thank god for creating our sacred union always."
Weston is visibly excited to marry Manos — and she feels the same way. She is looking forward to what she and Weston have planned, both personally and professionally. "I have found a person that has the same soul as me and together we are passionate about history and justice that we want to explore more in some of our upcoming projects," she told Digital Journal in April 2023. But before Weston can implement his plans with Manos, he has to take care of some business, as this isn't his first — or second — rodeo.
Weston Cage has been married three times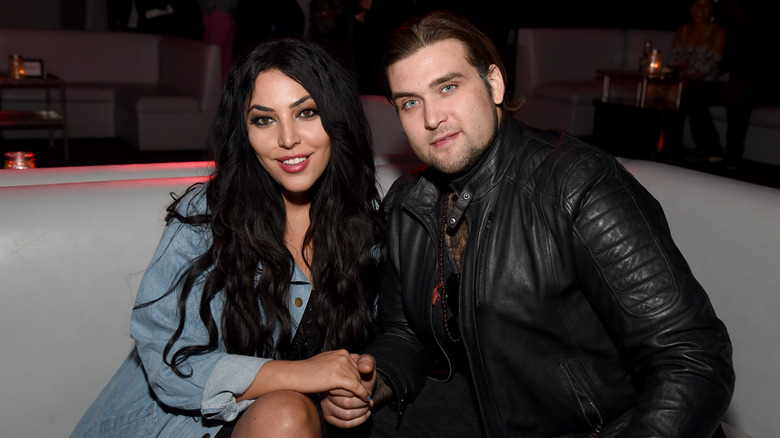 Michael Kovac/Getty Images
Weston Cage first stepped into marriage territory in April 2011, when he tied the knot with South African musician Nikki Williams after being engaged for a whopping two weeks. They were married for slightly longer than they were engaged. According to the Daily Mail, Weston filed for divorce that October, which was finalized in June 2013. The couple had no kids, but music equipment and the wedding ring were subjected to division of assets during divorce proceedings. Cage ended up with the former and Williams with the latter, TMZ noted.
On the heels of his divorce, Cage wed a second time in 2013. According to the Daily Mail, his then-wife, Danielle Cage, gave birth to their son, Lucian, in July 2014, making Nicolas Cage a grandfather for the first time. Danielle and Weston went on to add another son, Sorin, to their family in 2016. But the marriage wouldn't last long enough to see Sorin's first birthday. That same year, Weston and Danielle announced their separation. Their divorce became final in November 2017. But by then, he was already six months into yet another engagement, Radar reported. 
Six months later, in May 2018, Cage became thrice married when he said "I do" to Hila Cage (née Aronian), who's pictured above. With Hila, Weston welcomed twin daughters Cyress and Venice in April 2020. But the marriage once again didn't last. Weston and Hila are separated but still legally married as of June 2023. Weston will have to resolve his issues with Hila before making Ermelinda his fourth wife. 
All of Weston Cage's marriages had messy endings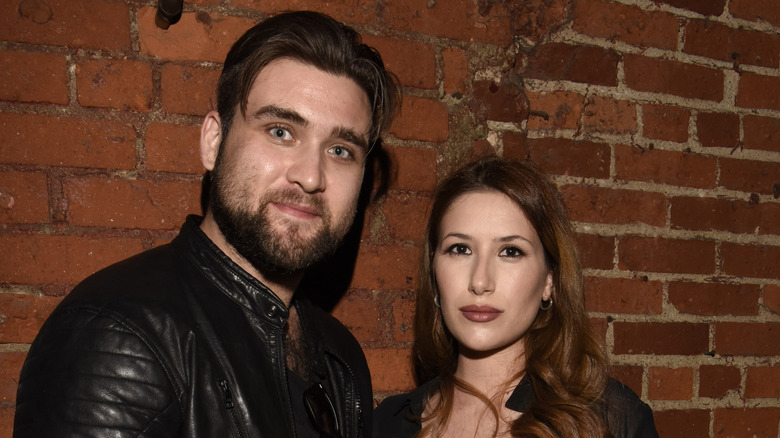 Vivien Killilea/Getty Images
Weston Cage filed for divorce from Nikki Williams a few months after both were arrested for domestic violence, TMZ reported in July 2011. Cage and Williams got into a fight at home that reportedly ended with the singer lunging at her then-husband with a broken bottle. When Cage was released from jail later that day, he displayed his wounded arm to the camera. "Don't get married," he said, as seen on a TMZ clip. Cage didn't listen to his own advice. And once again, things ended badly.
Shortly after separating, Weston and Danielle, pictured above, became embroiled in a messy divorce battle during which Danielle was granted a restraining order against Weston, Radar reported. Danielle was also awarded custody of Lucian and Sorin. During the legal back-and-forth, Danielle argued she was entitled to half of the $16,000 Nicolas Cage gave his son every month. And the judge agreed with her. Weston was ordered to pay $8,000 to Danielle for as long as Nicolas gave him his "monthly gift," The Blast reported in November 2018.
His divorce from Hila has been even uglier. In June, she filed for a restraining order after accusing Weston of threatening her after a court date, Radar reported. Weston is again fighting over child support. "Various materialistic people and those who are insidiously inspired by my fame and the fame of my family have ceaselessly tried to destroy me," Weston ranted in a since-deleted Instagram post.
If you or someone you know is dealing with domestic abuse, you can call the National Domestic Violence Hotline at 1−800−799−7233. You can also find more information, resources, and support at their website.