The Stunning Transformation Of Post Malone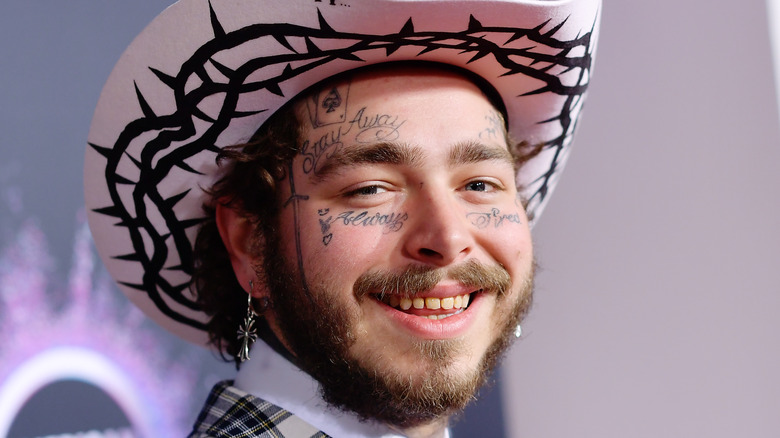 Matt Winkelmeyer/Getty Images
Post Malone may be always tired, but it's probably because he shot to fame overnight and hasn't let up on his career since. The artist, whose real name is Austin Post, has had a record-breaking career that seemed unimaginable a decade prior when he was living in a small town in Texas. Part of the reason the singer has achieved such amazing feats (like surpassing Bruno Mars for the most diamond-certified singles by any artist) is his ability to do what no other artist is doing.
Malone dubbed his music "genre-less," and his versatility combines multiple styles of music. His sound has been described as many things — ranging from country and pop to hip hop and rock and roll. But the singer is the first to admit he doesn't want to be placed in any categories. His moody lyrics transcend the listener from a place of melancholy nostalgia to an unapologetic swagger that oozes confidence with lyrics like, "They was never friendly, yeah/Now I'm jumping out the Bentley, yeah." 
He's a self-taught guitarist, Bud Light fanatic, and lover of the simpler things in life — like waking up to snow-capped mountain views from his Salt Lake City mansion. Don't let Malone's face tattoos fool you, he's the kind of guy you'd want to crack open a beer with. From college dropout to international star, we're taking a look at the ever-evolving stunning transformation of Malone.
Post Malone's childhood friends knew he would be a star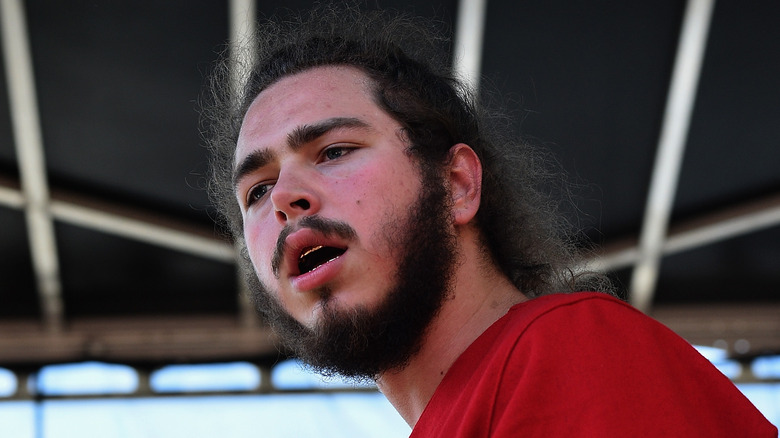 Dimitrios Kambouris/Getty Images
Some of us had childhood dreams of becoming doctors, lawyers, or journalists, but Post Malone knew he was destined for stardom. At least, that's what many of his childhood friends predicted early on. In a Rolling Stone interview, the "Stay" singer admitted he was voted "Most Likely to Become Famous" at his school growing up, but Posty was no prom king. The award has less to do with being a cool kid and more to do with his quirky nature. Apparently, Malone was submitting video clips of him twerking in leopard print scarves for art class assignments long before the thought of fame crossed his mind.
The singer's musical influences emerged from the places he grew up. Malone spent his childhood in Central New York until he was 10 years old, and grew up listening to much of his father's musical influences — which included a lot of heavy metal and rock. His father also spent time working as a DJ for wedding events, which meant Malone was privy to the music industry's top hits — from country and hip-hop to pop and rock. 
"My dad was always playing music," Malone told radio station Hot 97 in 2015. "Not like playing music, but listening to music. And he put me on everything ... Folk and funk and rap. I moved to Dallas and I started making music." 
Guitar Hero inspired Post Malone to learn guitar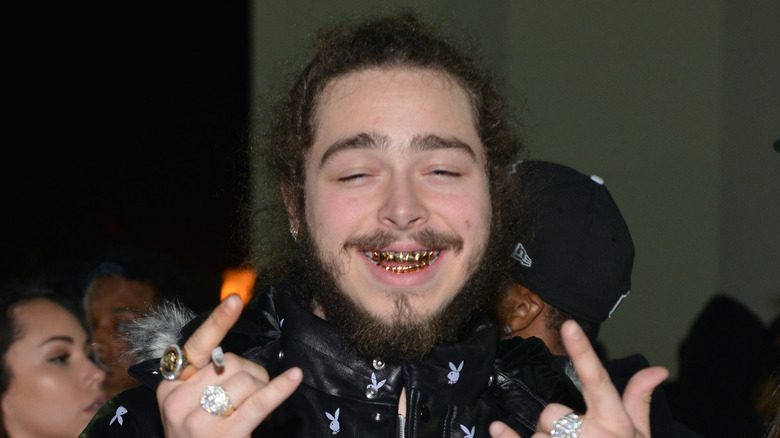 Prince Williams/Getty Images
If anyone is the true "Guitar Hero," it's Post Malone. It's hard to believe that the "Rich & Sad" singer is a self-taught guitarist given his immense success, but he's admitted it was the iconic "Guitar Hero" video game that inspired him to learn the instrument. The concept of the game involves people using a guitar-shaped controller to hit specific notes which light up on the screen as the track plays. It's a popular pastime for many, but for Malone, it became a jumpstart to his music career.
In a 2015 interview with The Fader, the singer admitted: "Six years ago I started playing guitar because of 'Guitar Hero.' I am five-star everything on expert mode 'Guitar Hero 3.'" Malone said that while his family always played music, they didn't know how to make it. Surrounded by music and inspired by a video game, he took it upon himself to learn on his own. "I just wanted to rock out. I taught myself how to play real guitar off YouTube videos. Watching people play stuff, like a lot of AC/DC and Metallica," he recounted.
The "White Iverson" singer got involved in a hardcore band while still in high school and started making his own beats. While he released a mixtape when he was just 16 years old, Malone still had a lot of growing up to do. "My beats were hard, but I sucked. I had no identity or anything, I was 16," he admitted to the publication. 
Post Malone lived in a closet in Los Angeles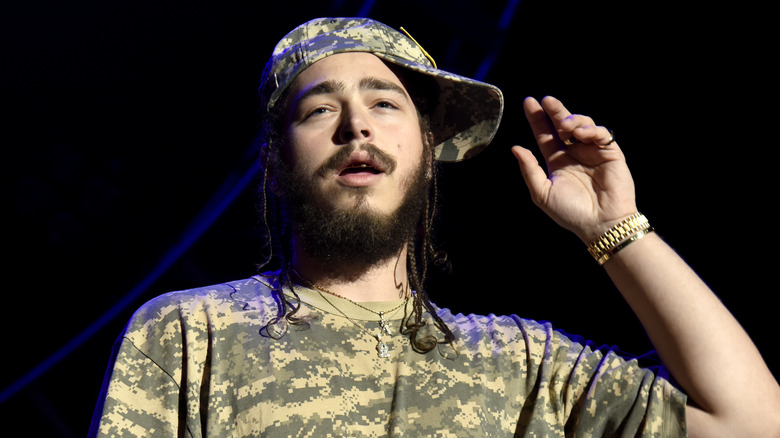 Tim Mosenfelder/Getty Images
After graduating high school, Post Malone pursued an education at a Fort Worth community college but dropped out shortly after. "I wasn't getting anywhere in Texas at all. I went to school for six months and wasn't feeling the vibe," he told The Fader. The artist quickly realized he would need to leave Texas to pursue a music career, and he left behind his country roots for the Hollywood Hills when he was just 18 years old. 
Posty decided to move to Los Angeles with a childhood friend named Jason Probst, whose streams of online video gaming had garnered him minor fame at the time. In a Rolling Stone interview, the artist admitted he tagged along with Probst, who had rented a house in Encino, California. Hoping that Hollywood's close proximity would rub off on him, Malone left his fast food job behind and set his sights on the big leagues. "I had to make it work," he said. "It was that or Chicken Express." But it took a toll on the artist, who told GQ that the struggles he endured formed the lyrics for his hit tracks. "When I was young and I came out here, I had a super dark time ... I was sleeping in a closet," he revealed.
Eventually, Malone met music producer FKi 1st, who helped shape his sound and led him to his first big break. FKi started collaborating with the artist, which led to the hit track "White Iverson" making Malone a household name.
Post Malone got famous off of Sound Cloud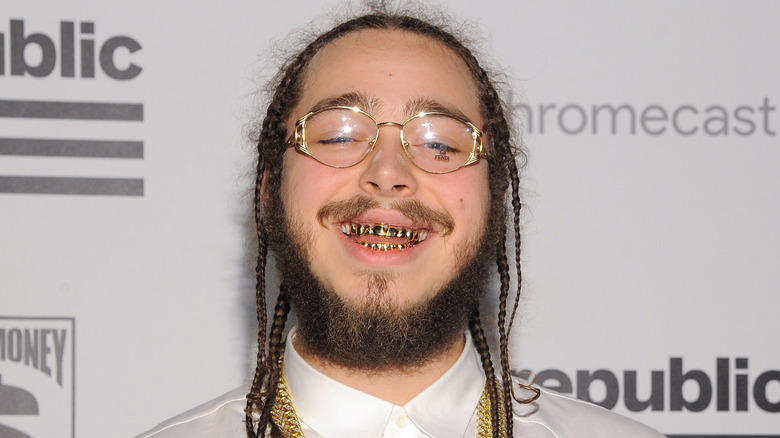 Angela Weiss/Getty Images
After creating the song, "White Iverson," in 2015, Post Malone launched the track on SoundCloud. In just a short amount of time, the "Congratulations" singer went from sleeping in a closet to becoming an overnight sensation. "I woke up, it had — I don't remember if it was 7,000 or 30,000," he told GQ. "I sat at that computer all f***in' day, smoking weed, drinking, watching that s*** going up. And I was like, 'This is so f***in' awesome, dude!' That was, like, one of the best days of my life."
In an interview with Noisey, the singer revealed that he was advised not to release "White Iverson" when he did, but he ignored the advice and did it anyway. "I said, 'I don't have f***in' time to wait.' I don't have any money, I don't have anything. Like, what am I gonna lose?" Malone woke up the day after the song's release with Twitter mentions from some of the music industry's top artists, including Wiz Khalifa and Mac Miller.
The artist told Noisey that he appreciates that SoundCloud is a tool for lesser-known artists to break out into the industry. "I love SoundCloud, I think it's such a dope medium for new artists who maybe don't have the experience or any management or any team just to put something up and see what happens." The track "White Iverson," named after basketball player Allen Iverson, became Malone's ticket to fame — and boasts over a billion streams on Spotify.
Post Malone got his name from a rap name generator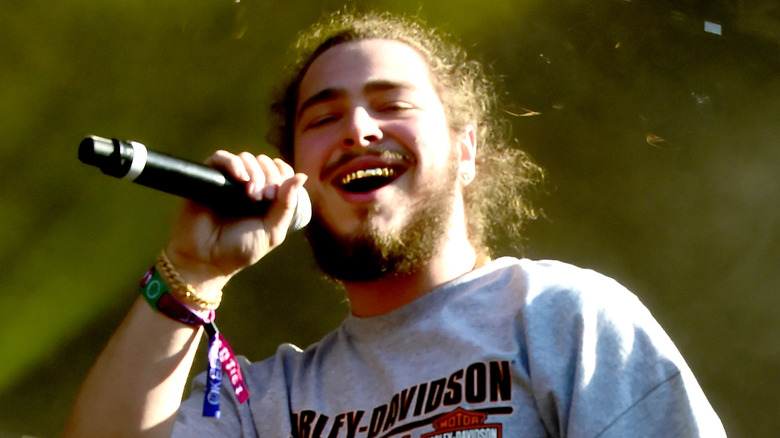 Filmmagic/Getty Images
An artist's stage name can say a lot about them as a person. For example, Snoop Dogg got his famous nickname because his mother thought he looked like the "Peanuts" character Snoopy. So where exactly did Post Malone come up with his? The "Circles" singer was rumored to have selected his stage name after professional basketball player Karl Malone, but Malone said it had nothing to do with the athlete.
In a 2018 interview on "The Tonight Show Starring Jimmy Fallon" (via Insider), the artist explained that the name was given to him randomly. "I was like 14, and I had started getting into producing and rapping and singing over my own stuff. And I needed a name, you know, for my s***ty mixtape," he revealed. "So I ran [my real name] through a random rap name generator ... now I'm stuck with it." 
Malone is in good company, as rapper Donald Glover got his rap name, "Childish Gambino," using a similar method. Glover recounted during a 2016 Hollywood Reporter Roundtable that he was given his name after using a Wu-Tang name generator, and it immediately stuck.
Post Malone hasn't let fame get to his head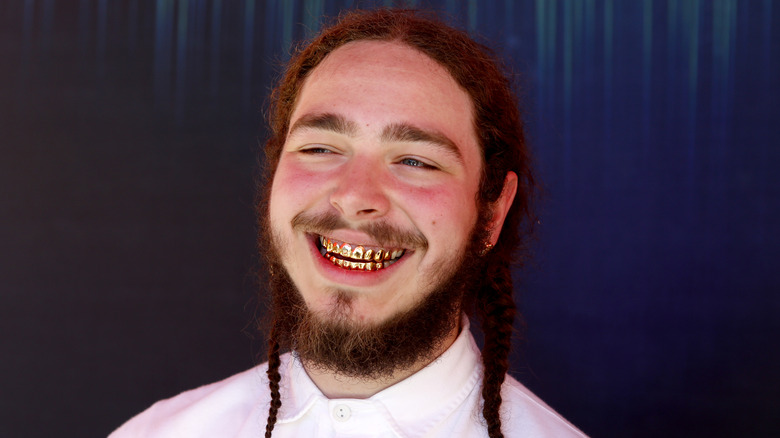 Randy Shropshire/Getty Images
Part of Post Malone's charm is that he hasn't lost himself to the fame machine. While some celebrities get caught up in the glitz and the glam, Malone is the first to don a pair of Crocs and crack open a Bud Light (two companies that both sponsor him). His humility has remained evident even though he's skyrocketed to become one of the biggest artists of his generation. He was the number one most-streamed artist on Spotify in 2019, and his album "Hollywood's Bleeding" quickly took the spot for the most-listened-to album that same year.
But despite his A-list status, Malone frequents places other celebrities wouldn't dare be spotted. He's known to shop at Costco when he needs a Doritos refill, and his idea of a nice dinner out is at the local Olive Garden, per his interview with GQ. He even told Rolling Stone that he celebrated his number-one hit, "Rockstar," with an extravagant meal at the chain restaurant.
In addition to the simpler things in life, it's his low-key personality and self-deprecating humor that make him so relatable to fans. He admitted to Rolling Stone that it's the fans that make his exhausting international tours worthwhile. "On Halloween, they came dressed up like me, which is easy: Just look homeless," he joked. 
Post Malone is insecure about his looks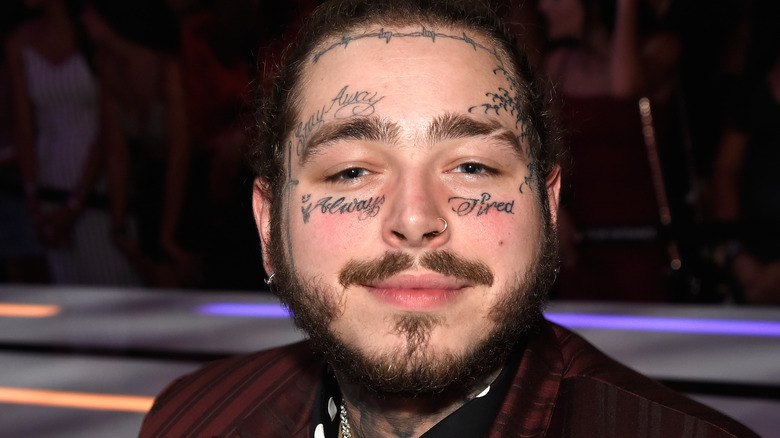 Kevin Mazur/Getty Images
With all the swagger that Post Malone exudes, it's hard to believe he doesn't find himself attractive. In an interview with GQ, the artist called himself an "ugly-a** motherf***er," and added that his face tattoos help him disguise his self-doubt. "It does maybe come from a place of insecurity, to where I don't like how I look, so I'm going to put something cool on there so I can look at myself and say, 'You look cool, kid,' and have a modicum of self-confidence when it comes to my appearance."
According to Insider, the "Congratulations" singer has over 65 tattoos, all with various meanings. The singer revealed that he got his first while working on his album, "Stony," alongside Justin Bieber. "I was just like, 'You know what? Justin Bieber's got some tats. And, I love you, but I know I'm way tougher than you,'" he explained on "The Tonight Show Starring Jimmy Fallon." "[I got] a Playboy bunny tattoo for my first tattoo. I don't know why."
Other of his tattoos include a sword, Japanese waves, a ball and chain, and his infamous "Always Tired" script under his left and right eye. While fans chalk up the phrase to lack of sleep, Malone admitted it had nothing to do with insomnia. "I tried to do something that's relatively the same length of letters," he told Capital XTRA. "I guess ... 'always' is more letters than 'tired,' but I was tired so I didn't f***ing realize."
Drinking helps Post Malone create music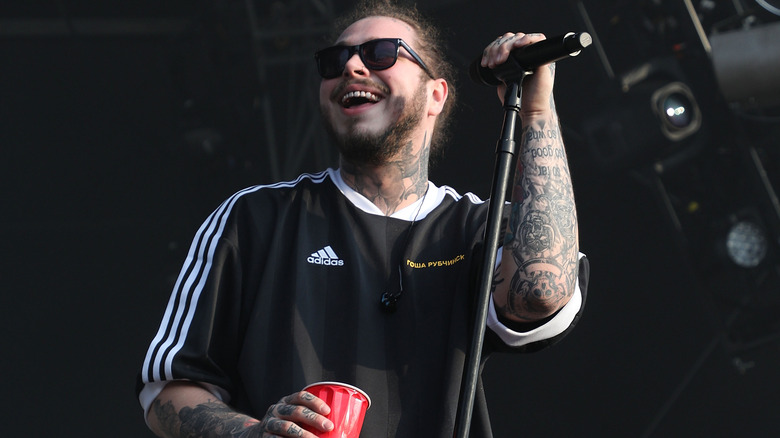 Taylor Hill/Getty Images
With beer giant Bud Light being one of Post Malone's biggest sponsors, there's no question that the artist likes to crack open a cold one. Many artists have a vice, and Posty's appears to be alcohol. The artist opened up to Vice about his creative process, admitting that drinking helps him make music. "If I make the beat, I usually have some words for it, but if somebody plays me a beat I've never heard before, I usually get ideas for it and then get drunk, go in the booth, and do melodies and mumbles and all that good stuff, then write to it afterwards," he said.
But Malone hasn't just turned to alcohol to help him open up in the studio. The "Rockstar" singer explained on "The Howard Stern Show" in 2022 that he used to use drinking to cope with bouts of depression. "It was to a really really really rough point," he said. "I couldn't get up off the floor for weeks." While Posty said he didn't quit alcohol, he said he reached a responsible drinking level. 
While he turned to drinking during the tougher times in his life, Malone now uses it to celebrate. On an episode of the "Call Her Daddy" podcast in 2023, he told host Alex Cooper: "Now I drink for shows and because I'm happy. It's hard getting out there and I get so shy and timid and s***. So I just drink a little bit to, I guess, cope with that and be able to get my liquid courage, literally."
Post Malone's cigarette use altered his voice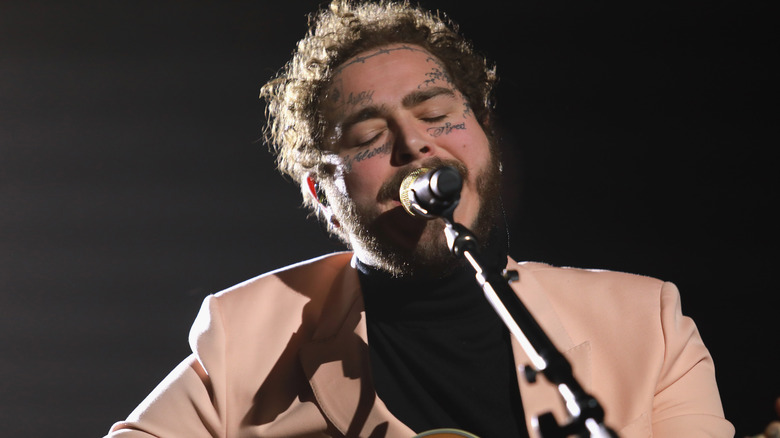 Jc Olivera/Getty Images
Alcohol isn't the only thing that's influencing Post Malone's music. His voice has undergone a major transformation due to his smoking habit taking a toll on his vocal cords. On the "Full Send" podcast in 2022, the "Feeling Whitney" singer revealed he has smoked as many as 80 cigarettes in a single day. While it's not every day that he smokes through three packs of cigarettes, Posty admitted he knows he has to pump the brakes on his habit. When asked about how many on average he smokes a day, he replied: "On a really terrible day, there's a very fine line between a terrible day and a good day ... 40 to 45." 
While he admitted that smoking has affected his voice, he referenced other legendary singers with the same vice. "It definitely has," he said. "But I mean, Johnny Cash smoked his whole life, he sounded cool, you know?'" He has a point, and besides, isn't the raspy voice totally in these days?
Post Malone bought a Utah mansion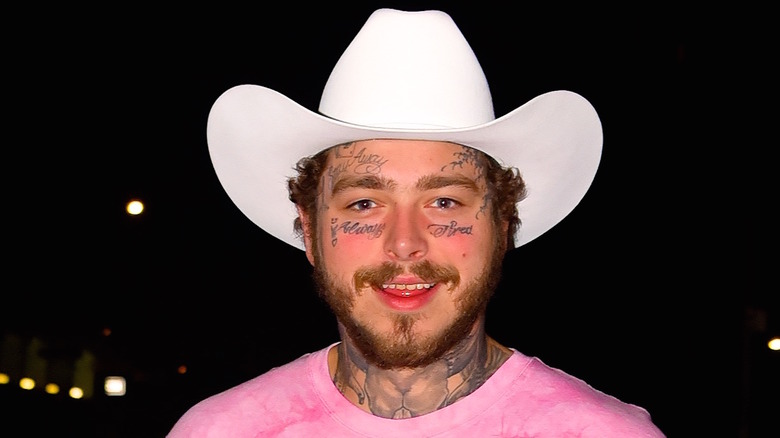 Robert Kamau/Getty Images
Post Malone may have made it big in Hollywood, but he prefers to live far away from the congested streets of Los Angeles. The singer has been vocal about his stance against the government, telling Montreality in 2018 that people should "move somewhere, because whenever martial law is declared ... whenever your [credit] cards fail, whenever your banks fail ... you have three days to get out of where you are because that's when they're coming for you."
Around the same time he made those claims, Malone purchased his own hide-away mansion in Utah. The modern five-bedroom, seven-bathroom house sits on seven acres of mountain views and boasts a separate guest house, floor-to-ceiling windows, and a gourmet chef's kitchen. The singer admitted in an interview with Rolling Stone that he bought it with the intention to make it an apocalypse-style bunker. "I'm gonna put in, like, 30 bunk beds," he said. "It's free country out there. Like, you can buy suppressors in Utah. You can do open-carry. Walk into the grocery store with a handgun on your hip. Cowboy s***. I can't wait."
Malone told Apple Music that he set his sights on Salt Lake City after performing a show in the area and falling in love with the area. "[In Los Angeles,] I feel like ...  [people] use every piece, last piece they can get out of you to better themselves ... and I kind of just wanted to get away to where I can have my own oasis," he said.
Post Malone got engaged and welcomed a baby in 2022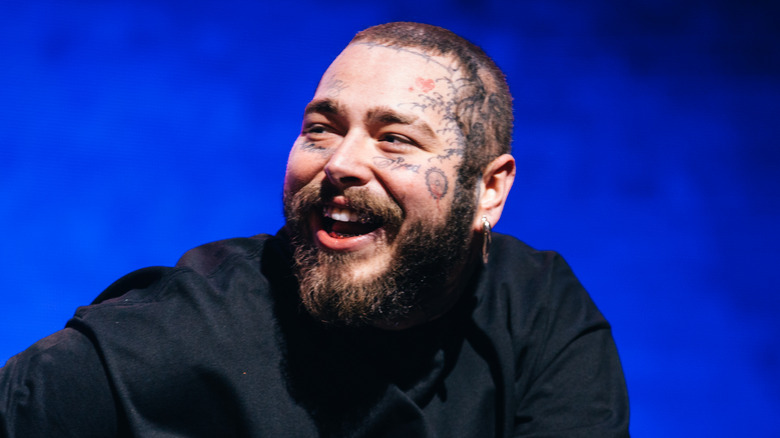 Matt Winkelmeyer/Getty Images
Post Malone's new inspiration for music came in the form of onesies and diapers. We're referring to the newest addition to Malone's family, a daughter that he welcomed with his mystery fiancée in 2022. The "Circles" singer confirmed the news on "The Howard Stern Show," saying, "I woke up at 2:30 in the afternoon, I went and I kissed my baby girl and then I went and played some video games," Malone said. "That's been on the QT [quiet] though? We didn't know you had a daughter, right?" Stern asked. The singer explained, "Yeah, I want to let her make her own decisions. That's it."
Malone has never revealed the identity of his fiancée, but he admitted that they got engaged spontaneously in Las Vegas. On an episode of the "Call Her Daddy" podcast (via People), the singer admitted: "We go upstairs and I'm off my rocker hammered and I was like, 'Hey, you wanna marry me?' I got a ring and all this stuff. And she said, 'No.' She's like, 'Ask me tomorrow,' and I was like, 'Alright.' And then I did and I was sober and it was nice."
The "Sunflower" singer revealed he always dreamed of having a family and things fell into place after meeting his long-time girlfriend. "I could tell ... her heart is so massive," he said on "Call Her Daddy." "... And I could tell she was going to be a really good mama. And she's like, number one mom in the f***ing universe."
Post Malone lost nearly 60 pounds
Post Malone underwent a dramatic transformation, and he says it was his daughter that inspired it all. The "White Iverson" singer posted a selfie in April 2023 addressing his weight loss, admitting he has never felt better. "I guess dad life kicked in and I decided to kick soda, and start eating better so I can be around for a long time for this little angel," he wrote in his Instagram post. He also shut down rumors and revealed he wasn't using any drugs and planned to give up drinking and smoking as well. 
The artist revealed on the "Joe Rogan Experience" podcast that he had lost nearly 60 pounds. "I was like 240 and now I'm like 185," he admitted. Malone has been candid about his struggles with substance abuse and depression, but it seems the birth of his daughter has had him turn a corner. "I'm excited for this next chapter in my life. I'm the happiest I've ever been, and for since I could remember I was sad," he told TMZ. "Time to take care of my body and my family and friends and spread as much love as we can every day."