What's The Real Meaning Of Something In The Orange By Zach Bryan? Here's What We Think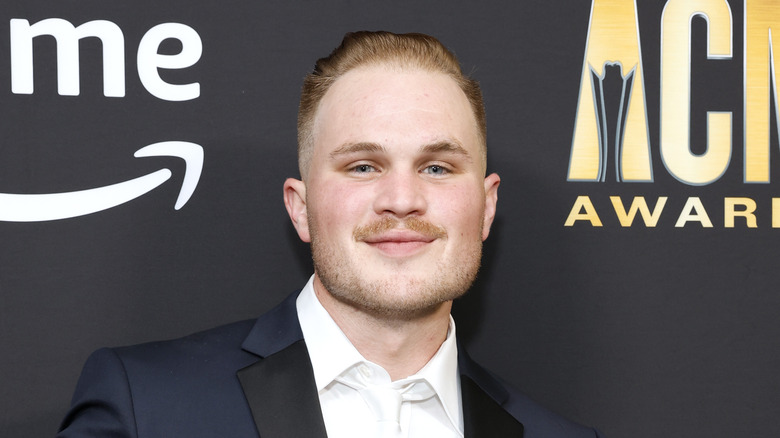 Jason Kempin/Getty Images
Here's what we think Zach Bryan's "Something in the Orange" is really about.
If you're a fan of country music, then you've heard of the popular singer and his immersive singles. Getting his start in 2017, Byran first made waves with music listeners by uploading his original songs to YouTube. At the time, the beloved talent was an active member of the military. "It was like a relief for me for a long time to be in the Navy and get yelled at by all these old dudes all day," Bryan explained in an interview with Spotify. "Me and all the guys would be like, what to do we do to get away from this."
It didn't take long for his emotional songs to reach the masses, resulting in him leaving his military life behind for a path in music. Since that fateful day, Bryan's star has continued to rise, earning him top placements on the Billboard Hot 100 and recognition from some of the biggest music organizations. But despite the fame, Bryan has remained steadfast in his goal of creating songs that touch the souls of music listeners. "I want to be in that Springsteen, Kings of Leon, Ed Sheeran at-the-very-beginning space," he told The New York Times. One song that has helped propel Bryan down that career path is "Something in the Orange." Join us as we take a deep dive into the heartbreaking record and who it may be about.
Is Zach Bryan's Something in the Orange about his ex-wife?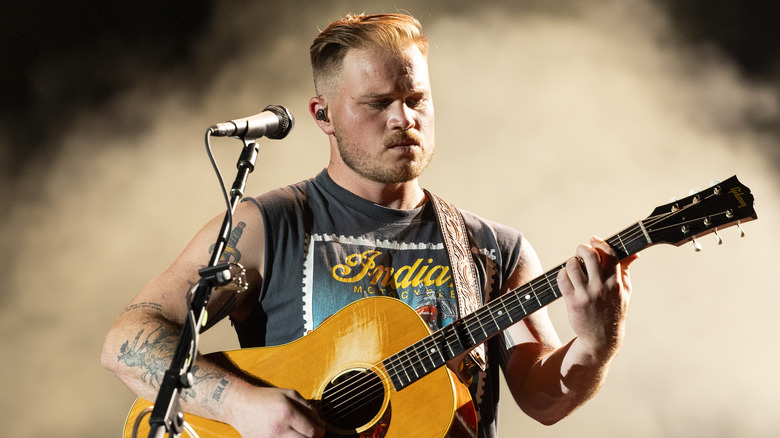 Barry Brecheisen/Getty Images
In April 2022, Zach Bryan released one of his most emotional records, "Something in the Orange." At the start of the track, Bryan appears to be comforting his unhappy partner. "It'll be fine by dusk light, I'm tellin' you, baby/ These things eat at your bones and drive your young mind crazy," he sings, per Genius. Byran then delivers a shocking twist that he and his partner have actually broken up. "And I'm damned if I do, and I'm damned if I don't/ 'Cause if I say I miss you, I know that you won't," he croons. "But I miss you in the mornings when I see the sun/ Something in the orange tells me we're not done."
As the song continues, Bryan expresses his hopes of reconciliation, singing: "To you, I'm just a man; to me, you're all I am/ Where the hell am I supposed to go? I poisoned myself again, something in the orange." While Bryan tends to keep his relationships private, the song might be about his mysterious breakup with his ex-wife, Elizabeth Rose Madden. In 2020, the pair married in a small ceremony, per Country Thang Daily. However, shortly after tying the knot, the two called it quits, supposedly due to Bryan's infidelity. "He cheated on her when she was deployed," one person said on Reddit. Even though "Something in the Orange" doesn't refer to infidelity, his lyrics and vocals have a certain regretful or "one that got away" tone.
Here's what Zach Bryan has said about Something in the Orange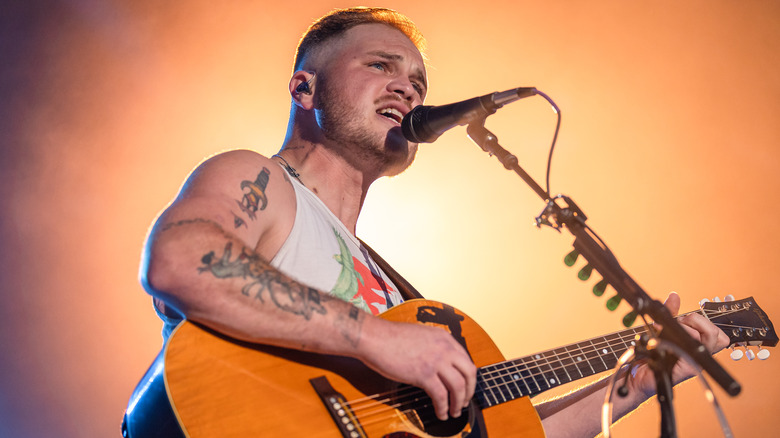 Michael Hickey/Getty Images
If you thought Zach Bryan's "Something in the Orange" couldn't get any more emotional, think again. During the third verse, the beloved talent yearns for his ex to acknowledge him. "I need to hear you say you've been waitin' all night/ There's orange dancin' in your eyes from bulb light," he sings. "If you leave today, I'll just stare at the way the orange touches all things around/ Please turn those headlights around."
Despite Bryan's track being penned as a breakup song, it has a very wholesome origin story. "Everyone thinks it was over some deep, dark thing, and it was just me in a cabin in Wisconsin," he explained in an interview with "Country Music Critic". "I thought about the word 'orange,' and I was watching the sunset, and I was like, 'Oh, that's a cool story to tell in a song." Like "Something in the Orange," Bryan also applied his simplistic creative process to his album "American Heartbreak" –– which includes the song.
"Most of these people and places are fictional, and only a small amount of these songs pertain to my life," Bryan explained on Instagram. "I'd like to always be a storyteller, and to do that, I figured I'd have to fit into many shoes. I took names and names alone from friends, family, and people I hold incredibly dear to me on this record, and a lot of names came from waitresses, mailmen, and hosts at breakfast joints."