Katie Cassidy Moved On With Her Hallmark Co-Star After Her Divorce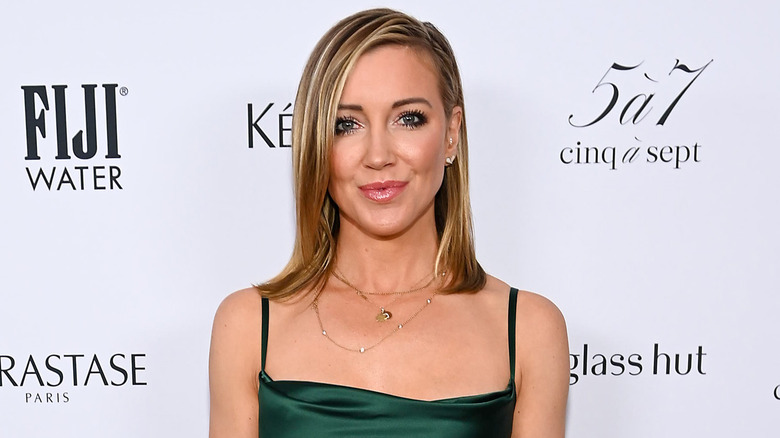 Dave Kotinsky/Getty Images
Katie Cassidy has found love on set. The "Monte Carlo" star was previously married to Matthew Rodgers, whom she became engaged to back in 2017, via ET. The exes wed in a Sunset Key, Florida ceremony in December 2018, per Page Six. In January 2020, E! News wrote that Cassidy had filed for divorce from Rodgers, and the divorce was finalized by March 2021, as People reported. 
Following the breakup, Cassidy was asked by People in March 2022 about whether she had been seeing any potential new partners. "I have been dating, yes," Cassidy said. She went on to state her belief that her love life would unfold as it's meant to on its own. "I think if I'm supposed to meet someone, I'll meet them naturally, organically — the way the world, [the] universe wants it to be," Cassidy said. In June 2023, Cassidy posted a photo on Instagram of herself giving actor Stephen Huszar a peck on the cheek while the two were on set for the filming of the Hallmark flick "A Royal Christmas Crush." She then took to Instagram again to confirm their romance, writing "Welp, cats out of the bag... Happy Monday!" alongside a selfie of her and Huszar lounging outside. Cassidy has since opened up about the fated relationship. 
Katie Cassidy and Stephen Huszar were 'meant to be'
Romance quickly bloomed between Hallmark Channel co-stars Katie Cassidy and Stephen Huszar. The pair talked to ET in July 2023 about falling for each other while making "A Royal Christmas Crush." Cassidy revealed that she started to have an interest in Huszar when they grabbed lunch around two weeks into filming, after which Cassidy said she "was very smitten." She later added, "This may sound a little cheesy, but when you know, you know. Or it's meant to be. It's the universe. And timing is everything."
Huszar voiced how the respect he and Cassidy share led to their love. "It's just getting to know someone and seeing that, well, there is a lot of commonality there, and there's a lot of respect there," he said. The couple has promoted the movie with other interviews like a July 2023 sit-down with Marie Claire, during which they played the fun trivia game "How Well Do You Know Your Co-Star?" They additionally chatted with Reel Talker in August 2023, and Huszar detailed the strong bond he and Cassidy have developed. "When you start getting to know someone, and then you realize you're kind of looking at yourself at the same time — there's this familiarity and this connection that you have — it doesn't happen, ever, really, " Huszar said. "So once that happens, it's a pretty special thing." Cassidy and Huszar decided not to make their relationship public until the time was right.
Katie Cassidy and Stephen Huszar initially didn't reveal their romance
Katie Cassidy and Stephen Huszar chose to keep their relationship private in its early stages. While the two were working on "A Royal Christmas Crush," they didn't tell their colleagues that they had developed feelings for each other. In a July 2023 Us Weekly interview, Cassidy spoke about how this resulted in a noticeable chemistry between her and Huszar's characters on screen. "It's almost like there was this layer because [Huszar] and I kind of knew this secret thing that nobody else knew," Cassidy said. "And we could let our guard down when our characters were supposed to and allow space to fall into one another." She then said of her and Huszar's mutual attraction, "We just couldn't help it."
Cassidy has continued to share cute moments with Huszar via social media. The two took a selfie together, along with other guests, at an Andrea Bocelli Foundation event in August 2023, via Instagram. The month prior, Cassidy posted photos on her social media page of herself, Huszar and their friends during a Lake Tahoe trip. "Surround yourself with those you [red heart emoji] it's food for the soul," Cassidy wrote. More recently, in a September 2023 Instagram post, Cassidy showed photos from the couple's outing on the water in Victoria, British Columbia, writing, "Because we're happy!"