Mariah Carey's Twins Moroccan And Monroe Live Extremely Lavish Lives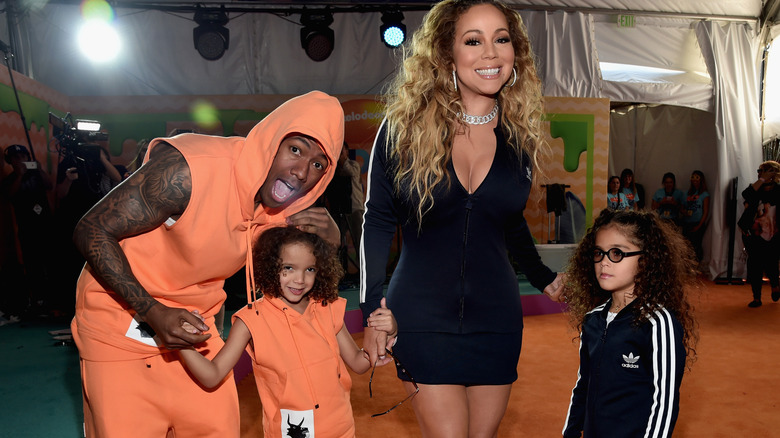 Alberto E. Rodriguez/Getty Images
Moroccan and Monroe Cannon are the oldest kids of two wealthy entertainment moguls — and their lavish lives are the perfect reminders of that fact. Born to Mariah Carey in 2011, Moroccan and Monroe are the only children of the legendary Grammy Award-winning songstress. Meanwhile, they're two of 12 total children belonging to host and actor Nick Cannon.Despite their many siblings running around, Roc and Roe still enjoy the privilege of being spoiled. For example, this past Christmas, Carey took her daughter Moroccan on a super luxurious fashion spree.
According to Hollywood Life, the mother-daughter duo touched down in Aspen in December 2022 to indulge in some holiday shopping. Carey posted photos of the festive outing. One featured Moroccan posing next to Carey as they flaunted their matching Prada shopping bags. "Merry Christmas Eve! Little shopping spree before we watch the special tonight on CBS! @cbstv @paramountplus Thank you everybody that made this a reality for us!" Carey posted to Instagram. Of course, this is far from the only lavish thing about Carey and Cannon's kids' lives.
Monroe and Moroccan are super lucky
Monroe and Moroccan Cannon are living first-class lives, even by celebrity standards. But at least they came by it, honestly. In 2016, Vanity Fair tracked their mom Mariah Carey's publicly-known expenses in a piece called "Mariah's Year of Living Lavishly." Her most expensive purchases that year included renting a $340,000-a-week yacht, also splurging on luxury hotels, and copious amounts of jewelry. At the time, her twins were only five years old but already well-acquainted with their mom's spending habits.
According to The New York Daily News, Carey spent over $200,000 on baby supplies in 2009 — two years before Roc and Roe were even born (via NBC4 Washington). And she didn't ease up on the spending after they arrived either. According to The Sun, Carey decided to introduce her kids to upscale living at their first birthday party, choosing to throw a black tie event instead of a more kid-friendly theme. Unsurprisingly, their birthday has only gotten more exclusive as time has gone on. In April 2023, Carey and Nick proved to the twins that having rich parents can pay off. Per Today, Carey and Cannon rented out Six Flags just so Moroccan, Monroe, and their friends could enjoy the park in privacy.
Why Mariah Carey gives her kids the world
Mariah Carey doesn't spoil her kids just because she can. Instead, showering kids with gifts has helped her to heal her childhood wounds. When speaking with W Magazine in 2022, Carey revealed the bittersweet reason she's allowed her kids to live such privileged lives — especially come Christmas time. "People think I had this princess-style life or whatever, a kind of fairy-tale existence where I just emerged, like, 'Here I am!' And that is not what it is," admitted Carey. "But when you grow up with a messed-up life, and then you're able to have this transformation where you can make your life what you want it to be? That is joy for me." She continued, "That's why I want my kids to have everything they can have. I want them to be able to understand that they can be anything they want to be."
Fortunately, Carey's gift-giving isn't a one-sided affair. Elsewhere in the interview, Carey revealed her kiddos finally had the means — via their tooth fairy money — to bless their mom for a change. Let's hope they got her something nice. Interestingly, Carey doesn't go completely overboard with the gifts. In 2021, Carey appeared on "Good Morning America" and expressed her shock over her daughter's ridiculously long Christmas list. "My daughter's Christmas list is like 66 items, and I'm not lying," Carey shared at the time. "She texted it to me. I was like, 'Are you kidding me?'"