Matchmaker Tells Us Why Chris Evans & Alba Baptista's Age Gap Works For Them (He's No Leo!)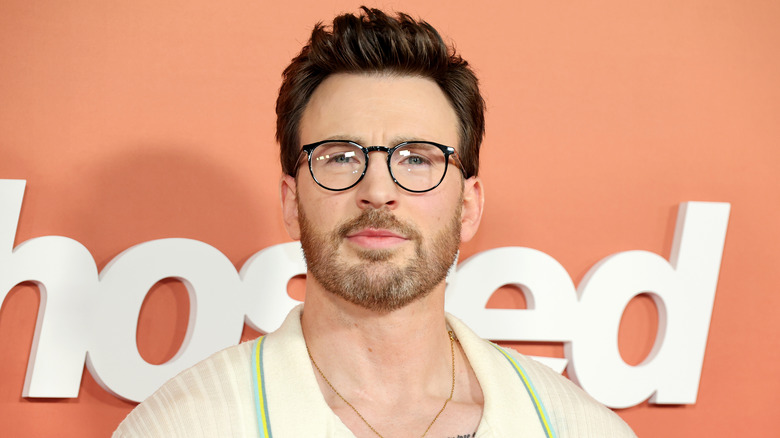 Cindy Ord/Getty Images
Chris Evans married Alba Baptista in a low-key ceremony on September 9. Although the wedding — held at the couple's home in Boston — was not an extravagant affair, they still had a star-studded guestlist which included several of Evans's "Avengers" co-stars, per Page Six. The couple's relationship was confirmed in November 2022, and the two had reportedly been dating for around a year at that point. "They are in love and Chris has never been happier. His family and friends all adore her," an insider told People at the time.
Throughout their time together, the two actors had kept their relationship mostly out of the spotlight. In July, the "Captain America" star's brother, Scott Evans, spoke about how difficult it was for the older Evans to date, and how it often led to public blowback. "It's tough with everything ... in the world, people can ruin things pretty quickly," Scott said while appearing on the "Viall Files" podcast, via Us Weekly. "[E]verybody [is] just being like, 'You are a piece of crap' to anybody he's tried to date and just destroying them," Scott added.
Once news broke that Chris and Baptista tied the knot, discourse about their 16-year age gap started online. "[T]hat 16 yr age gap would've been on every single headline if it wasn't Chris Evans," one person tweeted. Meanwhile, others came to the defense of the Marvel star. Nicki Swift reached out to an expert matchmaker to have them weigh in on whether this age gap could be an issue for the newlyweds.
Their low-key lifestyle is a major plus
Susan Trombetti, matchmaker and CEO of Exclusive Matchmaking, spoke to Nicki Swift about the 16-year age difference between Chris Evans and his new wife Alba Baptista. The matchmaking expert felt the age discrepancy would nearly be a moot point if Baptista had already lived through her 20s. "It wouldn't matter as much if she was 10 years older," Trombetti said.
Although some fans had voiced concerns with the age gap between the newlyweds, Trombetti put it into perspective by comparing it to the relationships of another A-lister. "While this isn't unheard of, and it certainly doesn't reek of Leonardo DiCaprio, she is missing out on a lot of life stages that he has already lived," the matchmaker told us. "I think it helps because while they are living a quiet life, they are still living a life in a bubble so outside influences are mitigated," Trombetti added. In January, as the relationship between the couple went public, a source spoke about how Evans and Baptista preferred to keep things low-key. "They spend most of their time at his place in Massachusetts and love the quiet life there, surrounded by nature and away from the spotlight," the insider told Us Weekly at the time.
While Trombetti had slight concerns about Baptista missing out on the full experience of her 20s, the matchmaker believed the discourse around the marriage would eventually change. "On the flip side, the older she gets, the less the age difference will matter," the matchmaker added.