Ted Turner's Dating Life Was Reportedly Messy After Jane Fonda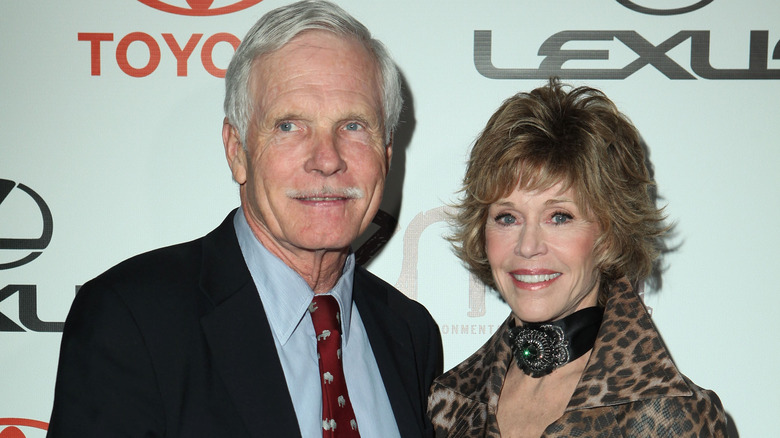 Rebecca Sapp/Getty Images
Ever since Ted Turner divorced Jane Fonda in 2001, his romantic life has never been the same. Fonda, who had been married to Turner since 1991, filed for the divorce. "He needs someone to be there one hundred percent of the time. He thinks that's love. It is not love. It's babysitting," she told The New Yorker at the time (via ABC News). A rift reportedly formed between the former pair when the "80 For Brady" actor found spirituality and became Christian. Years later, Fonda discussed her decision to end the marriage in "Jane Fonda in Five Acts," a documentary for HBO that aired in 2018. "He was sexy. He was brilliant. He had two million acres by the time I left. It would have been easy to stay," Fonda said (via People). According to Fonda, she could not be her true self while married to Turner.
Turner didn't wait long to move on from his third wife, as he began dating Frederique D'Arragon in 2000 while he was separated from Fonda. D'Arragon excited Turner as she was a French-born artist and adventurer. He originally met her in 1969 during his yachtsman days.
The pair remained friends over the years, and originally kept the romance under wraps, going public in 2003. "He didn't want any publicity... And now publicity is welcome," D'Arragon told the Chicago Tribune. Several years later, Turner's romance with another woman would make salacious headlines.
Ted Turner dated a married woman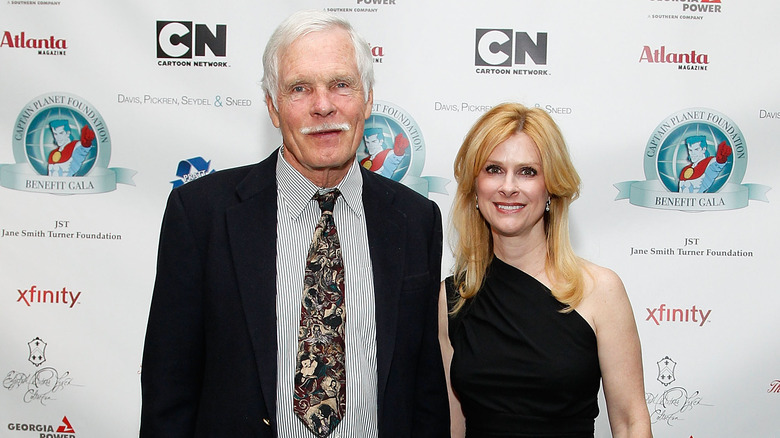 Ben Rose/Getty Images
In 2007, Ted Turner caused a stir when he started dating author Elizabeth Dewberry. The reason this romance was so notable was because Dewberry left her husband, Pulitzer-prize winning author Robert Olen Butler, to be with Turner. To make matters more complicated, Butler announced his split from Dewberry in a candid email to faculty and grad students. "Put down your cup of coffee or you might spill it. Elizabeth is leaving me for Ted Turner," Butler wrote in the email (via Gawker). Butler, who harbored no ill-will toward his ex, divulged a litany of personal information about their relationship. "I was able to help her a great deal. She says I saved her life," he wrote while adding that Dewberry had signed off on the email.
Butler went on to mention the dating set up that Dewberry and Turner had agreed upon. "She will not be Ted's only girlfriend. Ted is permanently and avowedly non-monogamous," he wrote. The author believed being Turner's girlfriend for "about a week a month" would be beneficial to Dewberry. Butler stressed that he and Dewberry remained on good terms.
After that email made the rounds and hit media outlets, Butler explained that he sent it to clarify that Dewberry was not interested in Turner's fortune. "I mean, this is not news. Everyone knew that Ted had many women on his arm," he told NPR in 2007. Later, Turner opened up about his arrangement of having multiple girlfriends at once.
Ted Turner dated four women at once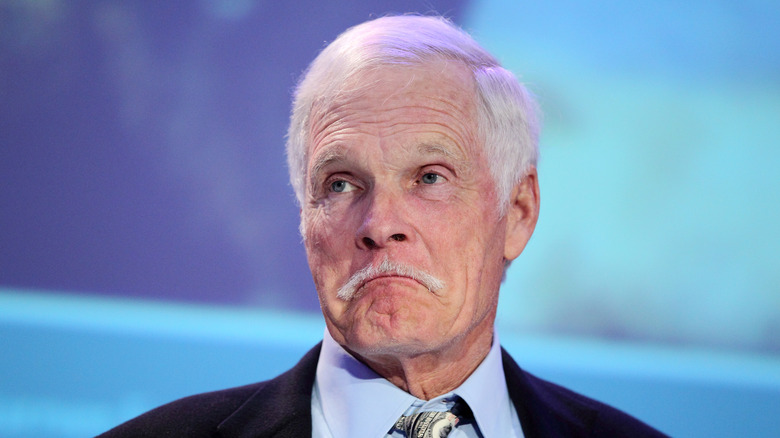 Ben Rose/Getty Images
Ted Turner spoke about his love life in 2012 during a revealing feature article for The Hollywood Reporter, revealing he had four girlfriends. Each girlfriend was given approximately a week per month with Turner. The CNN founder was asked if the women were happy with the arrangement. "Sort of," he replied. Besides Elizabeth Dewberry, Turner did not reveal the identity of his girlfriends. At the time, Turner — who had been married three times — said he had no plans to remarry. "I've been married three times, and with my background in baseball ... three strikes and you're out," he said.
Not only was Turner juggling four girlfriends, but at the time of that interview, he was still in contact with Jane Fonda, whom he spoke to monthly. Turner opened up about moving on from his ex. "I couldn't do anything else. What am I supposed to do, sit down and cry? I did for six months," he told THR.
After that interview was published, Turner sat down with Piers Morgan on CNN to talk about the logistics of dating four women at the same time. "Hopefully they won't all leave me at once," Turner said. Morgan asked how the cable television magnate balanced the relationships. "With great difficulty," Turner replied with a chuckle. "First of all, they're a good friend. With me. Most of the time," Turner added.