The Real Reason Jane Fonda And Ted Turner Divorced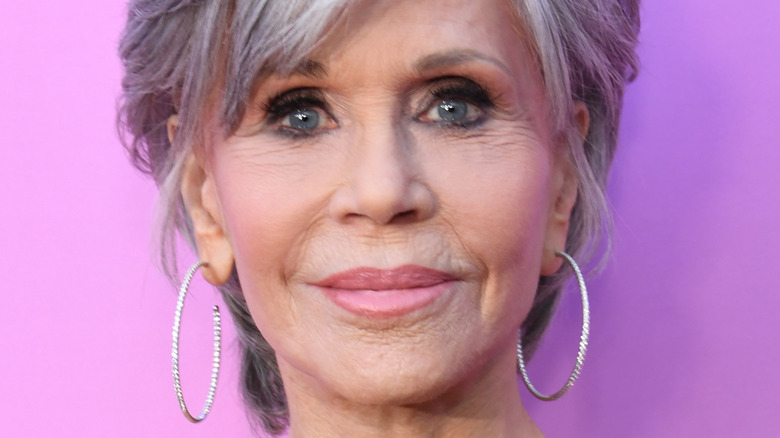 Jon Kopaloff/Getty Images
Jane Fonda is America's very own funny girl. The beloved gem has been in the entertainment industry for decades and has kept the world on its toes since her early beginnings. She made her film and Broadway debut in the 1960a before embarking on a career in Hollywood.
Throughout her career, the megastar has not only been nominated, but has won many awards. Fonda, who's often described as a rebel, is a natural when it comes to acting. The star was somewhat born under the limelight. Her father, Henry Fonda, was a huge movie star in his own right. In fact, the two even got the opportunity to star on-screen together before his death. In an interview with The Guardian in September 2020, Jane recalled the moment when she accepted an Oscar on her late father's behalf, describing it as "the happiest moment" of her life.
While she and her father had a somewhat estranged relationship, Jane's relationships with romantic suitors weren't much different. Jane married her first husband, Roger Vadim, in 1965, but they divorced in 1973. Three days after their divorce was finalized, she married Tom Hayden and the two stayed together for more than a decade, until they split in 1990. Her last marriage, to Ted Turner in 1991, seemed promising, as they bonded over many aspects, including their shared political passions. However, their decade-long marriage ended in 2001. It appears the third time wasn't the charm for Jane — or was it?
Jane Fonda and Ted Turner split after 10 years of marriage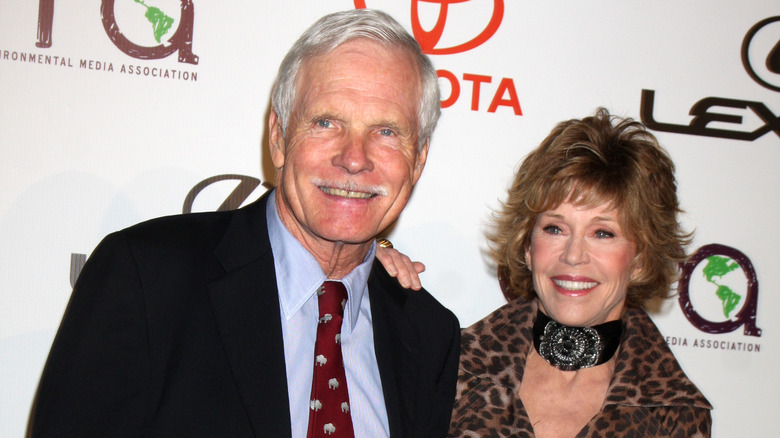 Kathy Hutchins/Shutterstock
Jane Fonda has always been an open book. Yet, while her experience with romance doesn't exactly have the makings of a best-selling novel, she previously admitted the reason boiled down to the type of men she was seeking. "I always wanted to date someone who was the opposite of my father," she told The Guardian in September 2020. "I didn't realize that, in the ways that really mattered, I picked men who were just like him because they all had a hard time with intimacy."
The activist thought she'd found her forever partner when she and Ted Turner became an item. The feelings were mutual, as Turner was persistent to lock in a date with the "Grace and Frankie" actor, according to Today. Although the pair wed in 1991, Fonda revealed in her autobiography, "My Life So Far," that they were "irretrievably broken" shortly into their marriage, per a divorce petition obtained by AP News. (Perhaps that's because Turner reportedly cheated on Fonda one month after they wed, per the Daily Mail.)
In Turner's 2008 memoir, "Call Me Ted," he insisted that he cared for her deeply, but he also revealed they often had "trouble communicating" (via Today). The "Barbarella" actor viewed their separation and relationship needs slightly differently. "He needs someone to be there 100% of the time. He thinks that's love. It is not love. It's babysitting," she quipped to The New Yorker in April 2001. Both parties acknowledged that they gave it their best and even tried counseling, but it wasn't enough, as their official separation was announced in January 2000.
Jane Fonda is doing just fine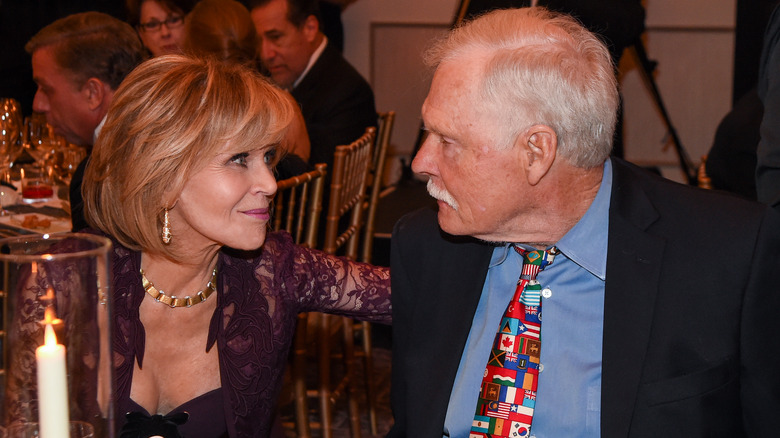 Rick Diamond/Getty Images
Jane Fonda and Ted Turner are no longer married, but the "Klute" actor often speaks fondly of her time with the founder of CNN, and even refers to him as her "favorite ex-husband" on her website. The beloved actor has been vocal about not being "gifted at relationships," and throughout the ups and downs of her love life, the star is now opting to put herself first.
"I realized that I'm really just not gifted at relationships," she told "I Weigh" (via Mama Mia). "But then a point comes when I realized that I have to separate myself and go my own way if I'm going to grow. And the point of life, it seems to me, is to grow." Undoubtedly Fonda has a refreshing take on self-reflection, which starts with accountability. Throughout each relationship, the advocate has been vocal about her desire to be better and do better.
"I've spent so much time in my life trying to be better," she told Reader's Digest in September. "But it's not an issue of being perfect. It's an issue of being everything you can be. Be the fullest you possibly can be. And that's what I've tried to do in life, and it involves paying attention. It involves being intentional. For me it involves meditation. And staying curious." The "Monster-in-Law" actor has nothing but positivity for the road ahead, sans romance, and is more committed than ever to live each day — with intention — to the fullest.