The Drama Involving Sharna Burgess' Exit From Dancing With The Stars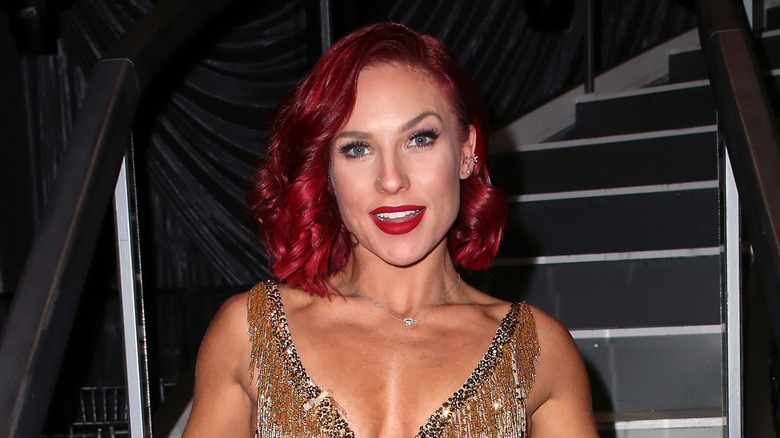 David Livingston/Getty Images
Sharna Burgess has been a pro dancer on "Dancing With the Stars" since 2011, starting out as a troupe member and cha-cha-ing her way to her life partner Brian Austin Green in 2021. In between, the popular Australian choreographer danced with everyone from professional bull rider Bonner Bolton to Backstreet Boy Nick Carter.
In 2018, Burgess finally scored her first mirrorball trophy; the win came with partner Bobby Bones. But one year later, she told fans she would not be returning to the TV dancing show. Burgess' message on Instagram read like a permanent goodbye. "I will not be returning to ['Dancing With the Stars'] this season. I am unbelievably sad to not be back!!!" she wrote before expressing gratitude for all the people she's met on the show. Burgess also told fans she would "miss" everything about the ABC dance-off.
But Burgess' exit was short-lived. She returned to "DWTS" in 2020 with partner Jesse Metcalfe and had her go-around with Green the following season. After taking a brief break in 2022 to focus on motherhood to Zane, the baby boy she shares with Green, Burgess totally expected to be back in the ballroom. So when the season 32 cast was announced in September 2023 and she wasn't on the list, Burgess was stunned — and she strongly hinted at behind-the-scenes drama.
Sharna Burgess heard through the grapevine that she wasn't asked back to DWTS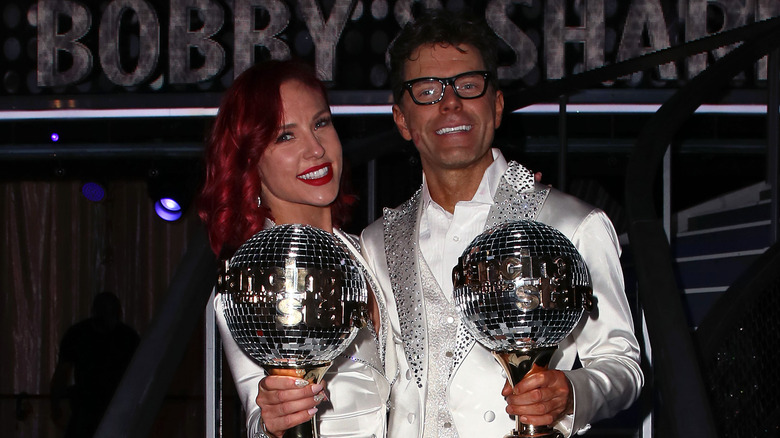 David Livingston/Getty Images
Sharna Burgess fully expected to return to "Dancing With the Stars" — or to at least be asked to return. She opened up about the situation on an episode of her new podcast, "Oldish," where she admitted the casting diss was a "huge shock" to her. After declining "DWTS" season 31 because she'd just given birth to her son two months prior, Burgess claimed she made it clear to producers that she only wanted one season off to focus on motherhood. "It was always, 'I want to come back next year,' and 'Of course, we love you, we'll always have you,'" she said.
But as the new season approached, she realized her phone wasn't ringing. After finding out that some of her pro dancer friends had already been cast for season 32, Burgess surmised that she was out. "I realized when those spots were all filled, and I was like, 'Oh my God, I didn't get the call,'" she said on her podcast. "I didn't get any phone call at this point. I didn't get confirmed whether on or off. I just knew from other people. And that was really hard."
While Burgess never heard from producers despite her long history with the show, newer pros made the cut, including Daniella Karagach and Koko Iwasaki. In addition, 18-year-old Rylee Arnold, the kid sister of longtime pro Lindsay Arnold, was announced for season 32.
Sharna Burgess admitted her last few years on DWTS were rocky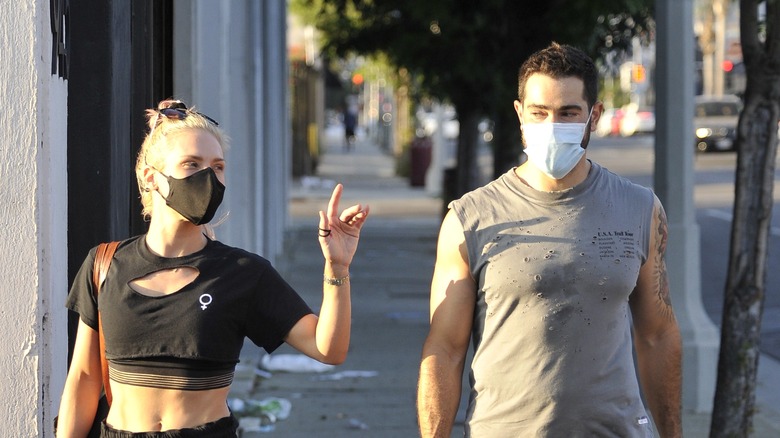 Mega/Getty Images
Sharna Burgess is still not exactly sure why she was overlooked for "Dancing With the Stars," especially without the courtesy of a phone call. On "Oldish," she said that after she won the competition with Bobby Bones, a new executive producer came in and didn't ask her back, hence that 2019 goodbye message. "My last five years with the show have been rocky," she explained. "My win with Bobby was the most explosive and controversial win of 'Dancing With the Stars' history."
When Bones beat more talented contestants Milo Manheim, Evanna Lynch, and Alexis Ren for the "DWTS" trophy, many viewers were outraged. The show's scoring system, which is influenced by viewer votes, had many saying Bones won a popularity contest and not a dance competition. "I think most people are shocked that we won," Bones told Us Weekly, before crediting his fans for his win. On her podcast, Burgess said she "got caught up in this whirlwind of hate for that win, which was really yucky."
Also yucky was her next season on "DWTS." After taking that one-season break, she was paired with actor Jesse Metcalfe for season 29, a pairing she described as "really difficult" on her podcast. Burgess even alleged that she couldn't be alone in a room with her season 29 partner due to incidents that took place, although she was careful not to name Metcalfe on her podcast. Metcalfe's rep clapped back in a statement to Page Six, describing Burgess as "highly unprofessional" and "reckless." The rep acknowledged that Burgess and Metcalfe did not get along.