What Keke Palmer Has Said About Her Sexuality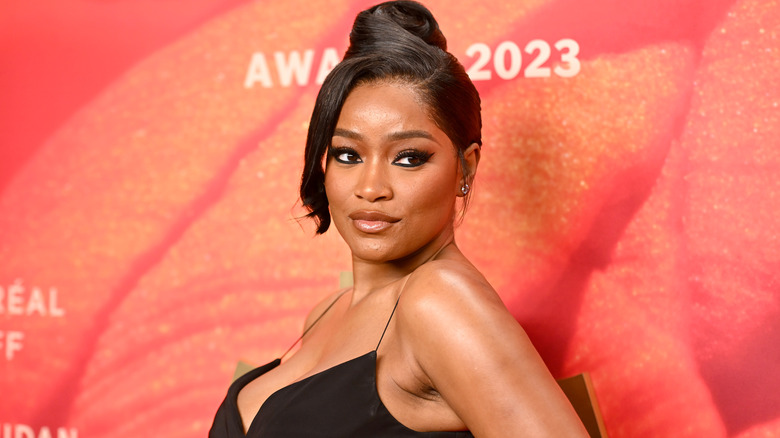 Noam Galai/Getty Images
Singer and actor extraordinaire Keke Palmer tops the list of the internet's favorite people, and that's saying something. The "True Jackson, VP" alum is known for her charm and sheer relatability, but she's also revered for her openness, especially when it comes to talks of sexuality.
Palmer raised eyebrows when she hinted at her sexual inclination in a music video for her track "I Don't Belong to You," released in 2015. The video showed the Palmer leaving a man, only to end up at the doorstep of a woman clad in lingerie. While it was open-ended, many fans came to the conclusion that it was her way of "coming out," but at the time, she begged to differ. 
"The video represents the young woman today — it's not the traditional woman anymore — and not the specifics of 'Am I gay? Am I straight? Am I bi?' I'm making the rules for myself, and I don't have to be stuck down to one label," she explained to People. She also repelled the idea of pigeonholing herself because she's ever-evolving. "I don't feel the need to define nothin' to nobody, because I'm always changing. Why say that I'm this or that when I might not be tomorrow?" she added. "I'm gonna follow my own feelings and my own heart."
Palmer's stance hasn't changed much over the years, even after she welcomed her child with ex-boyfriend Darius Jackson. But the "Nope" star admitted that her path to embracing her sexuality was a challenging one.
Keke Palmer got candid about initially feeling confused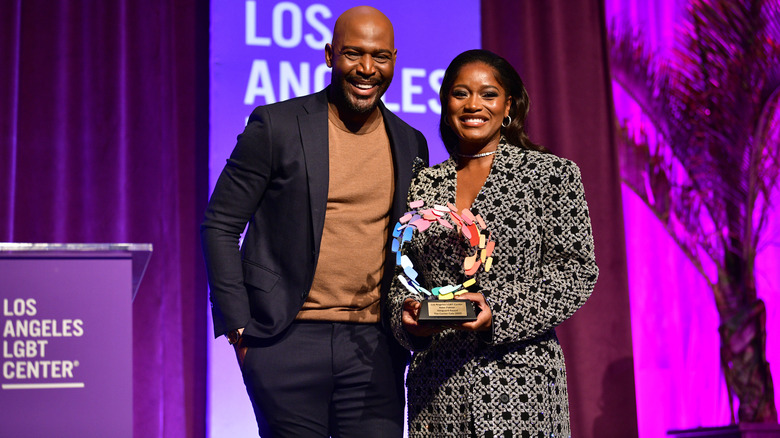 Araya Doheny/Getty Images
In April 2023, Keke Palmer took the stage at the Los Angeles LGBT Awards Gala to receive the Vanguard Award, a testament to her enduring dedication to raising awareness about the issues minorities face. In her thank-you speech, she touched on her journey to figuring out her sexuality, explaining that it was not as straightforward as she thought.
"I've always been my own person, and sexuality and identity, for me, it's always been confusion," she said (via The Hollywood Reporter). "I never felt straight enough; I never felt gay enough; I never felt woman enough; I never felt man enough. I always felt like I was a little bit of everything." She also voiced her frustration about society's propensity to assign labels, something that she has always challenged growing up. "Since I was younger, I always questioned the boxes I was forced to be in and it starts with who you're supposed to be as a child," she continued. "There is no greater masterpiece than living your truth."
In an appearance on "The Best Podcast Ever by Raven and Miranda," Palmer opened up about developing feelings towards the opposite sex at a young age, but she noted that she didn't entertain them until much later. Lucky for her, she had supportive parents who were accepting of her personality and the person she had become. "I know that by the time they saw how free a spirit I was and I wanted to date whoever, they were like, 'Who cares?'" she shared.
For Keke Palmer, it's all about fluidity
Keke Palmer wants to make it clear that she's queer. On the "WHOREible Decisions" podcast, one of the hosts admitted that they thought Palmer was straight, but she was quick to correct them. "I'm definitely in the middle of the scale. I'm definitely even across the board," the actor dished. "I feel like love is love, life is life. Do your thing; live your life. I feel that way." She even provided tips on how she would like women to make a move on her. "With girls, do it with touch. I'm cool with it if a girl is making a move and she is trying to get me into the vibe," she explained. "I'm cool with her being like 'stop' and just hug me for no reason. I know what that means."
As she has repeatedly said in the past, Palmer shuns the idea of being classified as one thing. When it comes to her sexuality, she's in charge, and nobody else can take away her agency. "Happiness is defined by me. My sexuality is defined by me," she told xoNecole. "And that can change, and this can change, and I can make it what I want to make it because I'm the one who makes that choice."