How Taylor Swift And Demi Lovato Put Their Rumored Past Feud To Rest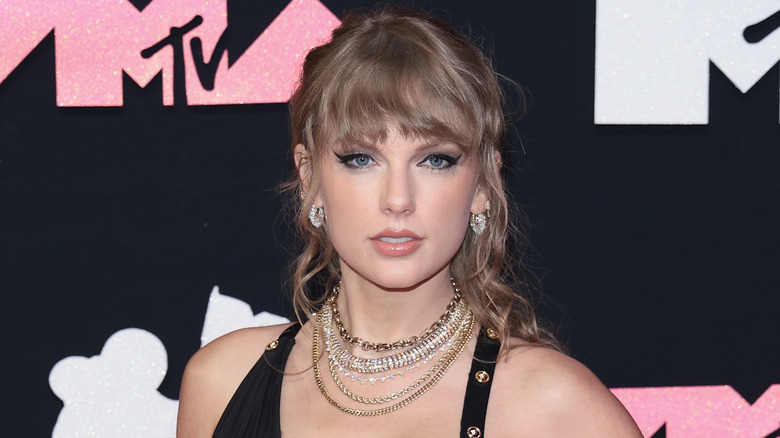 Dimitrios Kambouris/Getty Images
Taylor Swift and Demi Lovato chose to "Shake It Off" after they put their rumored feud to bed. For years, the two musicians have supposedly had some "Bad Blood." It all started in February 2016 after Swift made a $250,000 donation to support fellow musician Kesha's legal battle with her former producer, Dr. Luke, per E! News. To many, the donation was extremely generous, but apparently not to Lovato, who called the singer out. They tweeted, "Take something to Capitol Hill or actually speak out about something and then I'll be impressed." Although the singer didn't mention Swift by name, fans quickly connected the dots.
Months later, Lovato was back to criticizing the Grammy-winner. In a 2016 interview with Glamour, the "Camp Rock" star threw some serious shade at Swift. Lovato hinted at how a certain famous "girl squad," aka Swift's infamous friend group, only had one body type. As if that wasn't harsh enough, the "Sorry Not Sorry" singer also defended Katy Perry, who famously feuded with Swift. Lovato said, "I think that having a song and a video about tearing Katy Perry down, that's not women's empowerment..." The musician was talking about Swift's "Bad Blood" music video, which was heavily speculated to be about Perry. While Lovato and the "All Too Well" singer's feud seemed to be a bit one-sided, it looks like they have finally put whatever tension they had to rest.
Taylor Swift supported Demi Lovato at the VMAs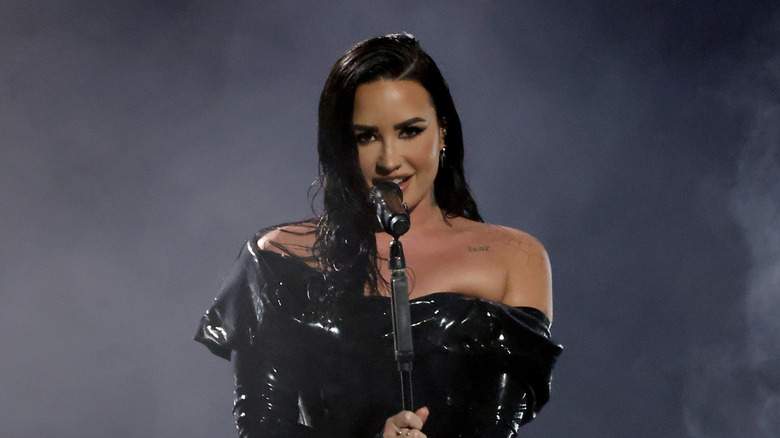 Mike Coppola/Getty Images
If there's one thing people know about Taylor Swift, it's that she will get up and dance at any award show, and she did just that at the 2023 MTV Video Music Awards. The "All Too Well" singer was nominated for an incredible 11 awards and she was there for a good time, per Insider. Throughout the show, even if she wasn't on-stage, she was stealing the show. Dancing and singing at the top of her lungs, Swift showered her fellow musicians with support, including Demi Lovato. Videos of the "Love Story" singer went viral as she sang along to some of Lovato's biggest hits during their performance.
People loved the support Swift showed Lovato, and it didn't go unnoticed by the "Cool For the Summer" singer. In a tweet, Lovato replied to the viral video of Swift supporting them with several blushing emojis surrounded with hearts. The singer also went on Instagram Live and shouted out the Grammy-winner for rocking out to their music (via Entertainment Tonight). Lovato said, "I was really proud of it [the performance]. I'm really happy with it and it was nice to see everybody enjoying it in the audience, dancing to it, Kelsea Ballerini and Taylor Swift, seeing them dance to that made my heart warm. That was really nice." The musicians put the past behind them, and who knows, maybe this will lead to a collaboration — or at least fans can dream.
Demi Lovato ended the tension with Taylor Swift years ago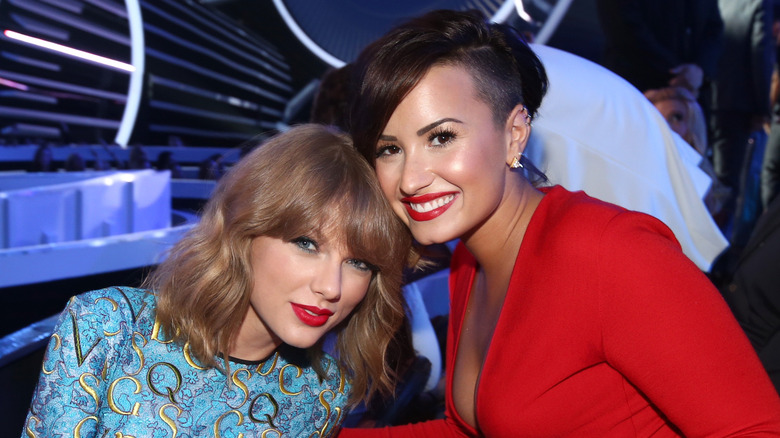 Christopher Polk/mtv1415/Getty Images
The 2023 MTV VMAs aren't the first time Demi Lovato buried the hatchet with Taylor Swift. In 2019, when Swift released her seventh studio album, "Lover," Lovato loved a certain track off the album. According to Good Morning America, the "Sorry Not Sorry" singer posted the song, "Cruel Summer," on their Instagram Story and called it "a jam." At the time, it was a bit of a shock to see Lovato shouting out Swift because this was at the height of the "All Too Well" singer's feud with Scooter Braun.
In June 2019, Braun acquired ownership of Swift's music, which she was not happy about. Their years-long saga resulted in Swift rerecording her albums. But what did Braun and Swift's feud have to do with Lovato? Well, just a month before Braun acquired Swift's music, the "Cool for the Summer" singer signed with his management team.
But Lovato signing on with Braun didn't stop the musician from showing love for Swift. Not only did the singer shoutout "Cruel Summer," but they also followed the post with a message to Swift (via GMA). Lovato wrote, "Life's too short for women to not support other women ... especially when women release great music. Great job @taylorswift." Whether Swift ever responded to Lovato is unclear, but the "Neon Lights" singer was over the rumored feud that had surrounded them and the "Love Story" singer for years.