What Happened To Jerry Falwell Jr?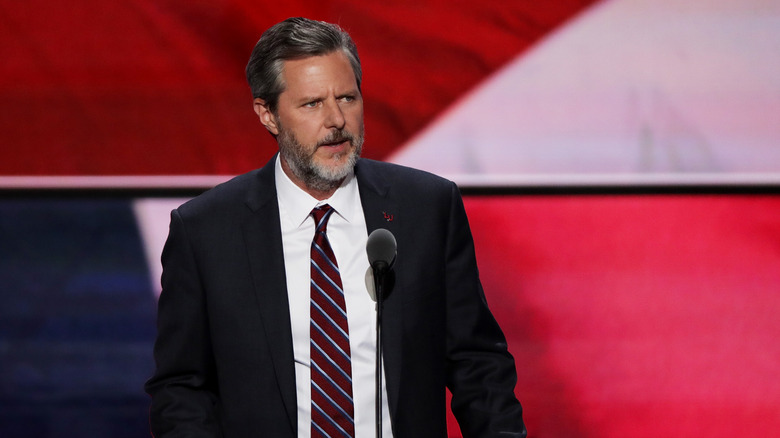 Alex Wong/Getty Images
Jerry Falwell Jr. is perhaps best known for serving as president of Liberty University, a private Christian college founded by his father and namesake, televangelist Jerry Falwell Sr., in 1971. The story goes that Falwell Jr. was tapped by his father to work behind the scenes. He ultimately nursed the educational institution back to health from near financial ruin in the late '80s and early '90s. "God sent him to me just in time," Falwell Sr. boasted about his son and eventual successor's integral role in the financial rebirth of the college within the confines of his 1997 autobiography. "He is more responsible, humanly speaking, for the miraculous financial survival of this ministry than any other single person."
Alas, Falwell Jr.'s legacy as Liberty University's mortal hope and savior all came crashing down in August 2020 when he and his wife, Becki Falwell, became embroiled in an alleged salacious sex scandal involving a college-aged pool boy from Miami, Giancarlo Granda. In an exclusive interview with Reuters, Granda claimed he had a years-long sexual affair with Becki, and Falwell Jr. often participated as an onlooker. The claims prompted Falwell Jr. to issue a statement to The Washington Examiner, confirming that Becki had participated in an "inappropriate personal relationship" with Granda. Furthermore, he claimed that Granda was guilty of attempting to extort the couple with fabricated claims. Following the allegations and a back-and-forth game of resignation with the university, Falwell's life, as he had known it, had suddenly changed forever.
Jerry Falwell Jr. sued Liberty University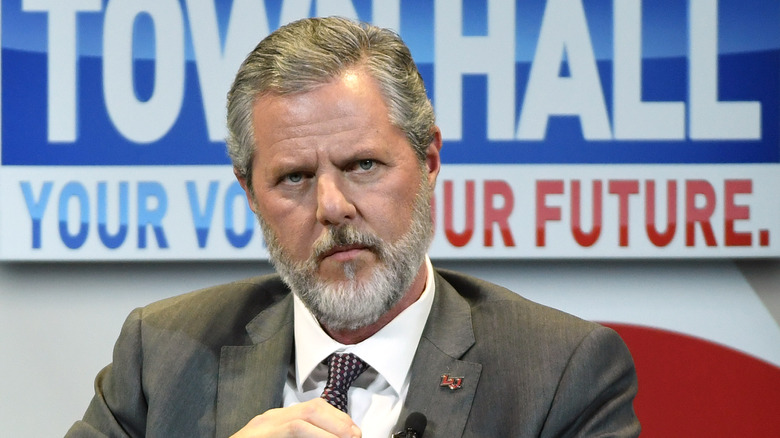 Ethan Miller/Getty Images
Sweet relief? "Free at last, free at last. Thank God almighty, I am free at last! That's the way I feel," Jerry Falwell Jr. declared during an awkward interview with NPR following his final resignation. "I think I've done all I can do. It's better to leave at the top," he stated matter-of-factly. 
It should be noted, however, that Falwell did go on to sue Liberty, citing defamation and breach of contract in October of the same year. "I am saddened that University officials, with whom I have shared so much success and enjoyed such positive relationships, jumped to conclusions about the claims made against my character, failed to properly investigate them, and then damaged my reputation following my forced resignation," he said in a statement. But in a curious turn of events, Falwell abruptly dropped the lawsuit in December 2020, noting to The News & Advance that he hoped they'd find another way to come to a resolution that didn't include the court.
Then, in April 2021, Liberty University launched its own lawsuit against Falwell to the tune of $40 million, alleging that Falwell committed fraud by knowingly withholding detrimental information during the renegotiation phase of his contract. The case is ongoing, much like his marriage. 
Jerry Falwell Jr. didn't give up on his marriage... or the Liberty University football team
'Til death do they part. Following the shocking high-profile scandal, Falwell's subsequent resignation, and his multitude of ongoing legal battles, the couple is adamant they are still happily married. "We're together more than any couple you will ever meet in your life," Becki Falwell told Vanity Fair in a candid January 2022 interview. "He forgave me, and that's what Jesus teaches, forgiveness." 
It appears, however, that Falwell Jr.'s forgiving nature might not extend all the way to Liberty University. In October 2021, Falwell Jr. refiled his own defamation lawsuit against the school. Then, in August, Falwell Jr., along with members of the Falwell Family Trust, hit the university with another lawsuit wherein they claimed that Liberty was guilty of trademark infringement. Whether or not they will prevail is anyone's guess.
Still, one thing remains glaringly apparent: Falwell Jr. isn't willing to simply fade away in the background, even going so far as to stand outside on a city sidewalk to celebrate a Liberty University football team win. "I knew exactly where the line was between the city right of way and Liberty property because I drew it," he proudly told Inside Higher Ed about finagling around his campus-wide ban so that he could cheer on the Flames. "So I walked right up to the front entrance of the stadium and celebrated with some parents and got dozens and dozens of pictures. I put it all up on Instagram." Gone but not forgotten? We'll let you be the judge and jury.