Hugh Jackman And Deborra-Lee Furness' Two Kids Are All Grown Up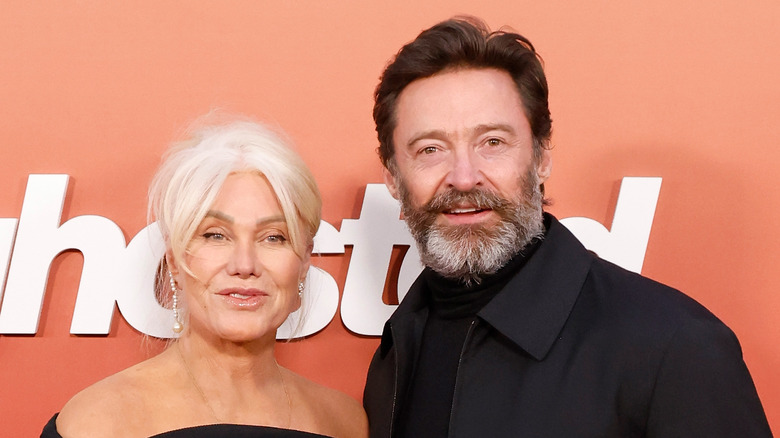 Taylor Hill/Getty Images
Hugh Jackman and Deborra-Lee Furness shocked the world when they announced they had separated in September 2023 after nearly three decades of marriage. The couple, who fell in love after meeting on the Australian TV series "Corelli" in 1995, confirmed their split in a joint statement to People. "We have been blessed to share almost 3 decades together as husband and wife in a wonderful, loving marriage. Our journey now is shifting and we have decided to separate to pursue our individual growth," the statement read. They added that they remain committed to raising their children and will move forward as friends. "We undertake this next chapter with gratitude, love, and kindness. We greatly appreciate your understanding in respecting our privacy as our family navigates this transition in all of our lives."
The pair, who wed in 1996, share two kids — son Oscar Maximilian and daughter Ava Eliot — who they adopted as young children after struggling to become parents, according to Today. Previously, the "Logan" star told journalist Katie Couric he and Furness had always wanted to adopt. "That was always in our plans," he said. "Biologically, obviously we tried, and it was not happening for us." In 2011, the proud dad gushed about their kids in an interview with Herald Sun. "I don't think of them as adopted," Jackman said. "They're our children. Deb and I are believers in... I suppose you could call it destiny. We feel things happened the way they are meant to."
Today, both Oscar and Ava Jackman are all grown up.
Oscar has started college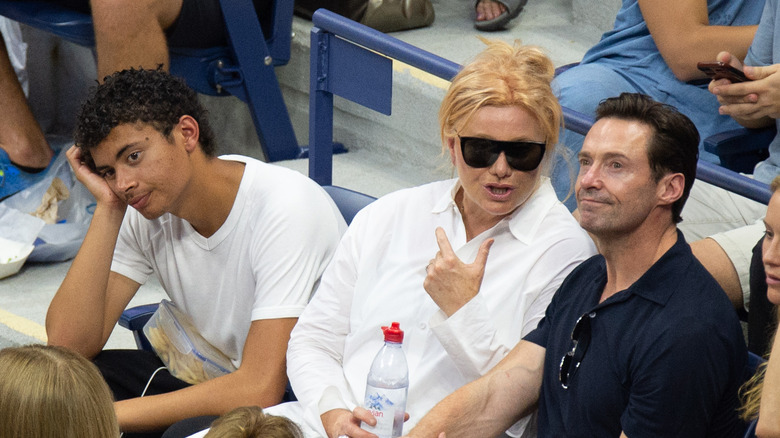 Adrian Edwards/Getty Images
Hugh Jackman and Deborra-Lee Furness adopted their son, Oscar Maximilian Jackman, shortly after he was born on May 15, 2000. Oscar came from a rural American family in Iowa, and like his sister Ava, he is biracial. In an interview with People in 2017, Jackman said it was important for him and Furness to adopt mixed-race children. "Our motivation behind adopting was, 'Where is the need?' and we just knew from talking with people in that space, when we were looking around, that the biggest need is in mixed-race kids," he said. "A lot of people go into [adoption thinking] it's really important to them for the kid to look like them, and honestly, for Deb and I, that just never even was an issue."
Now 24, Oscar finished high school at the prestigious New York Ross School in 2019 and has since gone off to university. A source close to the family told Women's Day (via Now to Love) that Jackman and Furness couldn't be prouder of their son. "He's growing into a young man who has courage in his convictions and has faced and overcome emotional situations that most people couldn't even imagine. And for that they are very grateful," they said. Despite his unlikely upbringing, Oscar has grown up to be a wonderful kid. "He's a happy and passionate young adult who, despite being adopted and growing up as celebrity offspring, is kind, popular with his friends, and well-adjusted," the source revealed, adding, "It's everything Hugh and Deb had ever hoped for Oscar."
Ava is also now a young adult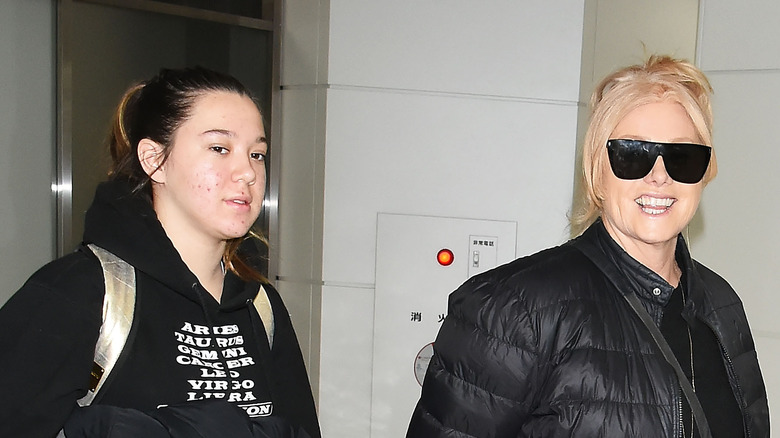 Jun Sato/Getty Images
Five years after adopting Oscar, Hugh Jackman and Deborra-Lee Furness announced they adopted a daughter named Ava Eliot Jackman in July 2005. Speaking with In Touch about expanding their family, Jackman said they were a little more relaxed this time around. "And it's a different dynamic having a girl, but both are wonderful and I'm so blessed to have a beautiful boy and girl," he explained (via People). Like her adoptive mother, Ava is independent and full of life, according to the "Prisoners" star. "[She] loves school," he told Today. "She can't wait to go. She comes home and tells me all about her day," adding, "She's loving life and she's so like Deb. It's unbelievable to watch." 
Like Jackman, Ava also loves to sing and dance and has taken dance classes during her early teenage years. Now 18, Ava is already in her senior year of high school. A source close to the family dished to Women's Day that Jackman has already laid some ground rules for Ava when it comes to dating. "There is a prom a year away, so even Hugh knows he can't stop this," the insider said. "Hugh's struggling with the fact his baby girl is growing up. Ava's always been a daddy's girl so she knows she has to go easy on him." Adding, "As her mum wisely told her, "Trust is earned, so don't screw it up.'"