The Story Behind Breakout Rap Star Sexyy Red's Stage Name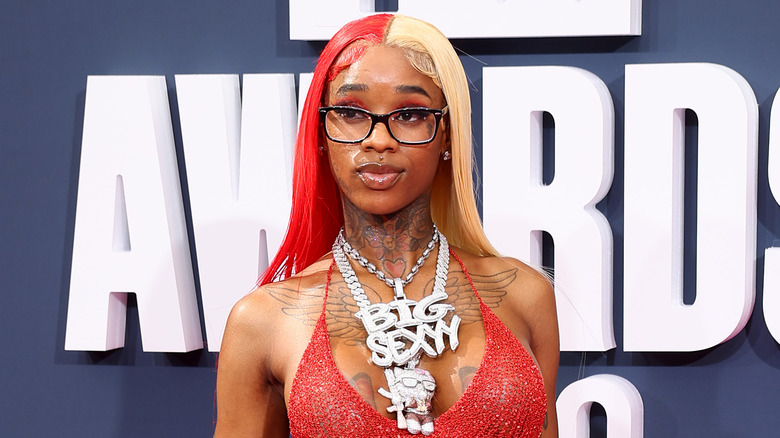 Leon Bennett/Getty Images
Sexyy Red's stage name is just as interesting as her super suggestive lyrics, but how did she come up with it? Given her provocative image, she probably couldn't have picked a more perfect name if she tried. That's probably one reason that Red doesn't regret her stage name like so many of her celebrity peers, including her "Pound Town 2" collaborator, Nicki Minaj.
By the way, if you hadn't noticed, that's Sexyy with one X and two Ys. And yes, Red cares about the difference. In August 2023, Red checked fellow rapper Lil Durk after he spelled her name wrong on X, formerly known as Twitter. "Feel like going on my feature run. I'm healed .... First stop sexy red second stop ytbFATT," tweeted Durk. While Red was probably flattered that one of her peers wanted to collaborate, she couldn't get past the improper spelling. "Dang u gon spell my name wrong Lil Jerk?" tweeted Red.
A rapper's stage name can speak volumes about the artist. So, where did the "SkeeYee" rapper come up with her unique moniker?
Sexyy Red's cameraman helped devise her name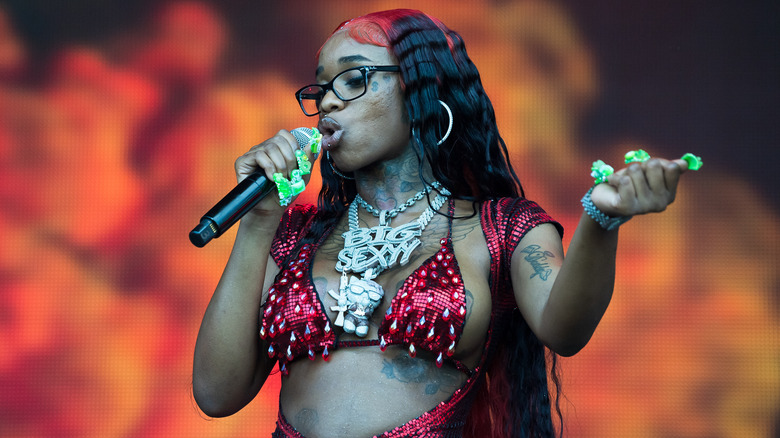 Jason Koerner/Getty Images
During a May 2023 sit-down with Complex, the "Pound Town" rapper revealed how she landed on her stage name. The rapper's affinity for the color red as a teenager helped cement her "Red" moniker. But she revealed that a brainstorming session with her cameraman was where her rap name was born.
"When I started rapping, I didn't know what name I should use, and my cameraman was like, 'What about Sexyy Red, because you're sexy and your name's Red?'" she revealed in the interview. "I'm like, 'Okay. I like that.'" After trying to pair other adjectives with Red, they settled on Sexyy. "I'm like, 'I like that.' It fits," added the rap star.
However, Red does have a real name that most of her fans probably aren't aware of. According to Rolling Stone, Red's legal name is actually Janae Wherry, which is a fact she didn't want to reveal during her interview with the outlet. However, it's not because she doesn't like the name. Instead, she doesn't appreciate how strangers have started to call her by her real name. According to the star, her fans "call her by it like they know it."
Sexyy Red may just be getting starting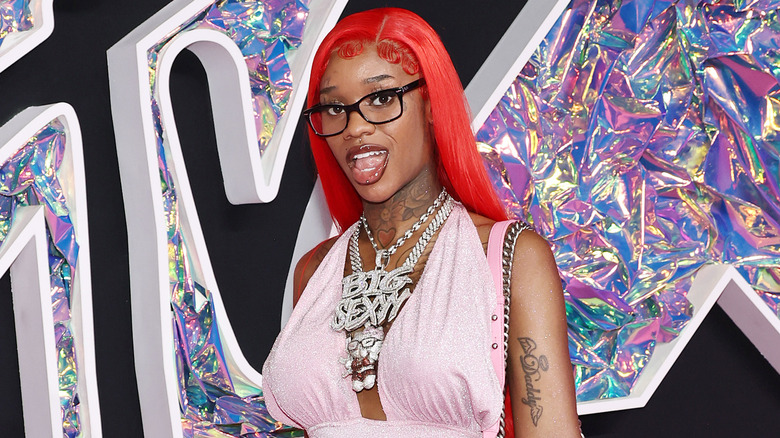 Jamie Mccarthy/Getty Images
It seems that Sexyy Red is finally enjoying the payoff from several years of grinding. Over the past few years, Red has amassed millions of Instagram followers and accrued over 7 million monthly listeners on Spotify in 2023. However, the biggest bragging right stems from her major progress on the TikTok Billboard Top 50 Chart – a novel measure of the songs that TikTok users are salivating over.
In September 2023, Red made history as the first-ever musician to land the No. 1 spot on the brand new Billboard chart. Her song, "SkeeYee," catapulted her to the top spot, but as the music outlet reported, the star is currently taking up four out of the 50 spots. "I am so excited that so many of my songs are charting on the TikTok Billboard Top 50 chart," shared the rapper. "I always knew I would be a No. 1 type of artist, so I want to thank all my fans on TikTok for running my music up! I'm just being me on TikTok and people love it."
Red has other projects in the works, including her to-be released lip-gloss line, which features some adult-themed names. "I got a lip gloss line dropping soon, y'all better shop with your girl," Red shared while chatting with Interview Magazine in September 2023. And though we'll refrain from sharing the names of the lip glosses, just know that she clearly pulled the explicit names from the lyrics in her viral hit, "Pound Town." Yeah.