Orange Is The New Black's Yael Stone Accuses Geoffrey Rush Of Sexual Misconduct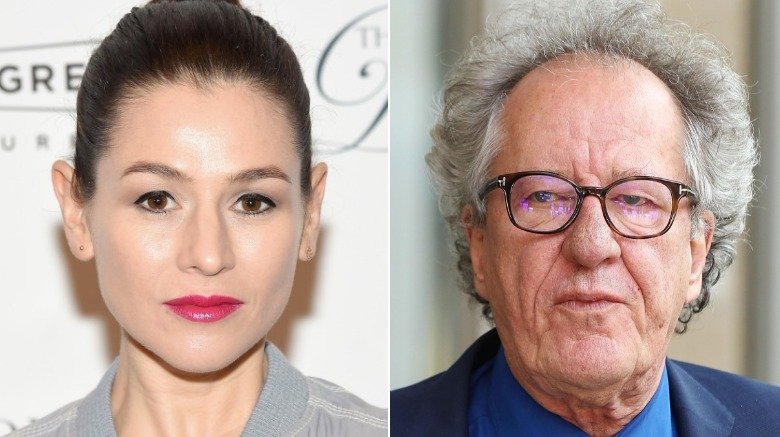 Getty Images
Actor Geoffrey Rush is facing a new round of sexual misconduct allegations.
During an interview with The New York Times, published on Sunday, Dec. 16, 2018, Orange Is the New Black star Yael Stone accused Rush of inappropriate behavior stemming from multiple alleged incidents during a 2010-2011 theatre production of The Diary of a Madman in Sydney, Australia. At the time, Rush would have been 59 years old, while Stone was 25.
"I was so flattered that someone like that would spend their time texting me into the very early hours of the morning," Stone told the publication, claiming that the alleged behavior began with text message exchanges. "Gradually the text messages became more sexual in nature, but always encased in this very highfalutin' intellectual language."
Admitting that she's now "embarrassed by the ways [she] participated," the 33-year-old Australian actress, who welcomed her first child this past May, noted, "I certainly wouldn't engage as the person I am now in the way I did when I was 25."
The texts reportedly escalated to "stranger intimacies" during this time. As Stone claimed, Rush allegedly danced around their dressing room "totally naked" in a "playful, clownish manner," spied on her in the shower using a mirror, and touched her back in a "very sensual manner" which was "unwanted and sustained" at an award show — the latter of which the King's Speech actor later apologized.
As Stone told the paper, "I was walking a very delicate line where I needed to manage these uncomfortable moments but never, never offend him." She added, "There was no part of my brain considering speaking to anyone in any official capacity. This was a huge star. What were they going to do? Fire Geoffrey and keep me?"
As Nicki Swift previously reported, Rush, 67, was first accused of inappropriate behavior in November 2017. At the time, the Australian newspaper The Daily Telegraph reported that officials at the Sydney Theatre Company were investigating claims made by a staffer about Rush during its 2015-2016 production of King Lear. The Pirates of the Caribbean star vehemently denied the claims at the time, and later filed a defamation lawsuit against the paper over its since-deleted article.
More recently, Rush released a statement denying Stone's allegations, as well. Calling them "incorrect," he stated that they "in some instances have been taken completely out of context." The Oscar winner continued, "However, clearly Yael has been upset on occasion by the spirited enthusiasm I generally bring to my work. I sincerely and deeply regret if I have caused her any distress. This, most certainly, has never been my intention."
Following disgraced movie producer Harvey Weinstein's ongoing scandal, which infamously broke in October 2017, Rush is one of the latest powerful figure in the entertainment industry to be accused of sexual misconduct in the wake of the #MeToo movement.