What We Know About Jared Leto's Rumored New Girlfriend Thet Thinn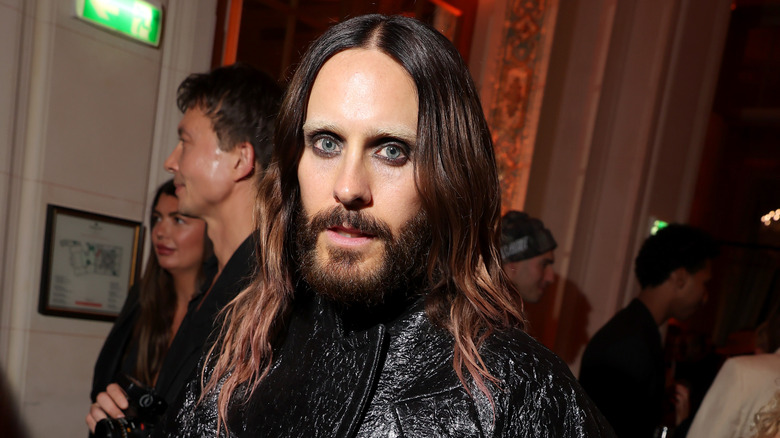 Victor Boyko/Getty Images
It appears Jared Leto has a new lady friend. In June, People reported that the "Morbius" actor might be dating Burmese model Thet Thinn after the two were photographed out and about together in Germany. This was after Thinn — who also goes by the name Beauty — appeared in the latest music video of Leto's band, Thirty Seconds to Mars, for their single "Stuck." In an Instagram post on May 31, Leto thanked his rumored new girlfriend for appearing in the project. "Born in Myanmar, a beautiful but war torn country in the middle of a violent conflict, Beauty brought with her an elegance, grace and gravitas that helped to make the video so much more special," he wrote. "Thanks again to everyone who worked so hard and gave so much of themselves to this project. Very grateful!!!"
While known for keeping his romantic life incredibly private, Leto has been in several high-profile relationships over the years and was previously engaged to "Charlie's Angel" star Cameron Diaz in the early 2000s. He has also dated Scarlett Johansson and Ashley Olsen and has been linked to Lindsay Lohan, Lupita Nyong'O, and Miley Cyrus. Prior to his rumored romance with Thinn, the Oscar winner was in a five-year relationship with Russian model Valery Kaufman until their split in September 2022. "Jared Leto and Valery Kaufman broke up," a source close to the pair confirmed to ET. "He is single and has been dating around." Here's what you need to know about Leto's rumored new girlfriend, Thet Thinn.
Thet Thinn appeared on Asia's Next Top Model
Thet Thinn began her career as a model when she joined the sixth and final season of "Asia's Next Top Model" in 2018, representing her home country of Myanmar. After finishing in fourth place, she continued to work on the runway and was signed to top modeling agencies such as Storm Model Management and Next Management in Los Angeles. Currently, she is represented by Marilyn Agency in New York, Premium Models in Paris, and The MiLK Collective in London, according to her profile on Models. Thinn has walked runway shows for brands like Gucci, Jacquemus, and Bottega Veneta and appeared in campaigns for Kate Spade, Victoria Beckham Beauty, and Essentiel Antwerp. She has also been featured in magazines such as Vogue Thailand and Hunger Magazine, as seen on her official Instagram page.
Born on April 19, 1996, Thinn studied English at Dagon University in Myanmar and was passionate about modeling even as a child. In a 2019 interview, she said, "When I first started, my family [didn't] want me to do modeling. They wanted me to focus on my education before." Aside from Myanmar and New York, Thinn has also resided in London and the Philippines.
Aside from strutting the runway, the 27-year-old said she is passionate about helping underprivileged kids back home in Myanma during a 2019 chat with Models. "I really love kids and when I am home I like to volunteer for the child orphan," she said. "I enjoy helping kids study in my country. Educating the children is so important for the future." 
Jared Leto is 'gaga' over his new girlfriend
Jared Leto is reportedly head over heels for his rumored new girlfriend, Thet Thinn. A source close to the "Suicide Squad" actor told Radar in May that he's enthusiastic about his growing romance with the model. "Jared's been telling everyone he has a special girl in his life and isn't seeing anyone else," the insider claimed. "It's pretty new but he's gaga for her." According to the source, while their 24-year gap has sparked concern among some of his friends, both Leto and Thinn are happy in their relationship. The insider said of the pair, "It helps that Jared's in fantastic shape and looks closer to her age than he is." He adds, "[Jared] admits it's taken him a long time to mature, but he's a great guy and would make a great dad, so people are hoping he's really serious about finding a long-term partner."
In an interview with Rolling Stone in 2016, Leto opened up about his desire to keep his personal life and relationships away from the spotlight. He said, "Even if I was in a relationship or maybe if I was having kids, I don't know if I would share that information publicly." Regarding whether or not he intends to get married in the future, the "This Is War" singer offered up a vague answer. "It's just how things are. I don't think there's a definitive decision that I've made," he said at the time.