A Look At Russell Brand's History Of Legal Trouble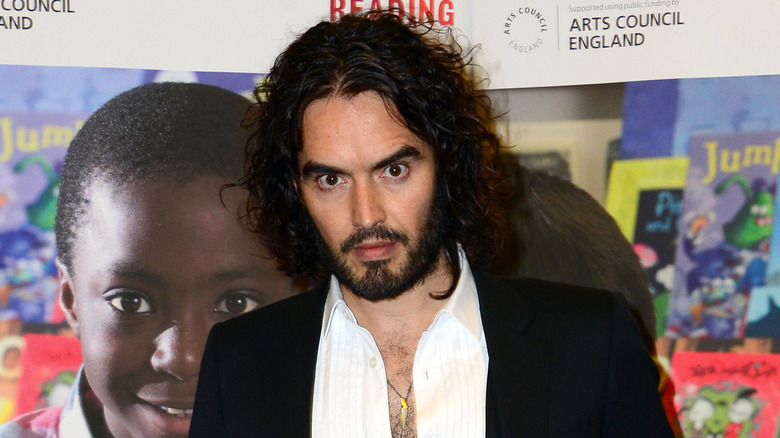 Carl Court/Getty Images
A sensational figure in Hollywood, comedy, and — since the late 2010s — sociopolitical commentary, Russell Brand's multifaceted career screeched to a halt in September 2023 when the entertainer was slapped with a slew of rape and sexual assault allegations. That month, London Metropolitan Police began investigating four women's accusations against Brand of assaults that allegedly occurred between 2006 and 2013. 
As revealed in an investigative report published by the Sunday Times, the Times, and Channel 4's Dispatches in the United Kingdom, Brand committed the alleged offenses while under the employ of the BBC and Channel 4, and while he was starring in various projects such as 2008's "Forgetting Sarah Marshall." Brand's accusers remained anonymous in the report, with their allegations running the gamut from forcible rape to underage grooming. One month later in October, the Thames Valley police also began a separate investigation into claims that Brand had been harassing and stalking a woman. 
The fallout for Brand came fast and heavy; his literary agency, Tavistock Wood, quickly dropped him as a client, while former employers BBC and Channel 4 were swift to voice their dismay at such allegations. The actor-comedian has denied all accusations, with wife Laura Gallacher and sister-in-law Kirsty Gallacher standing firmly, albeit quietly, by his side.
These sexual abuse allegations may have been Brand's most serious embattlements to date, but the "Arthur" star has had to answer for more than a few legal dust-ups in the past.
If you or anyone you know has been a victim of sexual assault, help is available. Visit the Rape, Abuse & Incest National Network website or contact RAINN's National Helpline at 1-800-656-HOPE (4673).
Russell Brand was arrested and then fired for back-to-back wardrobe choices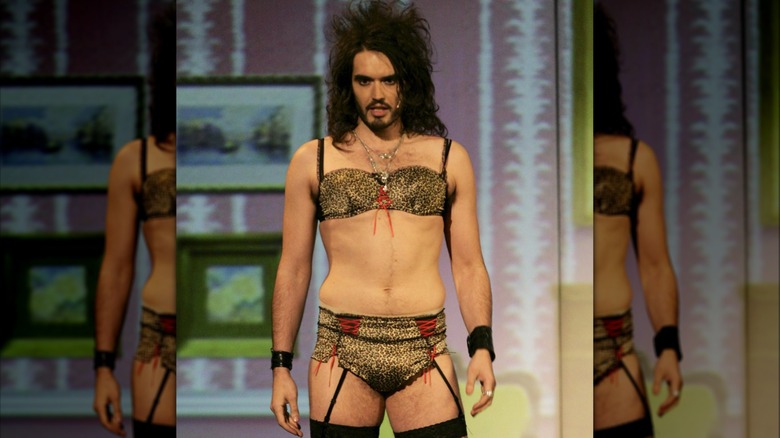 Dave Hogan/Getty Images
In 2001, Russell Brand was still mainly a United Kingdom television and radio personality, working as an MTV VJ among other things. He was also a bit of a pre-viral social disrupter. Participating in an anti-capitalist protest on Mayday in 2001, Brand stripped completely naked before the statue of Eros located in Piccadilly Circus. Chalking his "striptease" up to being incentivized by  "youthful idealism and personal exhibition" in a later blog post, Brand was quickly arrested by the London Metropolitan Police, with charges later dropped. The provocateur wasn't done shocking the world, however. The very next day, on Sept. 12, 2001, Brand showed up to his MTV hosting gig dressed as Osama bin Laden. MTV fired Brand within two days.
In an interview years later on "Chelsea Lately!," Brand opened up about his wardrobe faux-pas, bluntly attributing it to being high on heroin and crack cocaine. "I challenge any of you to take crack and heroin and see how it affects your personal, private, and professional life," Brand addressed host Chelsea Handler and her audience (via Independent). Although Brand was audibly booed by Handler's audience at the confirmation he dressed up as bin Laden, some social media users lauded him for taking candid responsibility. As one tweeted at the time, "Humans who can embrace humility and admit when they make mistakes are few and far between."
Russell Brand pranked himself off BBC Radio 2 airwaves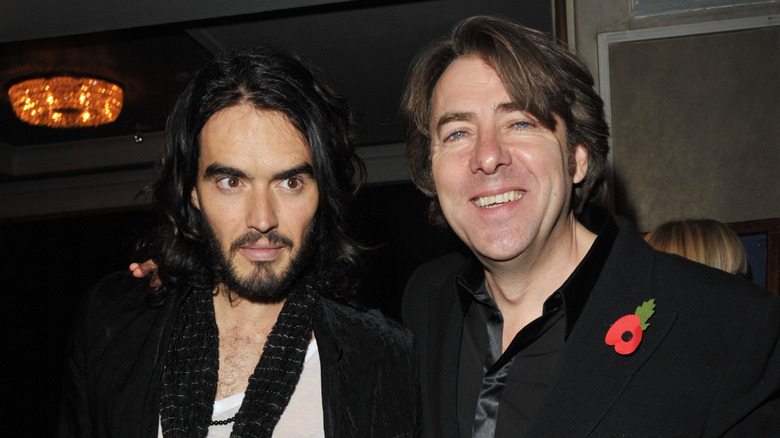 Jon Furniss/Getty Images
In 2008, when Russell Brand was just breaking out in mainstream Hollywood for his role in"Forgetting Sarah Marshall," he got himself kicked off his hosting gig on BBC Radio 2. Recording an October 2008 episode with BBC 2 TV personality Jonathan Ross, Brand made a series of raunchy prank phone calls to Andrew Sachs, the British veteran actor known for the 1970s sitcom, "Fawlty Towers."  In a stunt dubbed in the UK as "Sachsgate," Brand and his prank cohort made various off-color remarks to Sachs, including sexual comments regarding Brand's former relationship with Sachs' granddaughter, Georgina Baillie.
The episode only solicited two formal complaints when it first aired, but after receiving some press in The Mail on Sunday, it garnered more than 40,000 complaints to the BBC. Sparking mass outrage and condemnation of both Brand and Ross, the prank ultimately got Brand fired and earned Ross three months' suspension from BBC 2. In their formal apology, the BBC — which itself was fined £150,000 — stated that Brand and Ross' actions were "gratuitously offensive, humiliating and demeaning."
Russell Brand allegedly attacked paparazzi over Katy Perry upskirt shot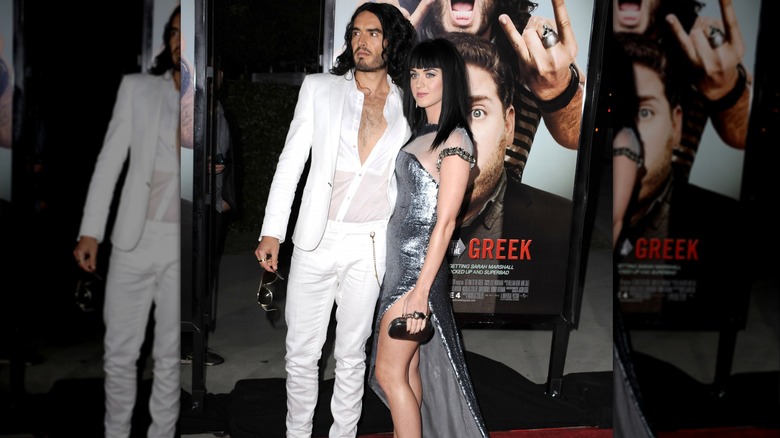 Steve Granitz/Getty & undefined
In 2010, Russell Brand was Mr. Katy Perry-to-be (the two got engaged in January of that year after two years of dating) and still enjoying the peak of his fame. Despite his career hitting higher mainstream heights than ever — starring that year in "Get Him to the Greek" alongside Jonah Hill — Brand couldn't shake his bad-boy ways. The actor was arrested at Los Angeles International Airport for misdemeanor battery; allegedly, Brand had attacked several paparazzi, including inflicting a bruise on one's face, as he and Perry were about to board their flight. After the bruised paparazzo made a citizen's arrest, LAX police drove the funnyman to the Los Angeles Police Department's Pacific Division Station in handcuffs.
Brand's side of the story was that he caught the photog attempting an upskirt shot under Perry's dress. The "Roar" crooner rushed to his defense on Twitter, writing at the time that "if you cross the line & try and put a lens up my dress, my fiancé will do his job & protect me," using the hashtags "Stand by your man" and "Dont f*** with the Brands." Posting $20,000 bail, Brand seemingly avoided consequences for the accused behavior (or likely paid a fine and settled the matter). However, this incident was only one of several throughout Brand's life in which he found himself in handcuffs.
Another paparazzi tussle almost landed Russell Brand a felony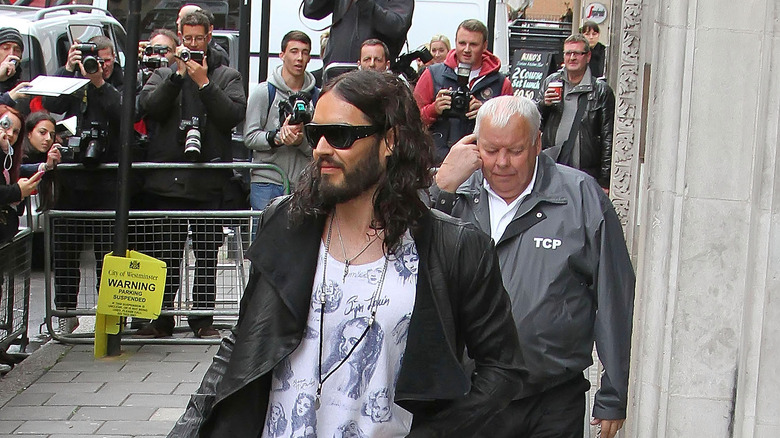 Jj/bauer-griffin/Getty Images
Russell Brand received a string of bad press in 2012, not least of which included the New Orleans Police Department's hunt and subsequent arrest of him for another alleged paparazzo run-in. In March 2012, NOPD was hot on Brand's scent after they received a police complaint from paparazzo Timothy Jackson. According to Jackson, Brand approached him in his car, snatched his iPhone out of his lap, and hurled it through a window of the nearby law firm, Deutsch, Kerrigan, and Stiles. (Photos obtained by news outlets showed the "Get Him to the Greek" star grabbing said phone as well as the law firm's cracked window pane.)
Although Brand had agreed to pay for the damage, a warrant was still issued by the NOPD, with Brand arrested on March 15 of that year. Given that the incident occurred in Louisiana, Brand faced a very real possibility of serving up to two years in prison. In the Bayou State, property damage exceeding $500 (a qualification the broken iPhone alone meets) automatically counts as a felony arrest. Ultimately, however, prosecutors did not pursue a felony charge against Brand. In July of that year, the district attorney's office announced that the comic was only slapped with a misdemeanor criminal damage to property, reducing his prospective jail time to six months. A backroom deal was struck between the parties, with Brand ordered to only serve 20 hours of community service and pay a $500 fine.