Cindy Crawford's Beef With Oprah Winfrey Fully Explained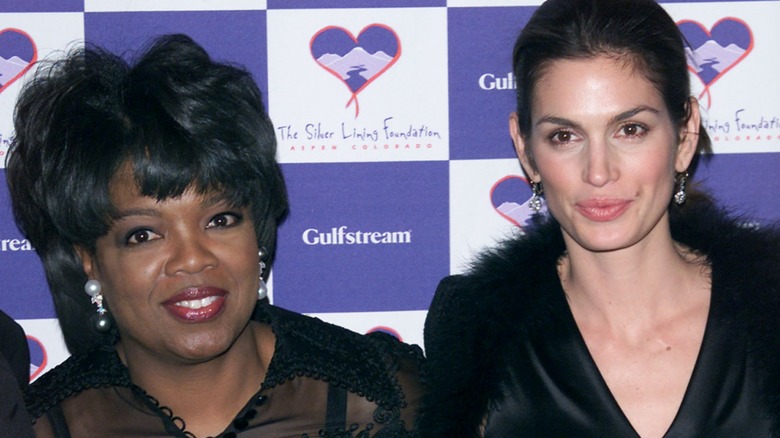 Nick Elgar/Getty
Oprah Winfrey may be the queen of all media, but sometimes she got it all wrong — at least that's the way Cindy Crawford tells it. The legendary supermodel appeared on the Apple TV+ docuseries "The Super Models," and spoke about the first time she met Winfrey. It seems as if her initial experience was a far cry from her last Winfrey interview when she was a guest on "Oprah's Master Class" in 2013. In that episode, Crawford revealed how her appearance affected how she felt. Crawford said (via ABC News), "I felt judged by the way that I looked. ... I think it set me on a course to represent myself as someone who has a brain," she said. Apparently, Crawford was already doing some introspection and reviewing how she was perceived by others.
Prior to her 2013 "Master Class" episode with Winfrey, Crawford had appeared on "Oprah" ten times. But, Crawford's memory of her introduction to "The Oprah Winfrey Show" is not a warm and fuzzy one, especially when viewed through the 20/20 vision hindsight provides. The mother of two cast a new light on the episode and reflected how Winfrey's actions could be construed in today's culture. And from her perspective, it seems as if Crawford and Winfrey may have some issues to resolve.  
Cindy Crawford slams Oprah Winfrey
In the pilot episode of "The Super Models," Cindy Crawford reflected on the first time she appeared on "The Oprah Winfrey Show." Crawford was just 20 years old when she and her manager, John Casablancas, appeared on "The Oprah Winfrey Show" for the first time in 1986. Interestingly, it was not only Crawford who was learning the ropes. Winfrey's show had just been syndicated in September of that year. Winfrey directed many of her questions to Crawford's manager, asking him (via Today), "So did you have to groom her? Did she always have this body?" Winfrey then addresses Crawford and asks the model to stand up so that everyone can see her.
Crawford commented on this particular "Oprah" segment in the "Super Models" episode. "I was like the chattel or a child. Like, be seen and not heard, when you look at it through today's eyes. When Oprah's like, "Stand up and show me your body,  show us why you're worthy of being here'" (via Express).
The former supermodel was distressed by the interview. "I was so traumatized ... I really felt I was not seen as a person who had a voice in her own destiny," she said (via the Los Angeles Times). Crawford said it wasn't something she realized at the time, but as she got older she realized how wrong the situation was. After Crawford spoke out about it, Winfrey seemingly responded by removing the interview from YouTube.
Gayle King and fans react to Cindy Crawford's Oprah claims
Cindy Crawford called Oprah Winfrey out for the way she handled a 1986 interview and nearly four decades later, social media users also aired their opinions. One person said, "She's a model, that's literally her job." Another stated, "Her job was also very often showing off her body to the cameras." One viewer noted that Winfrey's interview skills may have been lacking that day, penning, "'So you groomed her?'.......poor choice of words."  
Winfrey's best friend Gayle King also weighed in on the interview even though she had not seen it. She told ET, "I'm surprised and a little disappointed... Because I know Cindy's been on her show many, many, many times and it has always been a pleasant experience. [So] I would hate to think that something that happened years ago [could have bothered her] ... It's not Oprah's thing to humiliate or make anybody feel badly." King also added that as far as she knew, Winfrey and Crawford's relationship was still fine.
Interestingly, the billionaire spoke with the New York Times in 1986 about her interviewing process. "Vulnerability is the key; people appreciate when you can be honest. It lets them feel more comfortable about being themselves," she said before later adding, "I understand my commonality with the human experience."  A dose of that vulnerability and commonality may have made all the difference in an interview with a certain model a few months later.