Who Is Lauren Alaina's Fiancé, Cam Arnold?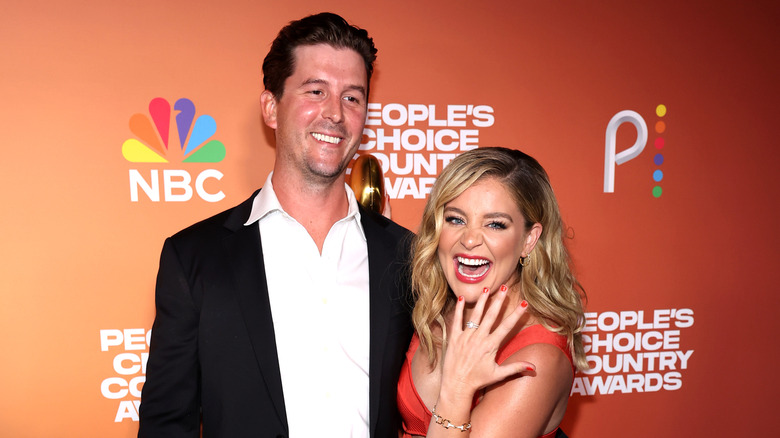 Terry Wyatt/Getty Images
Lauren Alaina is getting married! In November 2022, the "American Idol" Season 10 runner-up announced her engagement to fiancé Cam Arnold during a show at the Grand Ole Opry in Nashville. "Everybody, this is my fiancé," she said as she introduced Arnold to fans (via People). She then took to Instagram to gush about her beau and express her excitement about being engaged. "I didn't know happiness and excitement like this existed," Alaina wrote in her post. "I can't wait to be Mrs. Cameron Scott Arnold."
The engagement news comes over two years after Arnold confirmed their romance on social media in August 2021. Opening up to ET about their love story, Alaina said she and Arnold met at Luke Bryan's "Crash My Playa" all-inclusive concert vacation in Mexico. "He's friends with Luke's niece and her husband, so he was backstage and we were at the taco stand. And apparently, I ate my tacos really fast and he was like, 'Nobody's gonna take those tacos away from you!'" she recalled. "First thing he ever said to me, and that was when I knew." While explaining why it took her a while before she introduced Arnold to the public, Alaina said she considers their relationship a sacred part of her life. "He keeps me grounded and gives me a piece of a normal everyday life that I didn't have before him," she told People magazine. "We have been together for two and a half years, and we are just getting started."
Cam Arnold works in insurance
So, who is Cam Arnold, the lucky guy who stole Lauren Alaina's heart? According to his LinkedIn profile, Arnold is an "experienced sales professional" who currently serves as the Vice President of Sales for an insurance agency in Nashville, Tennessee. He studied finance at Auburn University in Georgia before moving to Middle Georgia State to earn a degree in Business Administration, with a major in Management, Marketing, and Finance. After graduating in 2013, he relocated to Nashville to enter the insurance industry and joined his company, SouthPoint Risk, as a program manager in 2014. He was then promoted to Vice President of Sales in January 2020.
Speaking with People about her fiancé, Alaina described Arnold as just a "normal" person who values his privacy and likes to keep himself out of the spotlight. "He wears a suit for work every day, and I'm not sure that he had any idea who I was when he met me," she laughed. "But he's very normal. He's from Georgia like me. He's just awesome." Since getting engaged, she and Arnold made their relationship red carpet official at the 2023 People's Choice Country Awards on September 28. Speaking on the sidelines with WSMV 4 Nashville, the country music star expressed her excitement to be with her fiancé at the ceremony. "It's really exciting for me tonight because this is the first time I've ever brought my fiancé. He's never been to any sort of carpet, any sort of thing with me," she said.
Alaina didn't want to date men from the industry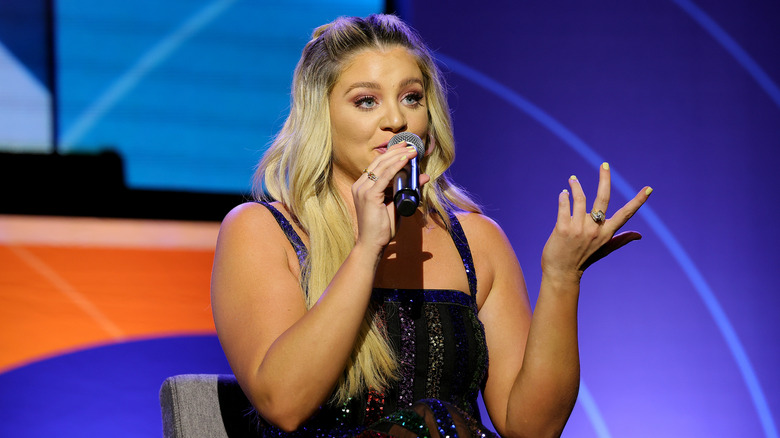 Terry Wyatt/Getty Images
Speaking with People in March, Lauren Alaina said she had sworn off dating men from the music industry prior to meeting her fiancé. "I didn't want anyone in the industry at all," she told the magazine. "And boy, I got everything I could have ever wanted." The "Road Less Traveled" singer has been linked to a few famous guys in the past, including controversial comedian John Crist and former fiancé, singer Alexander Hopkins. She and Hopkins had been together for half a decade when the pair announced their engagement in 2018. However, Alaina and Hopkins called things off in 2019 after realizing they just weren't meant to be. "We're very different people, and we have different goals, and we want to go different places in life. When we got engaged, it got really real," Alaina said in a March 2019 episode of the "All Our Favorite People" podcast. "He was such an important person in my life, but that just doesn't make him the person that I'm supposed to be with forever."
In September 2020, Alaina said she believed there was someone out there who was going to be the right person for her, and until she met "the perfect guy," she would refrain from discussing her romantic relationships publicly. "I'm going to be 100 percent sure that it's going to work out before I go broadcast anything," she told People at the time. "I've been joking that I'll be pretty much walking down the aisle before I'm going to tell people about him!"