Kylie Jenner Posts New Photo From Stormi's Birth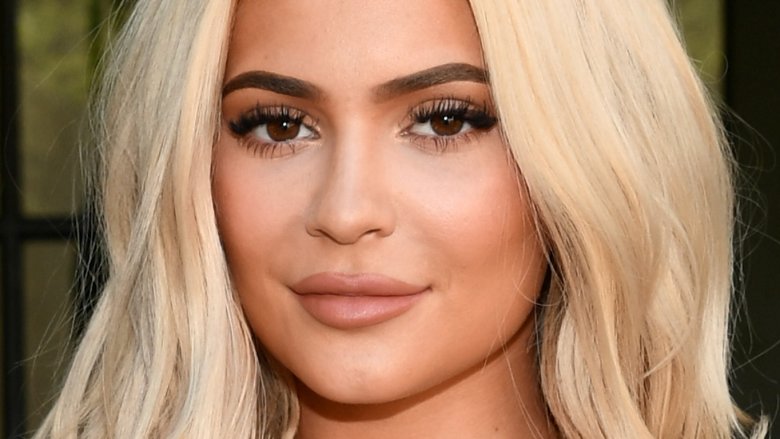 Getty Images
Kylie Jenner, reality TV star and beauty mogul, just shared a never-before-seen photo from the day she gave birth to daughter Stormi.
On Sunday, Dec. 30, 2018, Kylie Jenner took time to reflect on the previous year, posting her top moments of 2018 with her 123 million followers on her Instagram Stories. Among the pictures that Jenner shared with fans was one snap of her holding hands with her boyfriend and father of her child, rapper Travis Scott, as reported by AOL. While their faces aren't shown in the photo, Jenner appears to be lying in a hospital bed and has two hospital bracelets on, along with what appears to be an IV in her wrist. There's also hospital equipment in the background, and the image is dated as being taken on Feb. 1, 2018 — the day that Jenner delivered baby Stormi into the world.
As Keeping Up With the Kardashians fans may remember, Jenner revealed on Feb. 4, 2018, that she'd given birth to her first child days earlier. Her announcement marked the first time that she'd commented on her pregnancy, which she'd infamously kept super private. "My pregnancy was one I chose not to do in front of the world. I knew for myself I needed to prepare for this role of a lifetime in the most positive, stress free, and healthy way I knew how," she said at the time.
That same day, she also directed fans to a video on YouTube titled, "To Our Daughter," which documented her pregnancy and delivery experience.
But that photo from the day of Stormi's birth wasn't the only picture that Jenner shared. In another photo that Jenner posted on Instagram Stories, she's seen wearing a green bikini, sitting poolside with her legs in the water, and holding Stormi in her arms. The photo is dated June 3, 2018. She also posted a picture taken the next day of herself with Stormi against her chest in an Ergobaby baby carrier.
Posting a photo taken on Dec. 20, 2018, Jenner showed Stormi appearing to crawl on the floor in front of a huge golden Christmas tree. Stormi looks to be wearing her dark hair up in a little bun and is turned away from the camera.
As noted by People magazine, Jenner also posted her and Scott's August GQ cover, their first appearance at the Met Gala together, and a trip they went on to a pumpkin patch with their daughter.
Besides posting all about her year on her Instagram Stories, Jenner also remarked on her daughter's upcoming birthday. In a post, she shared two black-and-white photos of herself wearing a flowing gown and holding Stormi in a field on Instagram. In the caption, she wrote, "My baby is turning 1 soon."
Prior to that, Jenner commented on the end of 2018 with a post shared on Dec. 17. Alongside a photo of herself holding her daughter, she wrote, "Just thinking about how much i love each and every one of you. thank you for all the love and support this year. 2018 has been unforgettable thanks to you.. and having Stormi of course has made it the best. i can't wait for 2019."
So with 2018 in the rearview, what's next for Kylie Jenner? Well, she just might grow her family this year. A source told Entertainment Tonight in early December that Jenner and her "Butterfly Effect" rapper beau are hoping to have another child soon, though they'll reportedly be waiting until after Scott's tour wraps up. "Kylie and Travis are going to wait until he's finished his [Astroworld] tour before trying for another baby," an insider said. "They want to have another child soon so it's close in age to Stormi, but they do not want to do this while he's busy on the road."
And if possible, Jenner and her older sister Khloé Kardashian reportedly want to be expecting at the same time, just as they were when Jenner was carrying Stormi and Kardashian was pregnant with baby True, whom she shares with basketball player Tristan Thompson. "Kylie and Khloe would love to be pregnant together again. And it seems like the timing could work out that way," the same source shared with ET. "It was a real bonding experience for them, but more importantly, it's been amazing for their daughters to be so close in age. There are so many kids/grandkids in that family, that's really where the family's attention is. It's all about the next generation."