Kevin Hart Apologizes For Homophobic Comments 'Once Again'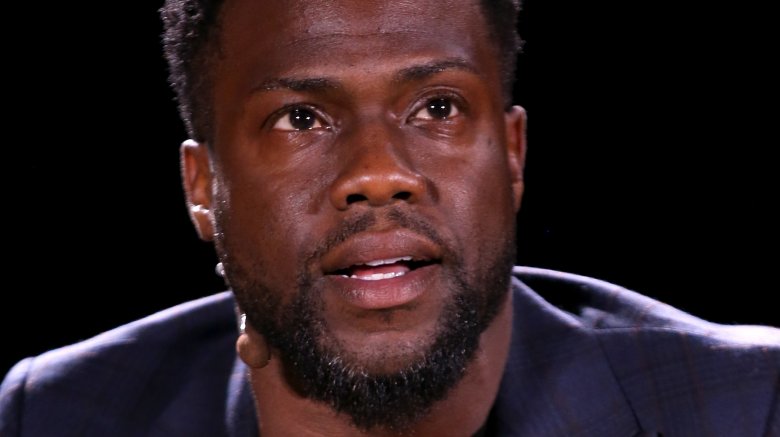 Getty Images
Comedian Kevin Hart spoke out about his past homophobic remarks during his radio program.
On Monday, Jan. 7, 2019, Kevin Hart apologized to the LGBTQ community on his SiriusXM radio show Straight From the Hart. "I will say this, and I want to make this very clear. And I'm going to say it just in case you guys try to take this s**t and chop it up, I will rebuttal with this f**king piece right here," the Jumanji: Welcome to the Jungle star said, as reported by E! News. "Once again, Kevin Hart apologizes for his remarks that hurt members of the LGBTQ community. I apologize."
After seemingly defending one of his past controversial jokes (in which he said, "If I can prevent my son from being gay, I will"), he later sounded apologetic once again. Regarding his past remarks, he stated (via Page Six), "We thought it was okay to talk like that, because that's how we talked to one another ... This is wrong now." He went on, "Because now we're in a space where I'm around people of the LGBTQ community, and I'm now aware of how these words make them feel, and why they say 'That s**t hurt because of what I've been through.'"
Hart had previously sparked backlash after being announced as the 2019 host for the Oscars when old tweets that included homophobic comments resurfaced. The Academy reportedly told Hart to apologize or else be booted from the hosting gig, but Hart refused, claiming that he'd apologized already. "I'm not gonna continue to go back and tap into the days of old when I've moved on," he explained in a video on Instagram in December 2018. "I'm in a completely different space in my life."
He added, "I'm sorry that I hurt people.. I am evolving and want to continue to do so. My goal is to bring people together not tear us apart. Much love & appreciation to the Academy. I hope we can meet again."
Hart's latest apology comes after fellow comedian and talk show host Ellen DeGeneres urged him to still host the Oscars, for which she was heavily criticized by fans, as Nicki Swift previously reported.