The Drama Involving Offset And Nicki Minaj's Husband Explained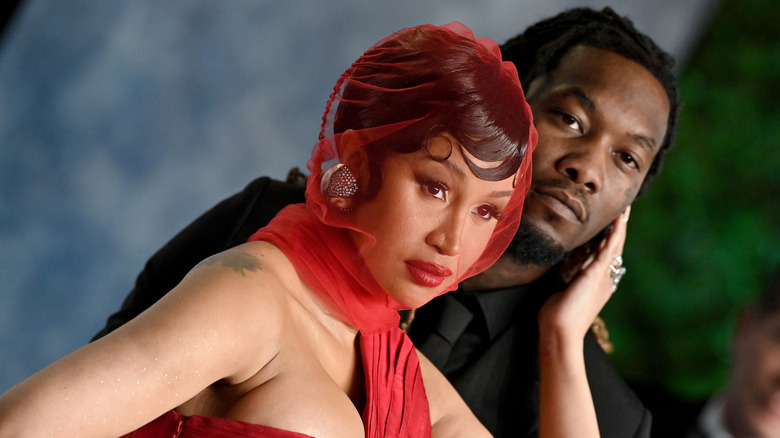 Axelle/bauer-griffin/Getty Images
Two of the leading women in the music industry, Nicki Minaj and Cardi B, don't shy away from controversy; they often run towards it. For instance, the partners of these ladies have fallen out of favor with fans, but Minaj and Cardi B have stood by their men. In 2018, Offset admitted to cheating on his wife, Cardi B, and she was criticized for choosing to stay with him. "When me and my husband got into our issues — you know, he cheated and everything — and I decided to stay with him and work together with him, a lot of people were so mad at me; a lot of women felt disappointed in me," Cardi B told Vogue in 2020. Minaj's husband, Kenneth Petty, is controversial for different reasons — after failing to register as a sex offender, he is currently serving probation and house arrest, per People.
We know there are plenty of people who don't like Offset or Petty. Minaj and Cardi B also famously have beef with each other, having publicly brawled during New York Fashion Week in 2018. So, it feels like a full circle moment to note there is drama between Offset and Petty (because, of course, there is). It doesn't seem like anything specific happened to spark the feud between the two men beyond the fact that their wives have a history of clashing. In any case, Petty came under fire for posting threatening videos towards Offset as recently as September 2023. Here's what we know.
Kenneth Petty violated his probation by threatening Offset on social media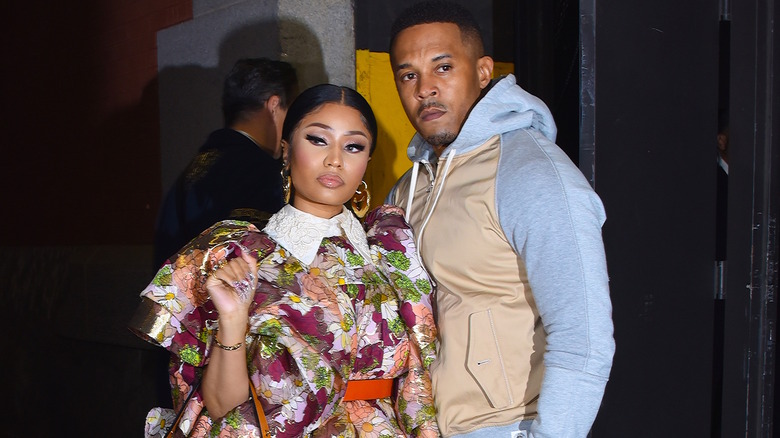 Robert Kamau/Getty Images
In a clip posted to social media, Kenneth Petty filmed himself and some associates standing outside a New York City hotel where Offset was believed to be staying. "Plan that vacation. You gonna be planning your funeral, p***y," one of the men can be heard saying while Petty repeatedly asked where the Migos rapper was. But Cardi B's husband didn't seem bothered by the threats. "I'm getting off a jet, he's funny," the Migos rapper responded in a video of his own, according to The Hollywood Reporter.
Offset might have considered the whole thing a joke, but law enforcement certainly didn't. A central California District court ruled that Nicki Minaj's husband had violated his current probation by "making threatening remarks to a specific individual — aka Offset — while in the company of someone with a criminal record." Petty was thus sentenced to "120 days of home detention," according to Billboard, which will be up around the end of January. For Petty, who's already rubbed many of his neighbors the wrong way, thanks to his sex offender status, it's a chance to reflect on his actions. "The probation officer believes placement in the Location Monitor Program will effectively allow for closer monitoring of Mr. Petty's activities, limit his movement, and provide sanctions for non-compliance," the court statement obtained by The New York Post read.
What did Cardi B and Nicki Minaj think about it?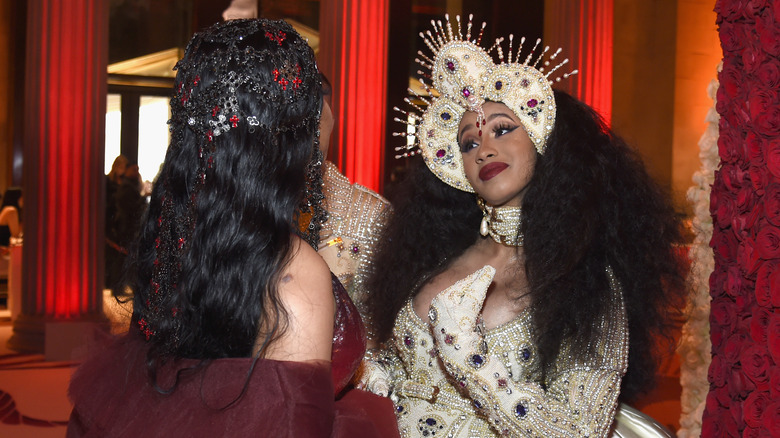 Kevin Mazur/mg18/Getty Images
We already know that Offset appeared to brush off Kenneth Petty's threats, but Cardi B didn't pay them any mind, either. "[The] probation officer and judge did not need an outside report/complaint to act on this. [Offset] and [Cardi B] didn't even seem to care," court reporter Meghann Cuniff tweeted to X, formerly known as Twitter, in September 2023. "Offset LOL'd about it in a video as he walked off a jet, I think while going to say hey to Deion Sanders at the Colorado game." Cuniff's post addresses the speculation that either Cardi B or Offset reported Petty to the police after Nicki Minaj implied that someone did. "Can't call the cops every time you flop. Just saying," the "Super Freaky Girl" wrote to her Instagram Stories.
Another social media user pointed the finger at Petty for alerting the media to what he was doing. "Because they're definitely trying to flip the narrative like [Petty] didn't do what he did on Instagram and tag every blog in it," they wrote, responding to Cuniff. "Be mad at him and HIS friends." Cardi B apparently liked that interpretation of things, as she retweeted the post and added, "EXACTLY KEEP ME AND MY MANS OUT YALL F****G MOUTH!!!"
The beef between Offset and Petty is about as clear as the ongoing feud between Cardi B and Minaj. Everything is messy — and beyond the he-said-she-said, all we know for sure is that these superstars don't like each other.