To Catch A Predator Host Chris Hansen Arrested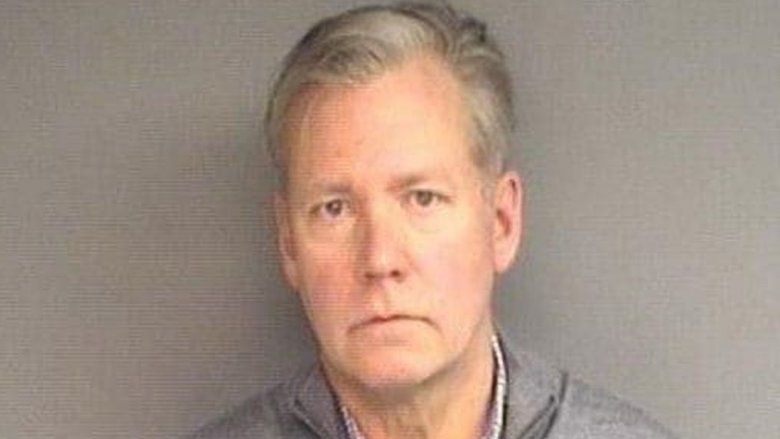 Stamford Police Department
Former To Catch a Predator host Chris Hansen found himself behind bars this week.
The TV journalist turned himself in to police custody in Stamford, Conn. on Monday, Jan. 14, 2019, after a warrant was issued for his arrest over allegedly writing a series of bad checks, TMZ reports. 
According to law enforcement documents cited by the gossip rag, Hansen reportedly bought a number of marketing materials from a local business in the summer of 2017, including "355 mugs, 288 t-shirts and 650 vinyl decals." However, he allegedly never paid off the $12,998.05 bill.
In a four-page arrest affidavit obtained by the Stamford Advocate, the owner of the store in question, Peter Psichopaidas of Promotional Sales Limited, has claimed that Hansen, 59, initially wrote a check to pay off the invoice in full three months after receiving the order. While Hansen allegedly apologized after the check bounced and offered to make partial payments, the owner still had yet to receive the money by April 2018 and filed a complaint with the Stamford PD. 
According to the affidavit, Investigator Sean Coughlin said, "I told Chris that I understood that he may have trouble, but that nearly $13,000 is a lot of money to a 'mom-and-pop' business and it is not fair that he accepted the material but hasn't paid for it."
Around that time, Hansen allegedly wrote a second check, which also bounced. "Peter ... I truly thought I had this covered," he reportedly wrote in an email to Psichopaidas shortly after. "I am scrambling to get it done. Please give me till the end of the day. I sold a boat to cover the rest of this and need to pick up the payment this afternoon." However, the Crime Watch Daily host apparently never paid off his debt, which resulted in his subsequent arrest.
After being charged with larceny by the Stamford PD earlier this week, Hansen was released from jail without bond that same day on the written promise to appear in court sometime next week. According to the New York Post, if Hansen is convicted of this Class D felony charge, he may be fined up to $5,000 and face one to five years behind bars.
At the time of this writing, Hansen has yet to publicly comment on his recent legal trouble. However, the author of To Catch a Predator: Protecting Your Kids from Online Enemies Already in Your Home notably shared a snapshot of the Los Angeles skyline on Twitter just hours before news of his arrest broke. "Weighing an early morning run while there's a break in the LA rain," he wrote to his 41,800 followers, adding, "But first coffee!"
Unsurprisingly, a number of social media users were quick to address the irony of Hansen's arrest, considering the fact that he previously made a name for himself by exposing potential sex offenders on his popular hidden camera show. "Hopefully the check you wrote to the coffee shop doesn't bounce.. oh wait," one person wrote in the replies, while another tweeted, "How about running out and getting a second job, rather than steal merchandise."
Meanwhile, others used the opportunity to express their support for Hansen amid his legal woes. "Keep your head up," one fan commented on the post. "Sometimes things happen.. Go out and catch some more bad guys."
Hansen unfortunately isn't the only celeb to make headlines in recent months after being taken into police custody. As Nicki Swift previously reported, supermodel Cindy Crawford's 19-year-old son, model Presley Gerber, ended his 2018 with an alleged DUI arrest. According to TMZ, cops pulled Gerber over for speeding in Beverly Hills, Calif. at around 4 a.m. on Dec. 30. However, after he reportedly failed to complete a field sobriety test and smelled strongly of alcohol, he was subsequently booked for allegedly driving under the influence. While Gerber was later released that afternoon, his misdemeanor charge could result in a $250 fine and a one-year suspension on his license if found guilty, People reports.
As of this writing, Hansen's legal issues seem to be far from over. However, if his Twitter feed is anything to go by, we're glad to see that he's not letting his recent arrest get him down ... but hope he'll finally cough up the cash sooner rather than later.