What Matthew Perry Said About Dying Is So Sad Now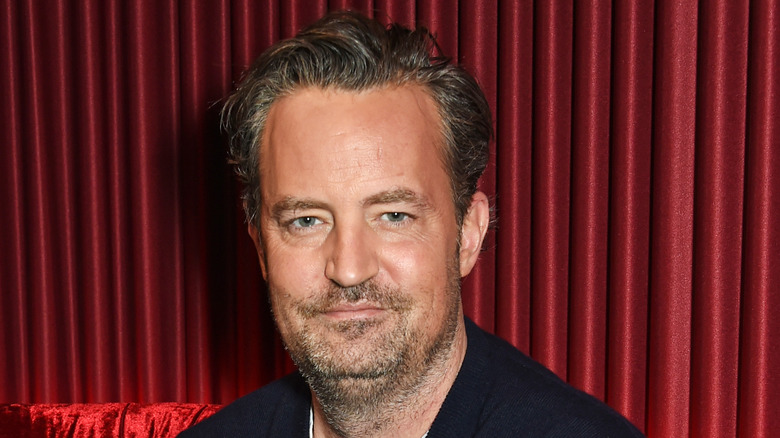 David M. Benett/Getty Images
The news of Matthew Perry's tragic death at age 54 rocked the entertainment world. TMZ reported that the actor was discovered unresponsive in a jacuzzi at his Los Angeles home on October 28. He is believed to have died from drowning after suffering a cardiac arrest, and there were no drugs present at the time of his death, according to officials. Perry's fans were devastated by his untimely passing, and the star's remarks on death are sad now looking back. 
Perry was open about how his struggles with addiction resulted in several brushes with death. He hoped that sharing his story would aid others in overcoming substance disorders. Perry admitted in an interview with podcaster Tom Power in 2022 that he wanted his sobriety work to be his legacy. "If somebody comes up to me and says, 'I can't stop drinking. Can you help me?' I can say yes and follow up and do it," he said, adding, "When I die, I don't want 'Friends' to be the first thing that's mentioned — I want that to be the first thing that's mentioned. And I'm going to live the rest of my life proving that."
That same year, in an interview with The New York Times, Perry said that at the height of his "Friends" fame, he was taking 55 Vicodin pills daily. To feed his addiction, he would also attend open houses and steal drugs from strangers' medicine cabinets, according to an interview with Diane Sawyer. Perry estimated that he'd "probably spent $9 million or something trying to get sober." He also talked about dying, and what he said is heartbreaking.
Candid and poignant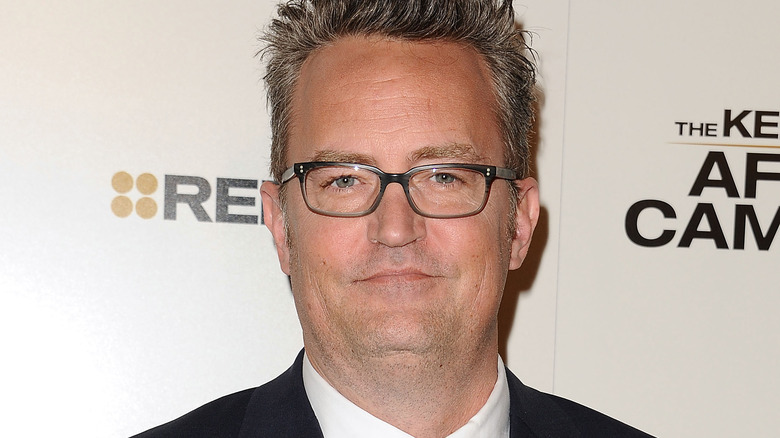 Jason Laveris/Getty Images
In his 2022 memoir, "Friends, Lovers and the Big Terrible Thing," Matthew Perry tells the story of his addiction struggles and near-death experiences. Perry also talked about his fight to get sober in interviews while promoting the book, and what he said about dying is so sad now.
"I say in the book that if I did die, it would shock people, but it wouldn't surprise anybody. And that's what I'm doing with writing this book. That's why I wanted to do it," he told People. "I wanted to talk about the highs and the lows because people are suffering out there, and maybe if they hear a story from somebody they've seen on TV that's worse than theirs or just the same as theirs, they'll be filled with hope."
If you or anyone you know needs help with addiction issues, help is available. Visit the Substance Abuse and Mental Health Services Administration website or contact SAMHSA's National Helpline at 1-800-662-HELP (4357).
Matthew Perry's body went through a lot from his drug use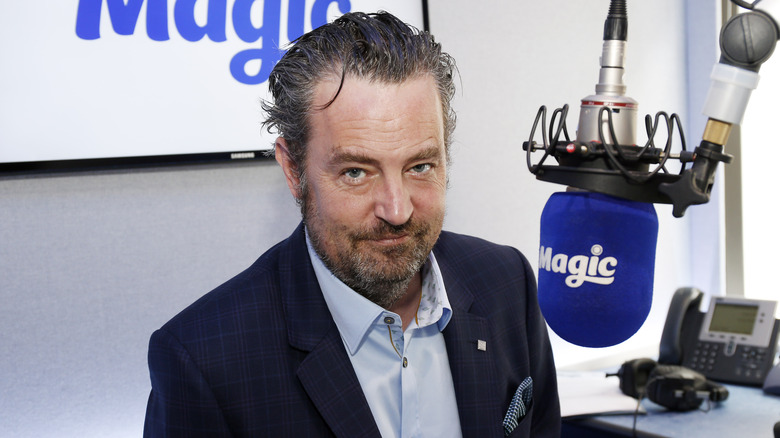 Alex B. Huckle/Getty Images
Matthew Perry also admitted to People in 2022, while promoting his memoir, that there was a point where doctors told his family that he had a 2% change of living after his years of drug use resulted in a burst colon in 2018. The actor, who was in a coma for two weeks and spent months in the hospital, was put on an ECMO (extracorporeal membrane oxygenation) machine, which he said was a "Hail Mary" attempt at keeping him alive. "There were five people put on an ECMO machine that night and the other four died, and I survived. So the big question is why? Why was I the one? There has to be some kind of reason," Perry surmised. 
The actor went through a lot as a result of his longtime drug use, which included several surgeries over the years and having to use a colostomy bag for months. It was the latter that made Perry realize he never wanted to take OxyContin again. "My therapist said, 'The next time you think about taking OxyContin, just think about having a colostomy bag for the rest of your life.'"
Gone but not forgotten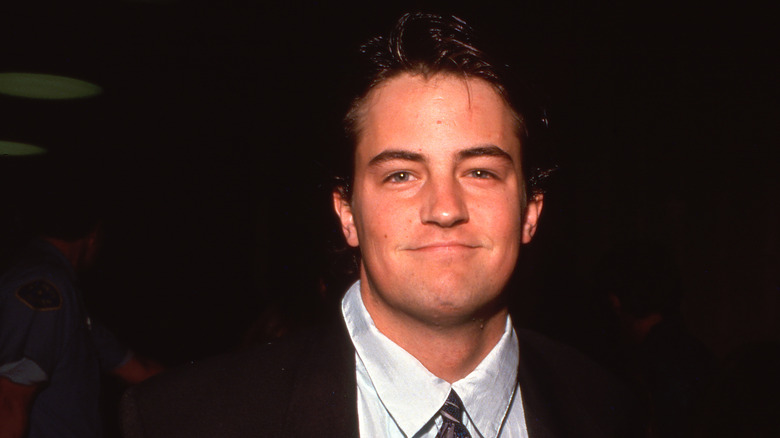 Mediapunch/Getty Images
In his 2022 interview with Diane Sawyer for "Nightline," Matthew Perry credited his "Friends" costars for always being there for him during his addiction battle, even after the show wrapped. He gave special props to Jennifer Aniston, who he said was consistently there for him. "She was the one that reached out the most. You know, I'm really grateful to her for that," Perry said.
Following the news of his death, social media was flooded with tributes by his fans and messages from his fellow actors. Gwyneth Paltrow wrote in an Instagram post that the two were close friends when they were younger, and even after they drifted apart, they would still be excited to see each other at events. Even the Canadian Prime Minister paid his respects, sharing how the two would play together as kids at school. "Matthew Perry's passing is shocking and saddening," Justin Trudeau posted on X. 
While Perry's remarks on dying from back in 2022 are heartbreaking now, it is true that his death was a shock to many — but also, many people are still surprised he died when he did. And Perry's hopes of leaving a legacy of more than just "Friends" did come true as well. Perry will not only be remembered for playing Chandler Bing, but he'll continue to be an inspiration to anyone struggling with their own addiction as well.