Whatever Happened To Matthew Perry's Ex-Fiancée Molly Hurwitz?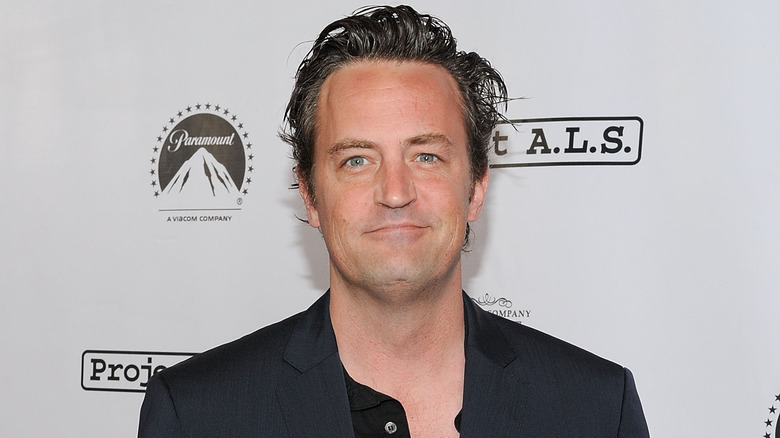 Michael Kovac/Getty Images
In the wake of Matthew Perry's tragic death, fans are reflecting on the beloved actor's complicated life. The topic of his romantic relationships, in particular, has resurfaced. Throughout the years, the "Friends" star dated several high-profile actors, including Julia Roberts and "Mean Girls" actor Lizzy Caplan, per People. While Perry never tied the knot, he did get very close to marriage. In 2018, he started dating manager Molly Hurwitz. Just two years later, Perry put a ring on it. At the time, he told People, "I decided to get engaged. Luckily, I happened to be dating the greatest woman on the face of the planet at this time." From an outsider's perspective, the pair seemed to be happily in love. In a February 2020 Instagram post (via Us Weekly), Hurwitz gushed, "Second year being my valentine, but his first as an Instagram influencer" (Perry had recently joined the platform). "HVD to my favorite," she added.
However, in 2021, it was announced that Perry had ended his engagement. "Sometimes things just don't work out and this is one of them. I wish Molly the best," he stated. According to The Los Angeles Times, the couple's relationship had been on and off since 2018. But once their engagement was called off, Perry and Hurwitz parted ways for good. While Perry stayed in the public eye following the split, Hurwitz seemed to fade into the background. Here's what Perry's ex-fiancée has been up to lately.
Molly Hurwitz started a new job in 2023
After her split from the late Matthew Perry, Molly Hurwitz focused on developing her career. In April 2023, Deadline announced that Hurwitz stepped into the position of literary manager at Thruline Entertainment, a management and production company. Thruline partner Ron West shared, "We are so pleased to welcome Molly to Thruline. Her passion for comedy, and for her clients, was clear from the moment we met her." The Los Angeles-based company has an impressive client roster, including actors Allison Janney and Michael Cera as well as writers Annie Mumolo and Kirk Ellis. As of this writing, Hurwitz still works full-time for Thruline Entertainment, according to her LinkedIn page.
As Hurwitz has extensive experience working in the entertainment industry, it's no surprise she's a mentor for the 2023 Writers Discovery Fellowship. Prior to joining Thruline, she spent six years working at Zero Gravity, where she served as a manager and producer. Hurwitz holds a Bachelor's degree in media, culture, and communication from New York University.
Matthew Perry's memoir revealed details about their engagement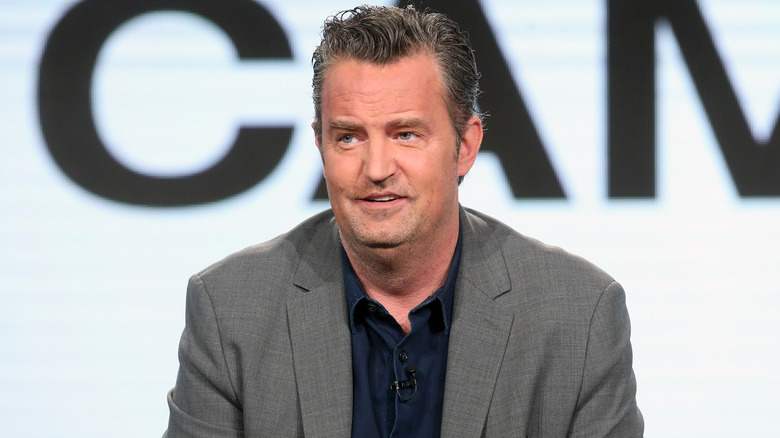 Frederick M. Brown/Getty Images
New details about Matthew Perry and Molly Hurwitz's relationship emerged in Perry's 2022 memoir "Friends, Lovers, and the Big Terrible Thing." While the "Friends" star protected Hurwitz's name, he spoke of their November 2020 engagement, per People. He wrote, "I bought her a ring because I was desperate that she would leave me. I didn't want to be this injured and alone during Covid." In the book, Perry described how his strong fear of abandonment affected his proposal, per Us Weekly. Additionally, he shared that he was high on hydrocodone when he popped the question. As he attempted to sober up, he broke off the engagement.
Following the release of Perry's memoir, Hurwitz kept a low profile. However, the manager was spotted in a Los Angeles park after news of her ex-fiancé's death broke. On October 29 — a day after Perry's death — The Sun shared photos of her outside with her friends and dog. While she looked somewhat dejected, dark sunglasses and a hat concealed her expression, as of this writing, Hurwitz hasn't shared a statement about Perry's passing.