How Sophie Turner Once Tried To Shoot Her Shot With Matthew Perry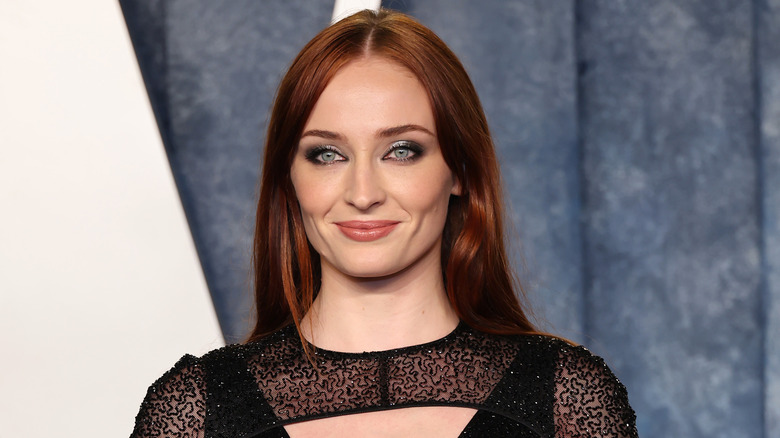 Amy Sussman/Getty Images
Did you know? Sophie Turner once confessed to having a massive crush on actor Matthew Perry. Not that we blame her, of course. Perry, who tragically died on October 28 at age 54, was considered one of the biggest TV stars in the '90s thanks largely to his role as Chandler Bing on the hit sitcom "Friends." In addition to playing the sarcastic and hilarious Chandler, Perry also flexed his acting chops in shows such as "The West Wing" and "Ally McBeal" and starred in films like "Fools Rush In," "The Whole Ten Yards," and "17 Again." Like Perry, Turner is renowned as a leading actor of her generation, particularly for her role as Sansa Stark in HBO's "Game of Thrones." In 2019, just weeks after marrying pop star Joe Jonas, Turner confessed to having had a crush on Perry.
Appearing on Twitter's "#BehindTheTweets" series, where she revealed the context behind some of her most hilarious tweets, Turner shared the story behind a previous post in which she mentioned Perry's iconic character. "Holy balls. Chanandler Bong himself is rehearsing his play right next to my home," she wrote on X (formerly Twitter) in January 2016. She went on to express her admiration for Perry and regaled listeners about that time she tried to get with the famed actor — and failed.
Sophie wanted Matthew to ask her out on a date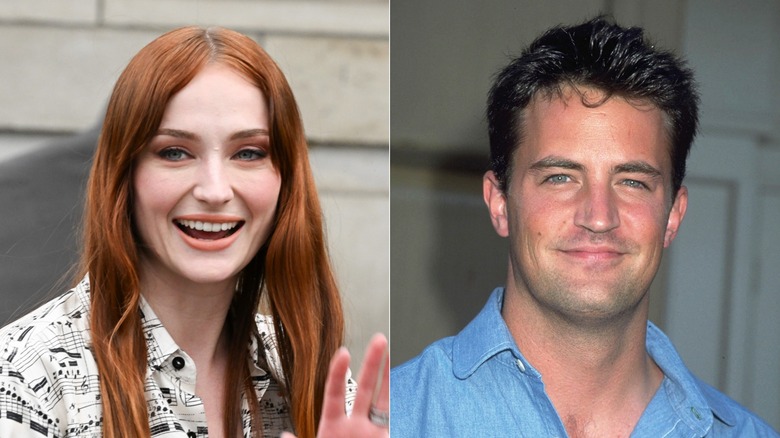 Stephane Cardinale - Corbis & Getty Images/Getty
In 2019, on Twitter's "#BehindTheTweets" series, Sophie Turner shared an awkward encounter she had with Matthew Perry in 2016 on the streets of London. The "Game of Thrones" star said she mustered up the courage to walk over to Perry after seeing him outside a local supermarket near her home. "I would walk around the corner every day to go to my local Budgens, which is a great little supermarket ... and I would see Matthew Perry outside smoking a cigarette," she recalled. "I bought a lighter from Budgens so that I could walk up to him and offer to light his cigarette, and it was already lit. So, that was just embarrassing." Explaining the reason behind her 2016 tweet, Turner admitted that she wanted her celebrity crush to reach out to her and ask her out on a date. "I thought he might see this tweet and then, I don't know... ask me on a date or something," she said, laughing. "But he didn't."
The year Turner bumped into Perry was the year she met her now-estranged husband, Joe Jonas. The two subsequently married in a surprise Vegas ceremony after the 2019 Billboard Music Awards. The former couple recently announced their separation after four years of marriage and the birth of their daughters, Willa and Delphine. "There are many speculative narratives as to why [we are separating] but, truly this is a united decision," the former couple said in a joint statement on Instagram.
Hollywood is still in shock over Matthew Perry's death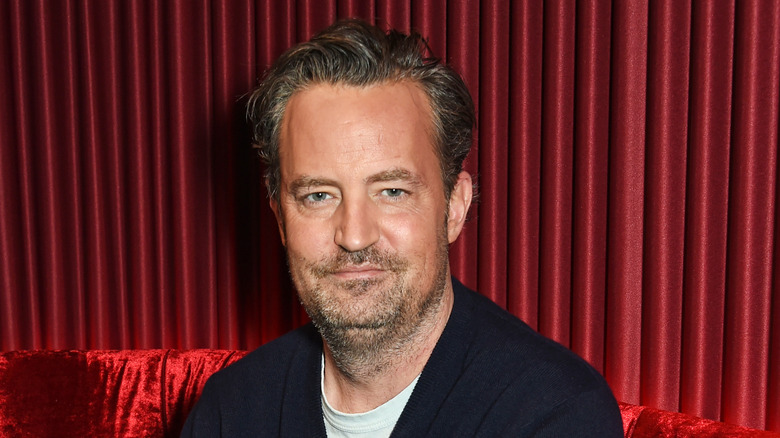 David M. Benett/Getty Images
Sophie Turner is just one of the many celebrities who looked up to Matthew Perry in the years before his shocking death. After TMZ reported that the actor was found dead in his Los Angeles home on October 28, 2023, tributes poured in from fans and fellow stars on social media. Actor Viola Davis said that she was devastated. She wrote Perry a touching tribute on Instagram: "Your book shifted so many close to my heart. The people no one sees and most throwaway. It was a gift. Beyond the joy you brought to many, your heart reigned supreme. Rest well.....know that you brought love."
Gwyneth Paltrow also reacted to the unexpected loss, revealing that she and Perry once shared a "magical summer" prior to the late actor's big break on "Friends" in 1994. "I am super sad today, as so many of us are. I hope Matthew is at peace at long last. I really do," she wrote on Instagram. Meanwhile, Selma Blair also expressed her affection for Perry. "I loved him unconditionally. And he me," she wrote, adding that Perry's death has left her utterly broken. 
During a 2022 appearance on the "Q With Tom Power" podcast, Perry said that he wanted to be remembered for something other than his acting work. "I want to be remembered as somebody who lived well, loved well, was a seeker. And his paramount thing is that he wants to help people. That's what I want," he said.