A Look At Sophie Turner's Dating History Before Joe Jonas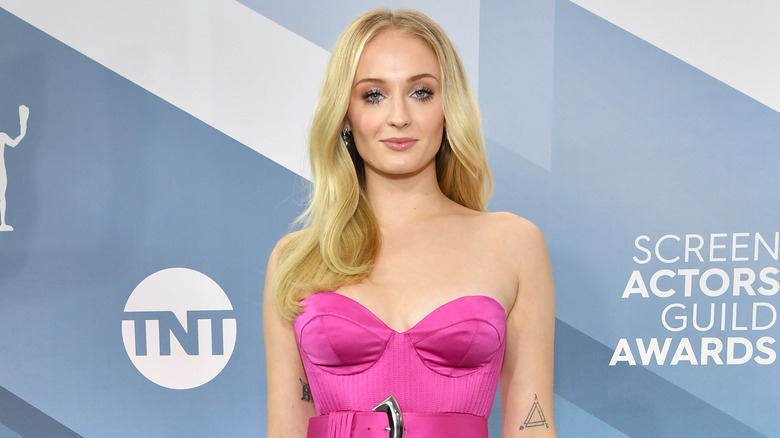 Amy Sussman/Getty Images
"Games of Thrones" star Sophie Turner is married to Joe Jonas, but he isn't the first singer to capture her heart and mind. Joe and Turner tied the knot in Las Vegas in 2019, hours after the Jonas Brothers' big Billboard Music Awards comeback. Joe's wedding didn't last three days like Nick Jonas and Priyanka Chopra's nuptials — but he did give Turner a second, more traditional ceremony a few weeks later, according to People. Of course, Traditional in this context means an exclusive ceremony in France!
Since then, Turner and Joe have spent their honeymoon years growing their little family, which also includes their two daughters. Of course, they're still celebs, so some of their relationship highlights have included the time Tuner roasted Joe and his brothers, Nick and Kevin Jonas, for their Netflix special. She also starred alongside the other Jo Bro wives in the ultra-extravagant video for "Sucker" and has endlessly supported their musical revival. In any case, they seemed happily in love for a while.
Unfortunately, August 2023 proved a terrible month for the couple, as divorce rumors began circulating, per US Weekly. Then, Joe's divorce petition hit the news, confirming the speculation. Now, social media has pretty much ganged up on Joe over the suspicion he's been planting negative stories about Turner — a story for another day. After all, if they're unable to work on their issues, Joe will soon be in Turner's past... just like the other men she's dated.
Sophie Turner and James McVey were once a thing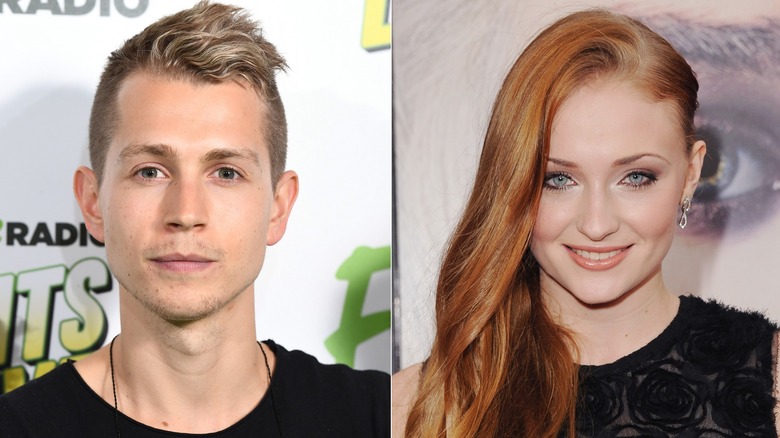 Jeff Spicer/Getty & Jon Kopaloff/Getty Images
Long before Sophie Turner ever became Mrs. Joe Jonas, she enjoyed a relationship with James McVey, lead guitarist for The Vamp — a British rock band who've been around since 2012. As noted by The U.S. Sun, Turner and McVey had a short-lived summer romance in 2014. The stars met over social media and then took a public stroll through the British Summer Time Festival in July, per Candy Mag. The outlet inserted McVey's tweet publicizing their Summer date. However, sources assured fans that they weren't rushing into anything serious. "She has just really broken into the big time through 'Game of Thrones' and James and his band are constantly traveling to gigs," an insider shared with The Sun (via the Daily Mail). "So they're taking it pretty slowly but they do really like each other.
Unfortunately, Turner and McVey broke up a few months later. At the time, a since-deleted tweet by McVey forewarned a messy breakup. However, he's since debunked that rumor."So Sophie and I, we actually parted really amicably, and the stuff that was all on Twitter was a joke between me and her," shared McVey with The Sun in 2018. "We were actually still together when we did all that." McVey also proved he wasn't harboring any ill will towards Turner by congratulating her upcoming nuptials to Jonas. "I've spoken to her a couple times since [she got engaged]," said McVey. "I'm really happy for them."
Sophie Turner may have also dated Thomas Mann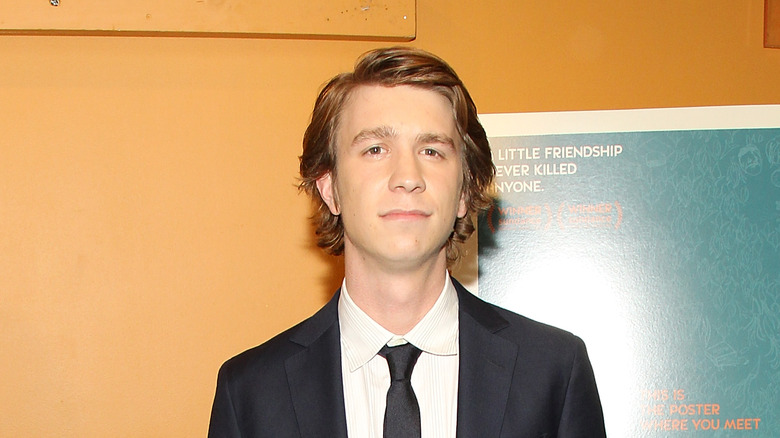 Bennett Raglin/Getty Images
Shortly after Sophie Turner and James McVey burned through their relationship, she entertained a relationship with actor Thoman Mann. Possibly. Unlike McVey, the official status of Turner's former bond with Man remains a mystery to this day, partially because she was starring in 2014's "Barely Lethal" with him  — and you know how fruitful PR relationships can be.
In August 2014, Turner posted a photo of herself and Mann to Instagram, which gave fans hope that they were in a relationship. In the photo, Turner and Mann skirted eye contact with the camera. She captioned the Instagram photo, "Dating? @ThomasMann." According to EnStarz, Turner's photo was primarily responsible for the rumors, but it doesn't appear that there was ever any further confirmation of a relationship. In recent years, neither Turner nor Mann has spoken publicly about the other. According to Celeb Insights, Mann doesn't appear to be in a relationship with anyone as of 2013. Meanwhile, Turner's divorce from Joe Jonas is steadily unfolding. Hopefully, things don't get too complicated.