Madonna Has A Reputation For Being Stern With Her Backup Dancers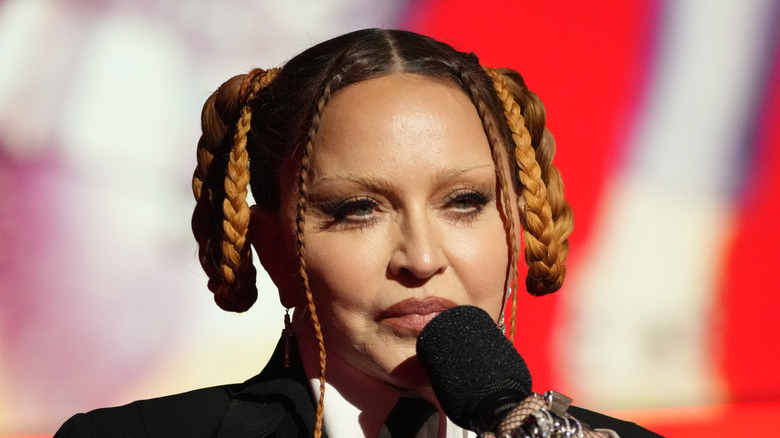 Kevin Mazur/Getty Images
Madonna has had a decades-long career in the music industry and there's a reason she's a pop culture icon. The "Material Girl" singer has worked super hard since rising to fame in the '80s. Even when she was recuperating in the hospital after a serious bacterial infection in July, she was concerned about her upcoming tour. "My first thought when I woke up in the hospital was my children. My second thought was that I did not want to disappoint anyone who bought tickets for my tour. I didn't want to let down the people who worked tirelessly with me over the last few months to create my show," she wrote on Instagram.
Thankfully, Madonna recovered from the infection and began her Celebration Tour on October 14. The concerts are reported to have over 40 songs spanning the course of Madonna's stardom and it's not just the singer who will be working hard. "Madonna has very high expectations of how much hard work people will put into something. It's very uncompromising — but she's equally as hard on herself," her musical director, Stuart Price, told the BBC. Because of her strong work ethic, Madonna pushes her crew and doesn't take lightly to dancers wasting her time.
Madonna reportedly made her dancers pay her if they were late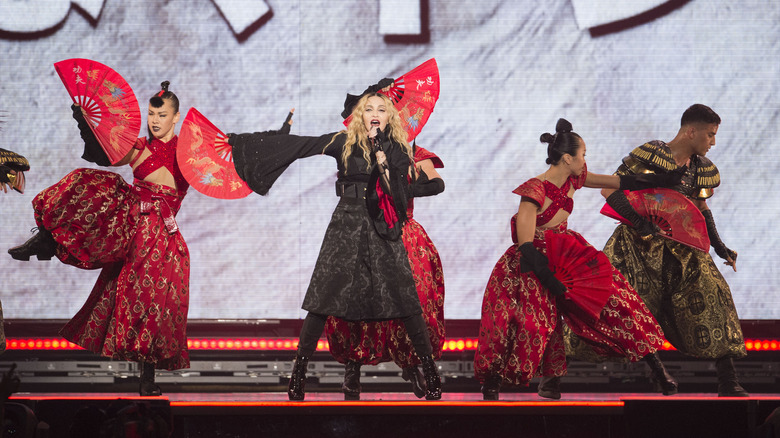 Marc Pfitzenreuter/Getty Images
Touring with Madonna is a once-in-a-lifetime opportunity and she doesn't let her backup dancers get away with being tardy. According to "Dancing With the Stars" judge Carrie Ann Inaba, she once was part of the "Like A Virgin" singer's tour back in the day and was given a hard order. "She gave us this one rule, which I'm so grateful she did. It was, for every minute you're late, you have to pay her $100 out of your paycheck," she shared on "The Jennifer Hudson Show." Despite the tough rule, Inaba admitted that it helped her learn to be on time and stated, "I'm never late. I'm always early."
As reported by Yahoo! Sports, Madonna worked her backup dancers so hard during her Rebel Heart tour in 2015, that one quitted to her face, a source told Radar. "On another occasion, one of her dancers broke her arm during rehearsals and instead of showing concern, Madonna had a nuclear meltdown," the insider revealed. The unnamed source also claimed that the "Ray of Light" singer made everyone wear black and thinks it's an honor for anyone to work for her, calling her ego "over-inflated." Madonna has a history of hiring young, gay dancers and while she gave them a leg-up in the industry, one claimed that she discards them when she's done with them.
One of Madonna's former dancers claimed she uses them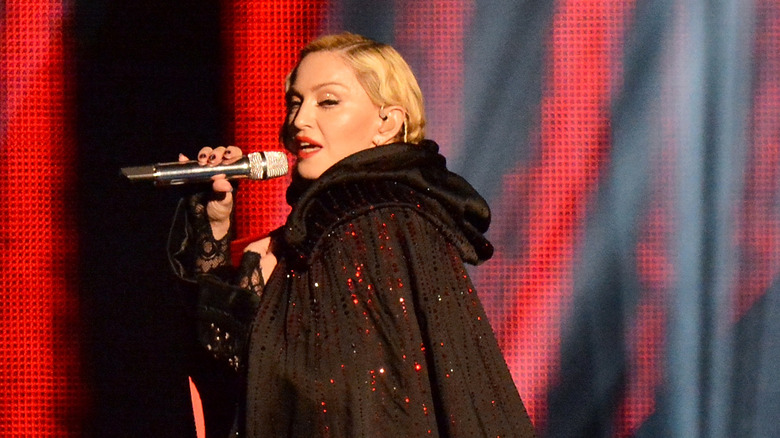 Jim Dyson/Getty Images
Back in Madonna's Blond Ambition tour days, she had a group of young male dancers, with one of them being Jose Gutierez, per Page Six. She had discovered him voguing at a New York City nightclub and invited him to tour with her, along with others. However, after the tour was done, Gutierez claimed Madonna dropped them all. "Things come to an end abruptly. And you don't prepare for it," he stated. He revealed that he had been asked to tour with Michael Jackson but had to turn it down because Madonna told him to. Three other dancers sued Madonna in 1992 over invasion of privacy after she outed two of them after asking them to kiss in "Truth or Dare." According to UPI, the case was settled privately.
Back in 2015, Madonna's dancers caused her to fall during the Brit Awards. While she was singing "Living for Love," they tugged on her cape, which made her fall backward. Although it may seem that her dancers were to blame, Giorgio Armani pointed his fingers at the pop star. "Madonna, as we know, is very difficult. This cape had a hook and she wanted a tie, and she wasn't able to open it with her hands. That's all there is to it," the designer stated, per Page Six. It's unclear if she unleashed her wrath at the dancers but an acquaintance told the Rolling Stone, "She smells fear, like a dog, so don't show it, even if you're feeling it."